Castle Durrow Hotel, is now one of Ireland's most luxurious Irish Country House Hotels and is located on the N8 Dublin to Cork Road ( one hour from Dublin), in the midlands of Ireland, adjoining the quaint village of Durrow,Co Laois. Built by Capt. William Flower (later to become Viscount Ashbrook) in 1716 as his family home in the Midlands of Ireland, its pre Palladian design and formal gardens were the height of fashion in their day and the grey / blue cut stone contrasts with the breathtaking views of the landscape.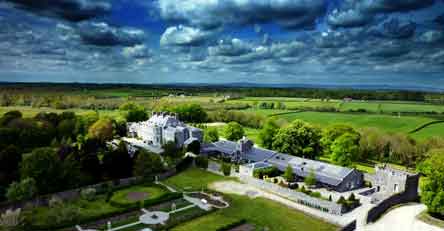 Castle Durrow is Ireland's leading Castle Wedding Venue and one of Earths superb hidden gems. Providing all inclusive packages with no hidden extras we make everything as easy as possible for our wedding couples.
Castle Durrow Country House Hotel, located in County Laois, the midlands of Ireland has everything to make your castle wedding day unforgettable.
We pride ourselves in the quality of our food, friendly efficient service and attention to detail in relaxed surroundings. All our food is made from locally sourced produce with herbs, fruit and vegetables from our own organic kitchen garden.
Our splendid banqueting room catering for 170 comfortably has its original wooden floor, dimmed chadeliers, flickering candles and French doors that open out onto your own private terrace for the night. Our late night BBQ is sure to take care of the midnight munchies.
Enjoy the manicured gardens, the enclosed courtyard and the radiant backdrop of the castle Estate, the magnificent rooms and staircase, which all provide the ideal setting for your wedding pictures.
Be pampered the evening before and wedding morning in your Master Suite by our beauty therapists. Our fabulous bridal packages allow your bridesmaids, mother of the bride and of course mother in law to be included in all the excitement.
Special castle wedding accommodation rates are available for your family and friends in one of our individually styled bedrooms. There is no shortage of parking and accommodation can be arranged for those not staying at Castle Durrow in specially selected local town and farm houses.
Every special moment can be captured for you to savour on DVD by our own in house wedding videorapher, David Stokes. For further information and to view demo's of his work at weddings in Castle Durrow visit David's website.
Indulge with our Suckling Pig BBQ for the night after/before in your own private pavillion. Alternatively enjoy a buffet meal or intimate family dinner in one of our private dining rooms or for a change of scenery try "McEvoys" our newly opened Steak and Wine Bar in Abbeyleix.
Only 70 minutes from Dublin and centrally located, you can rely on us to create the perfect ambiance for the perfect occasion. Interested? Find out more about how we make weddings special.