Ballyhannon Castle
in Quin, County Clare, on the west coast of Ireland is one of the most renowned authentic medieval castles in Ireland to rent, whether as a self catering vacation rental, or in which to have your castle wedding or to mark one of life's special occasions.
Dating back to the late 15th century, in recent years it has proven to be the most popular choice of foreign and Irish tourists alike, for both catered events and self-catering accommodation.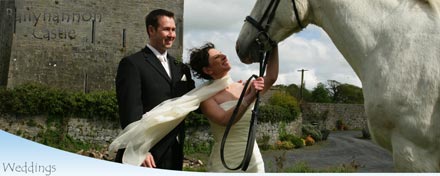 Known locally as Castlefergus, in the Irish Governmental records it is registered as a National Monument and "Listed/Protected" structure, intended to protect its historic, architectural and aesthetic significance.
It is indeed fortunate that we, the current owners, take great care of it and are in a position to allow it to be among the few castles in Ireland to rent on an exclusive basis for the likes of weddings, honeymooners, family reunions or other milestone events, or just for those who wish to have the unique experience of having an entire real medieval Irish castle privately to themselves.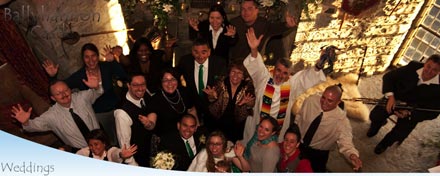 In Ireland castles for rent are not all the same. Although they may seem so from the outside (or from pictures on websites), their internal comfort, preservation and design can vary enormously, and we highly recommend that you read the testimonials of previous guests before choosing which to rent, and the reviews for Ballyhannon Castle on TripAdvisor.com.
You can stay in a hotel anywhere in the world, but we highly recommend that when travelling to Ireland castles for rent are where you should stay, and none moreso than at Ballyhannon Castle for an authentic life experience and value for money.

Weddings
For Irish castle weddings you can now hire Ballyhannon Castle exclusively if you would like the entire castle to yourselves, your celebrant and guests.
Many now prefer not to get married in a Civil Registry Office (which may be regarded as a somewhat less than romantic venue, where apparently couples must be in and out within 30 minutes), or even a church, and Ballyhannon Castle has rapidly gained a great reputation as a very special venue for Irish castle weddings for couples worldwide.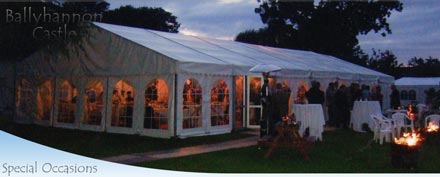 Ballyhannon Castle sleeps 20+ (with some futons for more), and can accommodate marquee weddings and catered events for special occasions for up to 150 seated.
Accommodation
Ballyhannon Castle is a double property - The Castle sleeps 10+ in four bedrooms (three of which have antique four poster beds), while the adjacent 19th century Coach House (of equal size, character and facilities as the Castle) also sleeps up to 10 more.

Guests have found that these two completely separate accommodations are ideal for the individual privacy and comfort of the families of both the bride and groom, or just to have the "youngsters" in one and the "oldies" in the other!