Your wedding day is one of the most important days of your life and naturally you want everything to be just perfect. Knappogue Castle has captured the hearts of many brides and grooms over the years and we strive to turn your wedding into the day of your dreams. A Castle Wedding in Ireland is our speciality! Knappogue Castle is just a twenty minute drive from Shannon Airport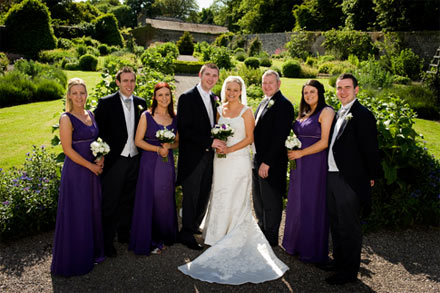 We invite you to celebrate your very special day with us here at Knappogue Castle. This castle wedding venue, was initially built in 1467 and offers one of the most romantic and unique wedding venues in the country. With its rich history, charming grounds and magical ambience it provides the perfect setting for your special day. Our wedding team provides excellent service to ensure you and your guests will have a day to remember.
Knappogue Castle Weddings can be individually tailored to make your dream wedding come true. Our dedicated wedding co-ordinator will discuss options to deliver your personal requirements. The castle offers the many different variations and theme weddings are our forté.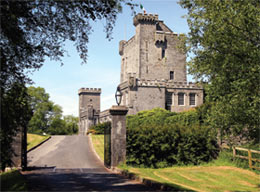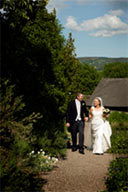 The Castle Halls
The Castle has magnificent rooms, great halls, and truly romantic gardens. The main banquet hall can seat a minimum of 80 and a maximum of 150 guests. The formal dining room can cater for a smaller number of guests and the Dalcassian Hall is the reception area. The Clancullen Hall is a lovely venue for a wedding blessing as it affords everyone a view with its railed balconies. The minimum number of guests for a wedding reception at Knappogue Castle is 50 guests using our á la carte menus.
The Gardens
Surrounded by the tranquil landscape and rolling hills of County Clare, Knappogue is located in a truly picturesque setting. The 1.67 acre Walled Garden is the ideal location for a wedding blessing, a welcome drinks reception, the day after Barbeque and of course beautiful wedding photographs. The formal gardens are very close to the main entrance and offer a castle backdrop for your wedding pictures.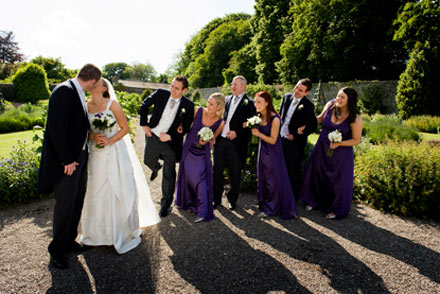 The Chapel
Enjoy a private intimate blessing in the Castle's own St. Marks Chapel or cater for a larger group in the Calcullen Room . The formal dining room is ideal for a civil ceremony and can cater for upto 55 seats for a civil ceremony.
The Stateroom Apartment Accommodation
The State Room Bridal Suite has five bedrooms and four bathrooms and is beautifully appointed with historic furnishings, superb paintings and open fires. With its reputation and tradition for romantic splendor savor the rich ambience of this elegant wing. The bridal suite has a canopy bed, a generous living room with a Baby Grand Piano and en-suite bathroom with sunken bath-tub. All other rooms are beautifully appointed and most comfortable for your guests.
Honeymoon Mead
In ancient times it became custom for the Bride & Groom to drink Mead for one full moon after their wedding, hence the term 'Honeymoon'. It was believed that Mead held magical powers of virility and fertility.