Andy James - Magician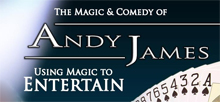 Magician, Andy James - For years the word magician conjured up thoughts of rabbits from hats, balloon animals and basically...Cheese!
Andy is among the new breed of modern, fresh and unique magic performers. With Dynamo, Derren Brown, and David Blaine. Creating miracles in the hands and minds of your guests. It really is something your guests will never forget and something you must see to believe.
"Simply the best close up and card magic I've seen...Phenomenal..!" - URI GELLER
A Wedding is one of the most amazing days in a lifetime, for guests, family and the lucky couple.
There is no given formula to "A Great Wedding" as the latest boom of TV's "Don't Tell the Bride" and "Four Weddings" prove!
After everything, the real make or break of any wedding is the people. The Bride, the Groom, the friends and family. Even that chap who works with your Dad that you had to invite!
Andy's Close up magic has this unique way of pulling complete strangers together in sharing the same moment, whether it's witnessing Andy give back a watch he just stole or a funny joke, when Andy leaves a group you'll see complete strangers now chatting, laughing and enjoying the day as if they've known each other for years.

In 2006 Andy performed the Worlds Largest Magic Illusion... To find out more, visit: www.AJMagic.com, under "Who is Andy James ?" or click here.

Andy James - GET YOUR MIND, MESSED WITH..!

Testimonials
I would like to take this opportunity to thank you most sincerely for delivering an excellent and amazing magic show, the entertainment you provided really thrilled all who were there and it added great variety on the night. I would hope that in the near future you would engage with the foundation again in some capacity.

I wish you well in all that you do. Kind Regard
Submitted by Patrick Daly on Friday 11 January 2013
Hi Andy
Just wanted to say thanks for everything on Saturday. Everyone thought your show was brilliant. People are still amazed by some of your tricks. You helped Make it a great night. Best of luck for the future.
Submitted by Aiden & Bernie Clarke on Thursday 13 December 2012
"An amazing performance. Even now guests are asking me how you managed to get their card on the hall ceiling. It must be over 30 feet high. Incredible."
Submitted by Mrs K Lawrence on Monday 10 December 2012