BROADSTREET BAND
Broadstreet Band are a very experienced, very versatile multi talented and very much in demand Wedding Band. They can in fact turn their hands to any kind of music. They can cover music from all ages from the 50s right up to the present, they can play songs from Roy Orbison to The Killers, from Michael Buble to Strauss Waltzes, from The Blackeyed peas to Mundy, from Michael Jackson to Glen Millar, from Kings Of Leon to Chuck Berry, from Paolo Nutini to Sharon Shannon, from Take That to Depeche Mode, from Joe Dolan to Billy Joel, from the Sawdoctors to the Pogues and much much more in between, they can evan do the Siege of Ennis if required. They also do all the great classics from the likes of Robbie Williams, Billy Joel, Gary Barlow, Eric Clapton, van Morrison, Paul Weller, David Grey, Christy Moore, Bryan Adams, REM. Aslan, Neil Diamond, Bryan Ferry and more.

Find us on Facebook
The Band pride themselves on putting on a good show and keeping the dance floor full so that all the guests enjoy a great night, as well as a great day, they believe in keeping the night lively and in keeping the music going so that people will not lose interest and move out to other places, Broadstreet will make sure that the Bride & Grooms big day is a very special day and one that the couple will always remember. The Band would often get enquiries 2 or 3 years later about a wedding from couples who had been at a wedding 2 or 3 years previously evan though the couple might have been very young at the time but would remember how good the night was.
Broadstreet are very meticulous about their music, their sound & Lighting, their equipment and their appearance.
The Band always discuss the Music with the couple getting married and especially the first dance as it might be a particular favourite of the couple, and they will go out of their way to get the songs off, if at all possible.
Although Broadstreet are based in Waterford & south east, they have played at weddings the length and breadth of Ireland, they have even played at a wedding in Dunfermlin in Scotland. The couple had been at a wedding that the lads played at in Waterford Castle and requested that they would play at their wedding in Scotland a year later! So off the lads went (kilts an all) and the guests were so pleased that they organised a tour for the band to come back over again playing in clubs and various hotels.
The Band can also supply an After-Band Disco to keep the music & dancing rolling on, a lot of people like this as there is no gap between the band finishing and the Disco commencing, there is also a very good package rate when the Band & Disco are booked together.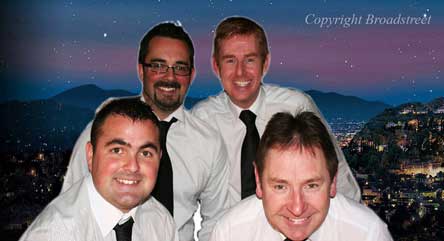 SOME REVIEWS FROM SOME PREVIOUS COUPLES
To Tony & lads in Broadstreet, 25 April 2010,
A huge belated thanks for the show you put on for our Wedding at The Waterford Manor you were fab from start to finish. Many of the guests have commented on how good the band was, which is a credit to your talents.
Thanks for making our big day such a perfect one, Wayne & Laura.
To Tony & Broadstreet,,
Just a note to say thanks very much for the music & DJ at our recent wedding, it was fantastic : all the guests are still talking about the great night! Also many thanks for learning off our first song. P.S. please get a drink for yourselves & the lads, (money enc.)
Kind Regards, Joan & Gary (wedding in Faithlegg House Sept 09)
To the lads in Broadstreet,
Thanks a million for the great music you played at our wedding there were loads of compliments for ye, everybody taught ye were great as did myself & Eamonn, we will definitely get ye again for something (maybe the christening Ha! Ha!)
Ruth & Eamonn (wedding in Lyrath House Kilkenny, July 10)
CONTACT FOR BOOKINGS