When asked 'What would you change about your wedding day in hindsight?' The Irish Times reported that 90% of Brides and Grooms would change their choice of wedding entertainment. So it seems it's the festive energetic party atmosphere a wedding band can create that is most desired by Irish couples when all is said and done.
"Have the perfect Wedding Band for your special day with myweddingband.ie!" - John McCormick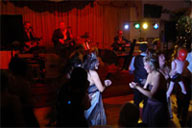 John McCormick Promotions' myweddingband.ie is the top provider of wedding bands from Cavan, Monaghan, Meath, Longford, Mayo, Leitrim, and Sligo, to Dublin, Donegal, Kildare, Galway, Roscommon, Wicklow, Carlow and Kilkenny! We have been celebrating Brides and Grooms for 15 years, with over 2500 performances where wedding guests stayed on the floor all night long - partying to an amazing variety of music provided by our wedding entertainment.
The Urge
The Urge has well and truly become one of Ireland's most successful and busiest wedding bands.
The Urge has been entertaining wedding guests the length and breadth of Ireland for over 8 years, building a reputation based on quality and value for money whilst offering a comprehensive and varied repertoire of music.
They will bring you from the '60s right up to last week's charts, and unlike many Irish wedding bands, The Urge understands what people want from a party band. They "get the party started" and then keep it going all night long by bringing an energy to your celebration matched by no other.
The Wildcats
The Wildcats are now celebrating over 15 year as Ireland's premier wedding band. Without a doubt the best wedding band in Ireland, their success lies in the energy and musicianship they bring to your celebration.
From the first song to the last the dance floor is jam-packed, with all ages, enjoying a great time.
Tenth Avenue
Tenth Avenue follows well in the footsteps of The Urge and The Wildcats in their ability to offer; superior musicianship, a professional attitude, and a unique understanding of what it takes to make a successful party for you and your wedding guests.
They cover songs of all types of music; rock, country, pop, and classic 60s, 70s, and 80s, to keep all of your guests on the floor all night - and every member of this versatile Wedding band is also a great vocalist, offering a variety of sound to their program rivaled by none.
AREAS COVERED: Carlow, Cavan, Donegal, Dublin, Galway, Kildare, Kilkenny, Laois, Leitrim, Limerick, Longford, Louth, Mayo, Meath, Monaghan, Offaly, Roscommon, Sligo, Waterford, Westmeath, Wexford, Wicklow, Northern Ireland