Concord Entertainment

"Concord"
is a 5 piece band, and is based not too far from Castlebar, in the beautiful county of Mayo. We have been good friends from very early days, and thankfully this friendship has flourished through our many, many years in the music business. We have played at so many different types of events & functions over the years, and while we have been described as "a band for every occasion", we do specialise in the Wedding scene.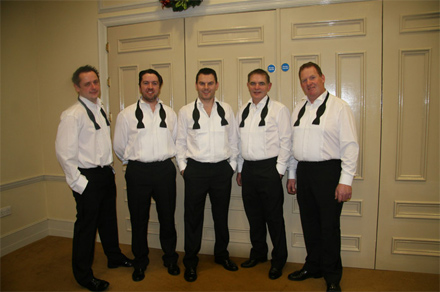 We at Concord always strive to make our show a better one, and are always looking for new ideas. We take a great pride in what we do, are constantly learning new materials, and always try to perfect what we offer. It is this drive & dedication that ensures "Concord" will always be a sound, safe, reliable, and exciting wedding band.
When trying to decide on the musical entertainment for your wedding day, we believe that every bride & groom always look for that perfect band that have something extra over all the others. It's no great secret that every bride & groom wants their band to have a "WOW" factor about them.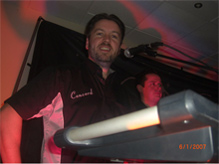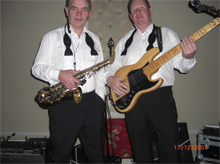 We at "Concord" feel we do offer that "WOW" factor. An impressive variety of instrument on stage, a huge repetoir of song, and a wealth of experience, enables us to deliver a very exciting nights entertainment, and leave you guests talking for a long long time. As you navagate your way through this website, you will learn more about "Concord" Have a look at the band preform live in our "Video Gallery, and take note of the nice comments left from previous wedding couples in our Guest book. You can also view our playlist, but do understand that these listed are only the tip of the iceberg and there are many, many, more......
The Line up of the band is as follows:
David; Keyboards, Piano, Vocals. (Management / Bookings)
Padraic: Bass guitar & Vocals
Kenneth: Drums & Vocals
Brian: Lead guitar, Acoustic guitar & Vocals
Michael: Saxophone, Harmonica, Electric fiddle, Guitar, Mandolin & Vocals
Book your wedding band by calling David on 086 2311907