Discovery Gospel Choir
One of Ireland's most innovative choral groups, Discovery Gospel Choir aims to challenge its audiences to 'discovery beauty in everyone' and to work towards a wholly integrated society. With singers and musicians from across four continents and songs that will warm your soul, a Discovery Gospel Choir show is a feast of colour, harmony and audience interaction not to be missed!
Weddings with Discovery Gospel Choir
Why invite Discovery Gospel Choir to sing at your wedding?
With rich harmonies, inspirational voices and vibrant colours,Discovery Gospel Choir will add beauty and spirituality to your special day. Made up of singers from across Europe, Africa and Asia, the choir's repertoire includes traditional African songs, contemporary gospel, popular songs and Irish language songs, all of which the choir sings in its unique style: energetic, stirring and truly uplifting.
Discovery Gospel Choir is one of Ireland's leading choral groups and is in constant demand by artists and festivals across the country.

Discovery is an intercultural Christian choir, with members from many diverse backgrounds; we feel comfortable leading music for ceremonies and blessings of any denomination or none.
Discovery is a non-profit organisation that aims to promote racial justice and interculturalism. When you book the choir for your wedding, you are helping to fund the choir's work in this area, as well as performances for other local and international charities who are also working towards these goals. We also very actively support international aid charities such as Tearfund and Habitat for Humanity.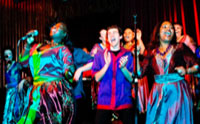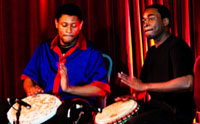 Discovery Gospel Choir offers its own brand of Dublin Gospel music, blending African, American and Irish Gospel music. We have performed in Mountjoy Prison, for Minister Rev Dr Ian Paisley in Stormont, at the International Eucharist Congress in Dublin, in Mosney Accommodation Centre for asylum seekers, for the MAMA Awards, at Africa Day, and for Archbishop Desmond Tutu, Rev Jesse Jackson and The Dalai Lama.
We have collaborated with a host of musicians in the past such as Stevie Wonder, Sinéad O'Connor, Gemma Hayes, Rebecca Storm, Nizlopi, Foy Vance, Liam Ó Maonlaí, Celtic Woman and Kíla.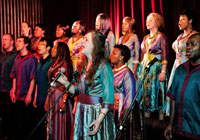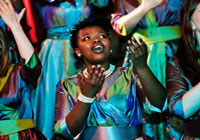 We have regularly appeared on TV and radio and have led the National Anthems at international matches in Croke Park and Lansdowne Road. We have also made appearanced at the Meteor Music Awards, IMRO Awards with Brian Kennedy, Electric Picnic and the Festival of World Cultures.
Discovery is available for corporate events, social occasions, weddings and parties. If you would like to find out more about Discovery, or would like to book us for your event please email