The Mc Crohan Tenors
John, Stephen and Reggie Mc Crohan hail from Cahersiveen in Co. Kerry - three brothers from a family of eight.
Like many music stories, the seeds of their interest in song were sewn by their late father Pat, by whose singing they were greatly influenced. For the Mc Crohans, singing songs and melodies from various genres was simply an impulsive indulgence.
This was something all three did individually and for them seemed a natural activity. Of late, they experimented with the idea of blending the Three voices into One and were delighted with the harmony that resulted.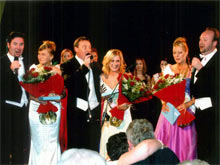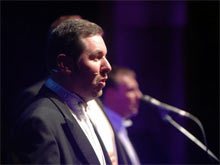 Weddings
Apart from singing at your church ceremony, we The McCrohan Tenors perform a surprise walkabout singing serenade at your reception meal. Our performance commences just as desserts are being served to your guests. We perform a repertoire consisting of the great Italian Arias, Irish Tenor favourites, Musical Extracts, Contemporary, Popular numbers and of course Love Songs.
The performance is approximately one hour and as you will read from our testimonials, our serenade has proven to be the highlight of many couplesí, special day. The secret of course is not to inform your guests that 3 Tenors are invited to perform at your wedding, as the element of surprise is even greater, and no doubt generates a closer bond among your wedding guests. The spontaneous performance uniquely kick- starts the party and eliminates the more often than not, post dinner slump.
Prior to you and your guests arrival at the hotel / venue, we will have our piano and sound equipment set up discreetly in your dining room, so as not to cause any unnecessary disruption to you and your guests.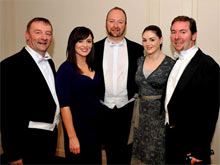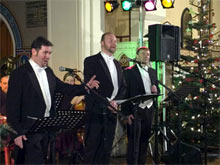 We are conscious that this is your special day and without taking the focus from you, our serenade will transform your wedding reception into a unique and surprising celebration, making it more memorable for everyone. Obviously we will liaise with you before hand, and find out where both sides of the family originate; we will select a song from each area, and create a lively competition for both sides to out-sing each other.
Testimonials
'All of our guests were speechless after the church, but when you all preformed while desserts were being served made the day'
Matthew & Ezolda Murphy
'It was an experience never seen or heard of before in my parish church, so much so, that my parish priest has booked their services for a fundraising concert later this year.'
Anne & Padraig Sweeney
Contact Us