Fionnuala Monks
is an internationally acclaimed brilliant and enchanting Irish Harpist and Singer. Having many diverse strings to her bow she is also an accomplished Pianist of Light Piano Music. Regarded as one of Ireland's most gifted Entertainers of extraordinary ability, her magnificent light and soft soprano voice, along with her melodious Harp playing has brought a tear to many a listener.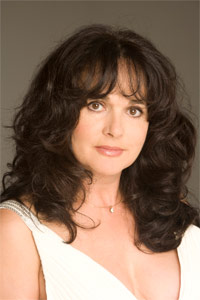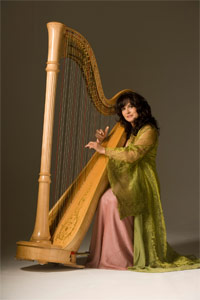 Fionnuala is a total professional holding a Bachelor of Music from University College Dublin, a Licentiate from Trinity College London and an Associateship from the Royal Irish Academy of Music.
Fionnuala has performed widely for Local and International Television and Radio. She has performed extensively throughout Europe, the United States of America and Japan. Fionnuala has performed for Royalty and Heads of State. including President Bill Clinton, Senator Hillary Clinton, Irish Taoiseach Bertie Ahern, Charles Haughey, Irish President Mary McAleese, Queen Sofia of Spain, the King & Queen of Japan, celebrities such as Mick Jagger and Jerry Hall, Dr Michael Smurfit, Sir Tony O'Reilly and Bill Gates.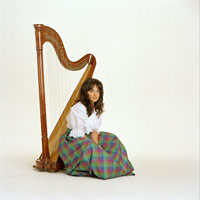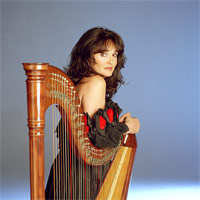 From the haunting beauty of the Irish folk song to Popular Broadway and Contemporary songs she will engage an audience of ten as easily as ten thousand. Fionnuala`s expertise and professionalism will ensure that your special event will be memorable and of the highest quality whatever the occasion.
Weddings
"I love to play and sing at Weddings, to touch hearts and bring a feeling of happiness to all"
Fionnuala can offer you the best in music for your Wedding day. With her haunting and pure soprano voice, and equally moving Harp playing, she will enrapture you and your guests.
Fionnuala is available for:
Weddings / Civil Weddings / Wedding Blessings
Receptions / Meal / Dinner
Corporate Entertainment / Functions
Special Events
Festivals / Parties / Recordings
Funerals and Memorial Services
Will Travel Country Wide