TEMPANY'S, an Aladdins Cave for top quality kitchenware.
When planning your Christmas shopping, a visit to Tempany's Kitchen Store is a must.
Tempany's offers a wide range and choice of products, from commercial grade catering equipment to high quality domestic kitchen & bakeware. A great selection and variety of sugar-craft is on offer such as edible flower sprays, icing colours, sprinkles, glitter powder, colour sprays, icing writers along with all the equipment necessary to bake and decorate your wedding cake.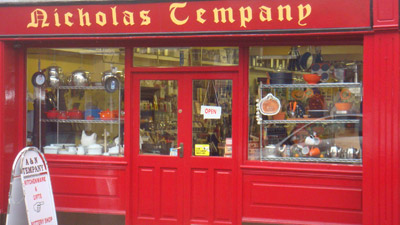 Chef uniforms, safety shoes, waitressing & bartending aprons and headgear are all available at Tempany's at very competitive prices. Tempany's also hires out catering equipment, glassware, cutlery, crockery, tables & chairs for party events.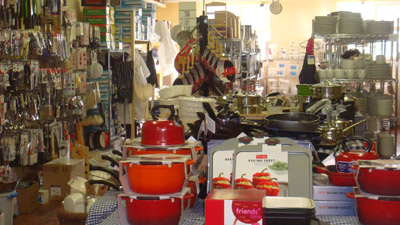 A good set of quality pots and pans is a fantastic gift and with Christmas coming fast, you can put aside your perfect present now and payoff in instalments that suit you. The biggest seller is the Bellux 18/10 stainless steel range and for the Induction Hob, Pilot brand is the recommended choice.
The commercial grade Meyer Pot, sizes 5L to 36L are currently selling at less than half the recommended retail price.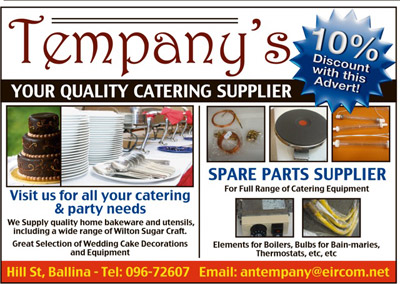 Frypans, omelette pans, woks, crepe and pancake pans are all in Tempanys. Priced from E9.99 to E79.99. Frypans made in Italy with the new revolutionary ceramic coating are available for E32.99. The ceramic coating is extremely dense and compact, always smooth and never porous and preserves the pan while improving performance.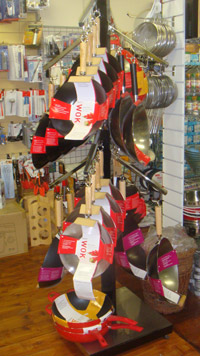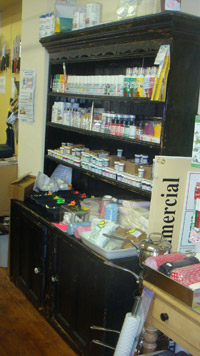 Teapots, Coffee Pots, Cafetieres are all available in stainless steel and at excellent prices and will make ideal gifts this Christmastime. Smaller gifts such as breadbins, mugs and mug tree stands, cake storage containers, weigh scales, mixing bowls, utensil holders, cupcake and cake stands are all on offer at Tempany's. Cutlery, White Diamond Crockery, cast iron cookware, the list goes on and on…….
Tempany's supply spare parts for most catering equipment.