Wedding Feature
'I Thee Web' Wedding Tech Rundown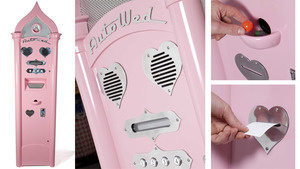 Celebrate a marriage of convenience with these top ten wedding gadgets and gizmos.
1) AutoWed Wedding Machine
This novelty-wedding machine offers a 'quick hitch'. You get a couple of rings and a personalised certificate for a £1. It's not legally binding but Concept Shed's Cadillac-pink retro machine complete with a small portrait of Jesus Christ makes wedding planning so much easier.
"We came up with the idea last year and built the unit this spring specially for Marvin's Marvellous Mechanical Museum in Detroit, USA (marvin3m.com)," a Concept Shed spokesman said.
See the
AutoWed
in action.
2) Wedding Ring Projector
Artist Luke Jerram has turned a wedding ring into a miniature projector.
Working with jeweller Tamrakar the ring was created for Luke's marriage to Shelina Nanji.
In a darkened room, light from a candle or LED passes through the ring to project a series of portraits. A selection of miniature slides were made of different family portraits and inserted into the edge of the ring for projection. As Jerram's family grows, photos of his children can be added to the ring. The ring was inspired by 19th Century Stanhopes.
The 'Play Me, I'm Yours' Artist, who gets asked each week to make more rings for other peoples weddings, posted this message: "Congratulations on your engagement! I'm afraid this ring was a one off, made for my wife. I'm afraid you'll have to make your own unique ring for your own unique partner.
"The ring was my first prototype and was made by hacking apart disposal cameras to find the right lens I needed. Sadly, after we got married, in the middle of the night our house was broken into. As well as stealing my car, jacket, DVD player, even my glasses, the thief came into my bedroom and stole my wife's jewellery box (whilst we were sleeping there) So the ring has gone. We found the empty jewellery box chucked in a bin down the road.
"The good news is, this gives me an excuse to make another ring. And in the mean time, my wife's very happy wearing the 'Talking Ring' I made for our engagement. This ring has my proposal etched on it and can be played back with a miniature record player I made."
See the Talking Ring on
youtube
3) Ceremonial Drone
The wedding ceremony of Japanese couple Tomohiro Shibata and Satoko Inoue, who both work in robotics, was conducted by an I-Fairy humanoid. Getting married with the help of the 1.2 m seated robot with flashing eyes and plastic pigtails was the 'natural choice' according to the couple.
See:
Robot Presides Over Japanese Wedding
4) Paper Record Player Invitations
Take Karen a lawyer/DJ, Mike a sound engineer, throw in the talent of artist/designer Kelli Anderson and a wedding and you know bland wedding invitations won't cut it.
The designer from New York created a paper record player wedding invitation for her friends. The1950s-style invites include a catchy track written and recorded by the couple.
View it at
Vimeo
5) Magnetic shoes
BY LARIN have revealed a mix of elegant flats, classic heels and fancy pumps that can be customised for your big day and reinvented ever after. "The shoe has a magnet which makes it possible to change the ornaments. Just with a Click & Twist," the designer blogged.
See:
www.bylarin.com
6) USB Dazzler
Wedding ring designer Jennifer Flume has designed two concept diamond wedding rings which each hide a USB Flash drive underneath the removable dazzler. The two ring drives can be interlocked for data transfers.
See:
www.jflume.com
7) Futuristic Wedding Carriage
The Royal Wedding of Prince William & Catherine Middleton may have passed but a revolutionary wedding carriage design from two London architects lives on. Reza Esmaeeli, in collaboration with Yevgeniya Pozigun, designed a dazzling and glamorous carriage.
"Imagine it like a fairy tale; like a shining bird, a super-fictional transparent globe with a ceremonial tail; something that converts the wedding to a subversive cultural event; a carriage that people of Britain will long talk about: a cutting-edge professionally designed vehicle from which prince and princess will wave hands for them; a romantic magical entity which will fill their hearts forever," Reza blogged. "Just close your eyes and envision a carriage with a sphere-shape glass car, fabricated by British high-end glass manufacturers. It has an elegant curved long tail made from glass-reinforced plastic, and could potentially accommodate a light purpose-made engine to give it a duel functionality in case the journey is long; all in white and decorated with flower-shape patterns and engravings."
View the innovative design
here
8) Ring Mouse
Forget the diamond and surprise the nerd in your life with a mouse engagement ring proposal.
"Worn as a ring on a finger so your thumb controls all the functions. This device gives you wireless freedom during presentations, web browsing, picture and video viewing, etc., as it fits conveniently and comfortably on your fingers," a Genius spokesman said.
See:
www.geniusnet.co.uk
for more details.
9) Wedding UK App
This App promises to become your best friend in the lead up to your big day. It helps you organise everything from your guest list, seating plan and budget to your music, invitations and gifts.
The GPS locator allows you to search for wedding services in your area or up to 100 miles away.
Within suppliers you can view up to four images, a full description of their services, link to their website plus email, use the quick call button and see their exact location on the map.
The interface is attractive and simple to use.
"I think this app is great, provides loads of info on venues and suppliers and links to their website, it's like a yello pages for wedding services," bride-to –be Maz Mazzini said.
The app is available on
itunes
10) Cold Feet - Interactive Bouquet
GeekPhysical have designed a wedding bouquet which changes colour responding to nerves on your big day.
Inventor and engineer Dzl and Vanessa Carpenter, master of interaction design, created the bouquet for their own wedding.
"We of course love biometrics and geekery and thus have decided that our wedding needs to be equally geeky.
"We've been working hard on taking our biometrics project into a new realm, detecting wedding emotions and datalogging the entire day," the couple commented.
The bouquet of fibre optics, white lilies and tulips is attached to two electrodes, one worn on the bride's wedding finger, via velcro strap, and the other in a wristband strapped to the groom.
The information on their nerves, as well as their heartbeats, is recorded throughout the wedding on a 1GB SD card in the base of the bouquet. Changes in Galvanic skin response make the LEDs turn blue for calm and white for excitement.
See the bouquet change colour on
flicker
.
(GK/BMcC)
---
Wedding Features
Perfect Weddings Abroad
Unveil A Better You At The Altar
Secure Your Dream Venue
Advice For Mother Of Bride/Groom
Gorgeous Goodies For Your Big Day
Wedding Catering For Foodies
Marvin Humes And Rochelle Wisemen Wedding Venue Revealed
Facebook Wedding Boost For The Little White Dress Shop
Perrie Edwards Is Happy With 1D's Zayn Malik
New Chapter For Aldenham Park
Diamond Couples Celebrate At Jubilee Party
Black Eyed Peas Hit Tops Wedding Playlists
Secret To Happy Marriage Revealed
Petra Ecclestone Shares Wedding Snap
Golf Champ Darren Clarke Marries His Birdie
Lovers 'No Good' At Spotting Others In Love
Ben & Jerry's Say 'I do' To Same Sex Marriage
Men Embrace Man-Gagement Rings
Team GB Hopeful Leaps Over Blushing Brides
Royal Wedding William And Catherine Barbies Announced
Wedding News
LeToya Luckett-Walker is expecting her second child.
Charlotte Crosby has found a new romance in the wake of her split from Ryan Gallagher.
Lydia Bright has given a brutally honest interview about giving birth to her baby daughter Loretta.
Lana Del Ray has split up with her police officer boyfriend.
Actress and businesswoman Angelica Ross was left stunned this week when a simple Twitter post led to the discovery that her boyfriend has a fiancée and a child.
Ashley Graham has told of how she found breastfeeding "really difficult".
Susanna Reid is determined to celebrate her mum this Mother's Day despite being in self-isolation.
Actor and producer Lin-Manuel Miranda is learning how to homeschool now that his family are self-isolating.
Kristen Bell is bursting with pride for her two young daughters after they donated to charity.
The Duke and Duchess of Cambridge's children Prince George and Princess Charlotte will now be homeschooled as schools close across the UK.