Bunratty Candles
Bernie Parry opened
Bunratty Candles
in Ballycasey Craft & Design Centre at the end of July 2008. Prior to this Bunratty Candles was based in the garage of the family home in Bunratty.
Bunratty Candles are designed, hand poured and finished by Bernie in Ballycasey. Many of the candles are unusual in shape with a varied choice of colours, but the more familiar and traditional pillar candles are also made. Both paraffin and soya wax are used in different processes and candle types.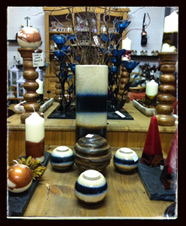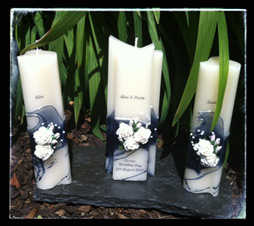 The fragrance container candles and burner melts are made from soya wax and blended fragrance oils, with a good choice of fragrances available. New fragrances, such as Apple & Cinnamon and Red Clover, are frequently introduced after stringent testing.
What is different and somewhat unique for the area is the personalised candle service. All occasions are catered for, our personalised Wedding Candles are extremely popular but we also design and produce Birthday Candles, Christening Candles, Birth Candles, Anniversary Candles and Remembrance Candles.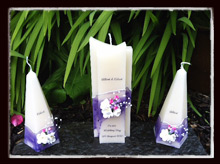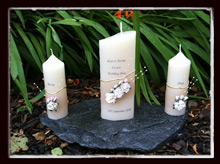 These candles are made to order to the exact wishes of the customer, using their choice of candle shape, colour and finish. This ensures that each candle is a personalised special gift for the occasion in mind.
Bunratty Candles
also has a full range of accessories with the burnished copper, steel and recycled glass candle holders and plates being exclusive to Bunratty Candles. As well as making candles to order, Bernie also offers a refill service for your favourite candleholder. It is well worth a visit, as the shop is well laid out and is a comfortable and friendly place to shop or browse with plenty of gift ideas.