Hodson Bay Hotel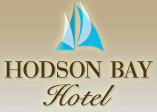 Imagine…. perfect beginnings at Hodson Bay Hotel
At Hodson Bay Hotel it is the little touches that allow us to create the perfect moments for your wedding day to mark the beginning of your life together. As your family & friends raise a glass to you, our dedicated Wedding Management Team will stand proudly by, ensuring no stone is left unturned to provide you with the perfect celebration.
Hodson Bay Hotel has earned its reputation as one of Ireland's leading wedding venues. Offering a spectacular location on the elegant shores of Lough Ree, elegant banqueting suites, excellent food and service combined with the wealth of experience & dedication of our team, Hodson Bay Hotel will strive to create the wedding reception of your dreams.
We pride ourselves on our superb cuisine and menu offering which is one of the most important aspects of any wedding reception. Recently appointed Executive Head Chef Rory Gabriel and his team will make sure that no attention is spared when preparing sumptuous meals for you and all of your guests with the very best of fresh local and Irish produce. Chef Rory and his team recently received an outstanding review from noted food critic's Paolo Tuilio's infamous website A Taste of Ireland.
In addition to an amazing wedding reception, Hodson Bay Hotel also boasts superb facilities for you and your guests; a 4 star resort awaits your guests offering a world class spa, award winning leisure complex and great Irish hospitality to give them the perfect base for the nights surrounding your wedding.
For further information on wedding packages or to arrange a viewing of the Hodson Bay Hotel please contact our Wedding Sales Executive Lisa Wykes on 090 6442000 or
weddings@hodsonbayhotel.com
.