Your Wedding Day is an opportunity to show your unique personality and individual style. Our Task is to capture and represent those qualities in your Wedding Flowers.
Packages
Our Wedding Packages can be tailored to meet your own individual needs.
If you would like to email us what you think you might need, we can email you back a quotation or simply contact us to arrange to meet our staff where we can discuss your ideas and draw from our experience to make your Wedding Flowers simply amazing!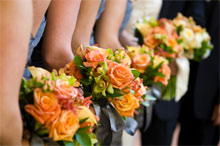 Bridal Handties
Whatever type of Bridal Bouquet you would like, we can arrange for you! Whether you would like a Handtied Bunch Effect or a Teardrop Bouquet, we can design it!
Email us Pictures if you see something you like!!
Cut out Pics from Mags and GIVE THEM TO US!!!
WE want YOUR IDEAS!!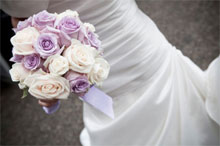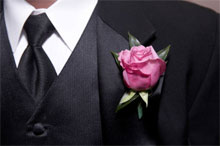 Church Flowers
We have a full range of items for rental for your Wedding Day
Arches
Bay Trees
Lanterns
Candle Stands
We deliver these items to the Church and set up all your Church Flowers.
Hotel Flowers
Whether you would like Trees for the Entrance to the Hotel, Arrangements for the Tables or Lanterns scattered around the reception room, we can organise these for you... Whatever your ideas are, share them with us.