Wedding Feature
Blooming Marvellous Flowers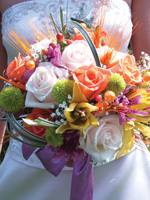 Your choice of wedding flowers will accentuate your theme and add to the overall ambience your special day. The trick is to find a florist that can make all your wishes come true without breaking the bank.
Before you start pavement pounding sit down and have a think about your overall theme. It is not as simple as choosing a few blooms to tie in with your dress. You need to consider the bridesmaids, flower girls, men in the bridal party, mothers corsage, ceremony decoration and your reception venue. Whilst this can seem rather daunting, breaking it down into small bite size areas for attention is the simplest way.
Start by thinking about the time of year you are getting married and the blooms that are in season. These will not only work out a lot lighter on the budget, but they tend to lend themselves better to your surroundings, eg dark romantic blooms such as deep Red Roses mixed with berries, holly and ivy are perfect for a winter wedding. Delicate pretty blooms in pale shades such as pink tulips in a hand tied posy are perfect for a summer wedding. That said if there is a particular flower that has special meaning to you but won't be in season at the time of your wedding, why not think of using them sparingly in your arrangements, complemented by seasonal flowers to cut down on the cost.
The next step is to decide on the style of bouquet that will best suit your finished look. When doing this try to imagine yourself in your dress with your veil and all your accessories and choose from one of these styles.
Posy - A small simple bouquet hand tied with ribbon - whilst this is perfectly acceptable for bridal flowers it is more commonly reserved for the bridesmaids. This type of bouquet is the perfect accompaniment for a simple, elegant, modern gown. If this is your gown of choice it is also worth considering carrying a single bloom for a chic minimalist finish.
Round - This is the most popular choice of bouquet. It usually consists of larger flowers loosely arranged into a ball shape. It is common for florists to add to the finished look of this particular style by inserting wired pearl beads or diamante. This type of bouquet works best with an A-line/ full skirted gown.
Shower - A traditional and more formal floral bouquet. It is inspired by waterfalls and as such consists of wired flowers that cascade from the hands toward the floor. This style of bouquet was designed for an empire line dress or fitted gown.
Once you have decided on the style for both your gown and the bridesmaid dresses, grab yourself a nice cuppa and settle down with a magazine or hit the web to find some inspiration. It is a good idea to have a set budget and cut-outs of designs that you like before you head to the florist. Don't be discouraged if when you visit the florist, they want to adapt your style slightly, this could be down to budget or time constraints - there is generally a valid reason. If you feel that the florist is being too dramatic or way over budget be firm and stand your ground. Don't be afraid to ask questions or to shop around to get the perfect blooms for your big day. Ask the florist to see an example of their previous work, this way you will be able to see at a glance if their style is fitting with your ideas.
Speak with your florists about scents, this is for two reasons - the scent of your flowers will be a lasting memory of your day every time you smell them it will bring back happy memories. Also you will be carrying the flowers for a substantial period of time so you do not want the scent to be overpowering. This will take away from the overall feel of your day or worse make you sneeze mid-way through the ceremony.
When it comes to choosing the flowers to decorate your venue, the sky is the limit. Have a chat with your ceremony venue and try to arrange for your florist to visit so that they can get an idea of the size and ambience of the building. Look at the key areas - entrances, pew ends, steps, windowsills, columns, pulpit, altar, tables. These can all be elegantly decorated to match your theme and bouquet. Ask your florist about the use of ribbons or candles as these are a cost effective yet elegant alternative that may be available to you. Your reception decoration is where you find the true worth of your florist. You need to agree on a table arrangement that will complement your theme, the room and the meal you choose to serve. It is worth considering the use of the bridal parties bouquets to decorate both the top table and the cake table. Try to avoid elaborate, large table arrangements as they may look stunning as you enter the room, but your guests will not be able to converse during dinner. A single church candle surrounded by scattered leaves or a flower head elegantly slotted into each napkin can be just as effective. Chat with your florist about what will work best for you. If they do not already know the venue, again try to arrange a visit so that they can get a feel for the room. The more information that you can give to them the better they will be able to advise you.
---
Wedding Features
Perfect Weddings Abroad
Unveil A Better You At The Altar
Secure Your Dream Venue
Advice For Mother Of Bride/Groom
Gorgeous Goodies For Your Big Day
Wedding Catering For Foodies
Marvin Humes And Rochelle Wisemen Wedding Venue Revealed
Facebook Wedding Boost For The Little White Dress Shop
Perrie Edwards Is Happy With 1D's Zayn Malik
New Chapter For Aldenham Park
Diamond Couples Celebrate At Jubilee Party
Black Eyed Peas Hit Tops Wedding Playlists
Secret To Happy Marriage Revealed
Petra Ecclestone Shares Wedding Snap
Golf Champ Darren Clarke Marries His Birdie
Lovers 'No Good' At Spotting Others In Love
Ben & Jerry's Say 'I do' To Same Sex Marriage
Men Embrace Man-Gagement Rings
Team GB Hopeful Leaps Over Blushing Brides
Royal Wedding William And Catherine Barbies Announced
Wedding News
LeToya Luckett-Walker is expecting her second child.
Charlotte Crosby has found a new romance in the wake of her split from Ryan Gallagher.
Lydia Bright has given a brutally honest interview about giving birth to her baby daughter Loretta.
Lana Del Ray has split up with her police officer boyfriend.
Actress and businesswoman Angelica Ross was left stunned this week when a simple Twitter post led to the discovery that her boyfriend has a fiancée and a child.
Ashley Graham has told of how she found breastfeeding "really difficult".
Susanna Reid is determined to celebrate her mum this Mother's Day despite being in self-isolation.
Actor and producer Lin-Manuel Miranda is learning how to homeschool now that his family are self-isolating.
Kristen Bell is bursting with pride for her two young daughters after they donated to charity.
The Duke and Duchess of Cambridge's children Prince George and Princess Charlotte will now be homeschooled as schools close across the UK.