Wedding flowers are our favourite part of the job!
Weddings give us the opportunity to use special flowers, beautiful colours, and our imagination…every wedding is unique and we love to create flowers that express each couples individuality. 
We go through every detail with you beforehand, to make sure that we include all the flowers and design elements that you love, and avoid all the ideas you're not crazy about.
Find us on Facebook.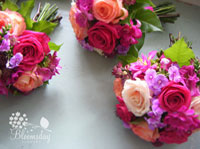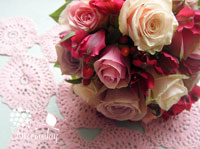 If you're planning your wedding, take advantage of our free wedding consultation service to give you a clear picture of what flowers will be available at the time of your wedding, what styles and colours would best suit your wedding theme and venue, and to give you a clear idea of what you will make the best use of your budget. 
Your wedding flowers are created especially for your day, and we try to work to make the most of your budget, rather than dictate the price to you…you tell us what you're looking for and we will use the best value seasonal blooms to create your wedding flowers.
We offer a wedding flower package, which is great for brides who are unsure of where to start or just want a bit of everything for a good price. Our wedding package has proven to be hugely popular with our wedding customers, because you can add to it as needed to make a perfect fit for your wedding.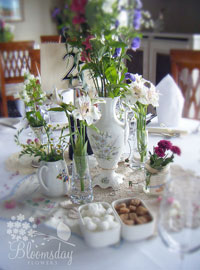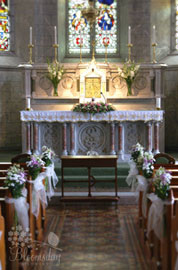 Our wedding flower package for 2011/2012 costs €500, and includes:
Bridal bouquet…a round hand-tied posy of fresh flowers including roses.
Two hand-tied bridesmaids' posies
5 gent's rose buttonholes
2 mum's rose buttonholes
Fresh flower altar arrangement
Unity candle set
6 lily pew ends with organza bow
2 hand-tied thank you bouquets
Delivery to bride, church, and reception venue
We are able to offer our package by ordering fresh flowers in season, finding the best value from our wholesalers. You choose the colour scheme, and we create a selection of the best seasonal flowers for your wedding. We deliver the flowers to the bride's home and dress the church, and can move the flowers to the reception venue if you wish….free within the local area, or else we can make arrangements for a petrol charge for outlaying areas. We have done weddings all over Ireland!
See our wedding flower gallery for an extensive selection of our previous work. When choosing your florist, it's important to be sure you really love their work, as your flowers aren't created until the morning of your wedding! We want to be sure that you are absolutely delighted with your flowers so we have worked hard to capture as many different images of our wedding flowers as we can.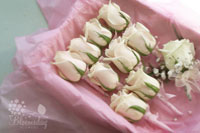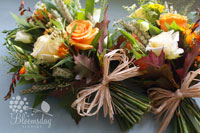 We also offer other wedding extras, such as personalised wedding candles, bay tree hire for the church, wedding favours and cake toppers, and more. If you've seen anything in magazines or online that you'd like to source or create, let us know! We are always willing to work with your unique ideas.
If you would like to set up an appointment for a free wedding consultation, ring us on
021-428-7404
to arrange a time that suits you.
In order to book your wedding, there is a non-refundable €50 deposit to hold the date, which is also payment towards your flowers. Be sure to book early to avoid disappointment if your date is unavailable! You don't have to make any decisions right away, all of the details can be worked out closer to the time when you will be able to see the flowers that are in season.