Here at
Christopher Murphy Jewellers
our newly renovated workshop has been filled with gold and platinum soldering units and an innovative laser machine, which allows the finest of work to be carried out without damaging any precious diamonds.
After a free consultation where all designs and options are discussed and priced, I would need your engagement ring for usually a day so I can make a rough model of your new wedding ring. This is then finalised, set with diamonds and polished, ready for you two to three weeks later.
This is very personal and unique, as every ring is handmade and set to fit exactly into your engagement ring. This process is very cost effective and a great way of saving money on your wedding rings as prices start from €750.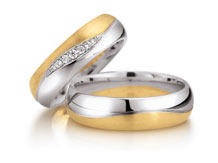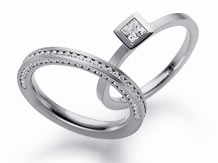 Double Wedding Rings
are now becoming a very interesting option to consider when choosing your wedding band. With two rows of diamonds surrounding your engagement ring, the effect gives a real enhancement to your ring. Apart from the fact that they are absolutely fabulous, they support and protect your engagement ring from everyday wear and tear. Prices start from €1300.
So... Are you and your engagement ring worth it?!
We also have a wide selection of handmade compression formed matching gents and ladies wedding rings in many different styles and finishes. Compression formed rings are much stronger and less susceptible to scratches and dints and last a lifetime.
~ Rings For Life ~



Be Individual:
Create your ring engraved with your names in Ogham lettering (used 2000 years ago in Ireland), giving your ring a personalised and distinctive look.
Design My Wedding Ring
Email an image of your engagement ring into us and we will reply with some ideas and prices of wedding rings that would suit your ring.
When you purchase wedding rings from us, we also include...
Free professional consultation with our goldsmith
Free sizing of your engagement ring, if required
Free valuation certificate with all wedding rings
Free rhodium plating of engagement ring