Wedding Feature
Venues Booking Guide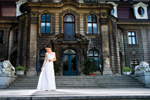 Before you shoot off across the countryside cursing your satnav and it's tendency to become irate as it announces that it is 'recalculating' your route, have a think about the aspects that make your venue perfect.
Shortlist destinations with a view to visit your top three to confirm they can facilitate your requirements. If it helps take a piece of note paper with you so that you can remember the conversation.
Size
The first aspect that you need to clarify is the size of the venue. Will they be able to accommodate your needs? Ask how many they will be able to comfortably seat for your meal. Extra seats and bumping elbows generally result in messy clothing and large dry cleaning bills. Remember that you will most likely be inviting extra guests to the evening reception and this will require extra space. Bands and DJs also tend to require quite a bit of room. Check that the venue can accommodate you, your guests, your entertainment and still have room for a dance floor.
Accessibility
With guests in mind you need to check out the venues accessibility. If you have trouble locating the venue there is a high probability that your guests will also struggle to get there on the day, the result of which is a delayed start to dinner and hungry people tend to become somewhat un-cooperative. Look to see if there is ample parking facilities as no-one wants a two mile trek in 6 inch heels. You need to look at the public transport/taxi costs to your location for guests that do not drive. If you have elderly or disabled relatives you need find their access points, as this may cause them embarrassment on the day. At this point it is worth asking about accommodation for guests that wish to stay. Are there special rates? If your venue does not have facilities then ask if there is a nearby guest house/hotel.
Services
Ask if your venue has a designated wedding co-coordinator. If you are lucky enough to have this as an option, a professionally minded co-coordinator will be worth their weight in gold. They will be able to talk you through all the packages on offer and may even be able to advise you with a list of suppliers that are recommended by the hotel. These suppliers may be able to offer you a 'hotel rate' whilst not all do, it is definitely worth asking. Your wedding co-coordinator will be your first point of contact and by the time your day arrives, will know your wedding so well you'd think it was their own. They will be on hand throughout the day to ensure that everything runs smoothly - some wedding co-coordinators will even act as your master of ceremonies.
Packages
The packages that venues offer vary. Discuss your budget with the hotel and ask about the provisions they could make for you. Don't feel under pressure to up your budget at their request and remember that if you spend more in one area you will have to cut back in another. Ask to taste samples of the menu before you make your final decision, just because a menu reads well does not mean that it will taste as good as it looks. If you plan to bring your own wine or champagne into the venue, then you need to check at this point if this is a feasible option. Some hotels simply will not allow this, others charge for corkage which may be expensive. Check to see what decorations are included in the price e.g. table linen, candles etc If you do not have to pay for these externally this may allow you a little more flexibility with price. Have a look at the bridal suite. Most hotels offer this free of charge as part of their wedding package by means of a thank you for your custom, however this is not always the case, so be sure to ask.
Restrictions and charges
If you plan to have something which may effect the health and safety legislation of the hotel or disrupt other guests then you must seek permission. Some hotels do not allow pyrotechnics, this includes devices such as smoke machines as they have a nasty habit of setting off smoke alarms. Loud music after a certain time may not be allowed although most hotels do offer the option to continue without entertainment, or with acoustic entertainment after the witching hour has occurred. It is worth knowing what the options are to avoid disappointment later. If you plan to use anything flammable at your wedding such as candles, Chinese sky lanterns or fireworks, then you need to ask permission from the hotel to ensure that they are insured should something go awry. Your hotel may offer the use of a cake stand and knife, if you require these then check that there are no extra charges for this. Some charge a minimal fee, others include it in the cost of the package. If you plan to use your wedding cake for pudding check that this is acceptable with the hotel, especially if you are bringing the cake from an external supplier. Some will not allow this as they cannot cover it under insurance due to an issue with food safety.
Deposit
Your venue will not be secured on your date until you have paid your deposit. Whilst this is un-nerving, make sure that you are happy before you hand over any money. Deposits are very often non-refundable so check everything. Clarify all details in writing and make sure that both you and the venue have a copy to ensure that everyone knows exactly what to expect. After you have secured your booking, it's off to the printers to get their details included on your invitations.
---
Wedding Features
Perfect Weddings Abroad
Unveil A Better You At The Altar
Secure Your Dream Venue
Advice For Mother Of Bride/Groom
Gorgeous Goodies For Your Big Day
Wedding Catering For Foodies
Marvin Humes And Rochelle Wisemen Wedding Venue Revealed
Facebook Wedding Boost For The Little White Dress Shop
Perrie Edwards Is Happy With 1D's Zayn Malik
New Chapter For Aldenham Park
Diamond Couples Celebrate At Jubilee Party
Black Eyed Peas Hit Tops Wedding Playlists
Secret To Happy Marriage Revealed
Petra Ecclestone Shares Wedding Snap
Golf Champ Darren Clarke Marries His Birdie
Lovers 'No Good' At Spotting Others In Love
Ben & Jerry's Say 'I do' To Same Sex Marriage
Men Embrace Man-Gagement Rings
Team GB Hopeful Leaps Over Blushing Brides
Royal Wedding William And Catherine Barbies Announced
Wedding News
Noami Campbell has found love with a mystery man.
Former Girls Aloud star Kimberley Walsh is unsure if her dream of having four children will be realised.
Johnny Depp and his girlfriend Polina Glen are believed to have gone their separate ways.
Tom Hanks has revealed the lesson in marriage that aids his union with wife Rita Wilson.
Alexis Ren has praised Noah Centineo as the perfect boyfriend.
'Riverdale' star Lili Reinhart has credited her mother for being the most influential person in her life.
Lena Waithe has revealed that she married in secret.
Orlando Bloom is hoping to have more children in the future.
Lewis Capaldi has turned to his famous friends for help in his search for a girlfriend.
Kelsea Ballerini is keen to start a family with her husband Morgan Evans.