Candles are often seen as a symbol of life, hope, celebration, and remembrance. Personalised candles make that symbol truly unique to you on your Wedding Day. All my candles are hand-engraved and painted to order to your specifications. No stickers or transfers are used.  I take great pride in providing you with your personal candles with every part of the process completed by myself.
I have a range of standard designs, interlinked rings (alone or with olive branch), interlinked hearts or celtic trinity knots, doves, or you can customise a design in consultation with me.
I have previously engraved candles with Monograms, Complex Celtic knots, Ogham lettering, quotations from poetry (in English, Irish and German), Roses, Orchids, and even Irish Dancing shoes!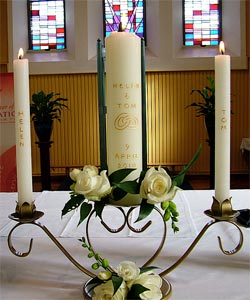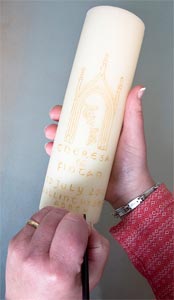 If there's a particular design or theme you would like to incorporate on your wedding candles please let me know. Your candles will be presented in an elegant personalised box with matching personalised card – ideal for storing your candles and some Wedding memorabilia.
They're perfect if giving Wedding Candles as a gift. Alternatively I can provide your candles in a gold or silver organza bag to match your chosen lettering and design. A personalised card is always included!
Candle Size
There is a variety in size and shape of the candles shown however the standard candles that I use are: 10″ x 2″ or 10" x 3" centre candle, and 2 dinner size side candles.  Other sizes are available by request.
A new and exciting addition to my range of wedding candles are beautiful hand made Globe candles, available in small, medium and large sizes. The entire globe is made from wax, with a candle in the centre. The globe is engraved and painted with your names, design, date of wedding or any other detail you may wish instead or in addition – such as a favourite quotation.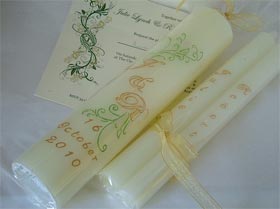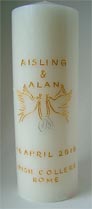 These globes are also suitable as memorial candles to remember loved ones who have died, or gifts to parents or any of your wedding party. Smaller engraved and painted personalised candles are also available for Bridesmaids, Bestman, Flower girls, parents – these have been given as gifts or even as place names at the wedding reception!
Candle Colour
White or Ivory, however other colours are possible with consultation.
Paint Colour
Gold or Silver for the most, however again other colours are available by request.
Personalisation
Names, Date, Design, Verse/Quotation if requested.  I am delighted to personalise your candles in any language – once I'm given the text.  I have my talents, but being a multi-linguist is not among them!!
I work from a small studio near my home in Carlow – please phone to make an appointment if you wish to call or to discuss any ideas you may have for your wedding candles.
I look forward to hearing from you.