Wedding Feature
Gorgeous Goodies For Your Big Day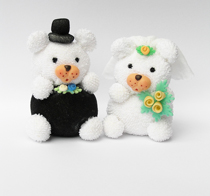 Give your wedding a personal touch with some exciting favours.
Traditionally the bride and groom give small gifts to guests as a gesture of appreciation during the wedding ceremony or reception.
European aristocrats gave bonbonniere as the first wedding favour. This was a small trinket box made of crystal, porcelain, and/or precious stones. The boxes contained sugar cubes which were expensive during this era. As the price of sugar reduced throughout centuries couples from all backgrounds embraced the trend. Almonds then became the favour of choice signifying well wishes for the bridegroom's new life.
In the thirteenth century, almonds coated with sugar, known as confetti, were introduced. Confetti soon transformed to sugared almonds, which later evolved into the wedding favour for modern day weddings. Jordan almonds were presented in a confection box or wrapped in elegant fabric to represent fertility, longevity, wealth, health and happiness. The bitterness of the almond and the sweetness of the coated candy exemplify the bitter sweetness of a marriage.
Inspiration
Now gifts to guests are as diverse and interesting as the couples themselves. The key is to complement the theme or season of the event. They may be personalized with the couple's names, initials or wedding date.
Classic favours
These are usually found waiting for guests at each place setting when they arrive to the reception. They suit weddings with a more formal feel. Think of keepsakes like scented handmade soaps, individual chocolates, packets of seeds and candles.
Why not bake it yourself?
Many brides-to-be now choose to make their own edible wedding favours and gifts. This can save money and the only limit is your imagination.
Try Parisian-style macaroons. Customise them to match your colour theme. For example you could make pale blue macaroons with edible pearls studded around the middle and present them in pretty boxes tied with ribbon for a chic look. Or go for tiny treats by making miniature cupcakes decorated with roses, crowns or glitter.
Make your wedding day sweeter with some treats, anything from flying saucers, chocolate mice, love hearts and fizzy snakes will be irresistible to everyone from tiny tots to grandparents.Little jams, honeys, chutneys or homemade fudge would also be perfect.
Alcohol miniatures are a real hit
Make it your favourite tipple or a locally produced drink. Check your venue will allow them as some may count miniatures as 'bringing your own alcohol' and charge corkage.
Do away with convention
Those having a contemporary wedding may want to do away with convention and give their guests something a little different. Provide entertainment with lottery tickets, fortune cookies and wedding bubbles. You can even get mini slot machine toys with sweets as prizes.
Share your passions
Music lovers can give guests a link to a playlist of their favourite tunes, book worms can give copies of well loved reads or bookmarks and fashion fans can offer his and her accessories reflecting their personal style.
Charity
Many brides and grooms are turning the tradition of wedding favours into an opportunity to support the causes they care deeply about.
Here are some tips for creating the perfect charitable favour cards
• Provide a website where guests can find more information about the cause you're supporting.
•Keep text minimal and light-hearted. Mention the charity, express love and gratitude for your guests' support, and finish with a heartfelt signature.
• If the cause you're supporting isn't widely known, a brief description about the organization can be included on the card.
• For a cohesive look, your favour cards can pick up on the style and colours of your wedding invitations.
Remember these are simply token items, whatever favour you choose to give the greatest gift for guests is being part of your big day.
(GK)
---
Wedding Features
Perfect Weddings Abroad
Unveil A Better You At The Altar
Secure Your Dream Venue
Advice For Mother Of Bride/Groom
Gorgeous Goodies For Your Big Day
Wedding Catering For Foodies
Marvin Humes And Rochelle Wisemen Wedding Venue Revealed
Facebook Wedding Boost For The Little White Dress Shop
Perrie Edwards Is Happy With 1D's Zayn Malik
New Chapter For Aldenham Park
Diamond Couples Celebrate At Jubilee Party
Black Eyed Peas Hit Tops Wedding Playlists
Secret To Happy Marriage Revealed
Petra Ecclestone Shares Wedding Snap
Golf Champ Darren Clarke Marries His Birdie
Lovers 'No Good' At Spotting Others In Love
Ben & Jerry's Say 'I do' To Same Sex Marriage
Men Embrace Man-Gagement Rings
Team GB Hopeful Leaps Over Blushing Brides
Royal Wedding William And Catherine Barbies Announced
Wedding News
LeToya Luckett-Walker is expecting her second child.
Charlotte Crosby has found a new romance in the wake of her split from Ryan Gallagher.
Lydia Bright has given a brutally honest interview about giving birth to her baby daughter Loretta.
Lana Del Ray has split up with her police officer boyfriend.
Actress and businesswoman Angelica Ross was left stunned this week when a simple Twitter post led to the discovery that her boyfriend has a fiancée and a child.
Ashley Graham has told of how she found breastfeeding "really difficult".
Susanna Reid is determined to celebrate her mum this Mother's Day despite being in self-isolation.
Actor and producer Lin-Manuel Miranda is learning how to homeschool now that his family are self-isolating.
Kristen Bell is bursting with pride for her two young daughters after they donated to charity.
The Duke and Duchess of Cambridge's children Prince George and Princess Charlotte will now be homeschooled as schools close across the UK.