Wedding Feature
5/11/2012
New Chapter For Aldenham Park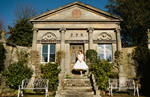 A young south Shropshire couple have returned to their roots to open a new chapter for a famous country house.
James, whose family hail from Albrighton, runs a successful alternative energy company and Hettie was formerly an assistant in Sotheby's Special Events department in London.
Aldenham Park is a beautiful Regency English country house, set in over 250 acres of parkland with over 15 acres of formal and informal gardens and the property dates from 1691, although records show a dwelling on the site since the Doomsday Book.
Hettie commented: "Some early history reveals that King Charles 1st hid here during the English Civil War in the 1600s and he later presented a very large Van Dyck painting of himself to the house in gratitude which now stands proudly in the saloon. The intricately panelled and carved bedroom that King Charles 1st stayed in still remains intact to this day.
"During the Second World War, evacuee children from the cities were housed here and the attics were used as school dormitories. There are still several original coat hooks and cupboards bearing the names of the children, so the house has a very colourful history.
"We only expect to host around half a dozen wedding events a year and we can call on a wide circle of professional friends and contacts who can provide relevant services. We are in the process of obtaining our civil ceremony licence allowing us to offer a wedding venue that is intimate, exclusive and we believe, rather special."
(GK)
---
Wedding Features
12/06/2012
Perfect Weddings Abroad
Unveil A Better You At The Altar
Secure Your Dream Venue
Advice For Mother Of Bride/Groom
Gorgeous Goodies For Your Big Day
Wedding Catering For Foodies
08/06/2012
Marvin Humes And Rochelle Wisemen Wedding Venue Revealed
28/05/2012
Facebook Wedding Boost For The Little White Dress Shop
25/05/2012
Perrie Edwards Is Happy With 1D's Zayn Malik
11/05/2012
New Chapter For Aldenham Park