Wedding Feature
6/12/2012
Unveil A Better You At The Altar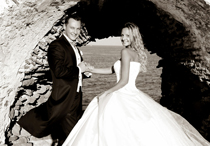 All eyes are on the bride on the big day and it's your time to shine. You may wish to undertake the ultimate wedding makeover or just arrive at the alter as a more polished version of yourself.
You are what you eat
Stop and think about how you are fuelling your body. All the exercise in the world is useless without a healthy diet. It may sound boring but to achieve your goals you need to cut down on sugary foods and alcohol. Choose foods that release energy slowly, think rice, nuts and seeds. Balance food groups and avoid eating too many fatty things.
Workout
Begin your pre-wedding training plan as soon as possible. This will give you enough time to prepare for the big day without without putting your health at risk. Yo-yo dieting and drastic weight loss are common pitfalls to avoid. Consentrate on building your fitness.
"I have found that the more time the bride and groom have to build fitness levels and obtain results, the better they will deal well with the stresses of planning a wedding," advises Robert Kane, a David Lloyd Leisure personal trainer based at Hatfield.
Six Month Training Plan
Whether you are new to exercise, want to loose weight or just tone-up Gillian Reeves, National Group Exercise Manager at Virgin Active, has devised a plan for brides.
Drop a dress size
If your goal is weight loss, aim for steady weight loss of between one – two llbs a week. If you lose any more than this, you are likely to put weight back on very easily and the whole process of excessive weight loss and gain in a short period of time is a stress on your body and doesn't promote good health in the long term.
Beware that some research indicates that excessive yo-yo dieting can cause fertility issues also so stick to a structured achievable exercise and eating plan that you can work into your lifestyle and maintain for the long term.
Beginners
If you are new to exercise, start by working three cardio sessions into your week that all last 30 minutes each. You can choose any activity such as a Zumba fitness or Group Cycle class, jogging or power walking or swimming. Push yourself during the 30 minute session so that you feel that you are working at a perceived effort level of seven out of ten.
After two weeks, add in two strength sessions a week, you could do this at the beginning of two of your cardio sessions, for example, try using the ViPRs or TRX at your local health club. This equipment is user friendly and fun too.
After your first month, keep the cardio sessions the same but up the intensity by adding an interval format where you exercise at high intensities for short bursts of a few minutes followed by a few minutes of lower intensity exercise and repeat for the 30 minute session. Keep your strength sessions and try some different exercises rather than keeping to the same routine.
In your third month, maintain the interval format for cardio and increase the time to 40 minutes. Keep your strength sessions twice a week and again try some different exercises.
For the months four – six, change your types of exercise to give your body a new challenge and keep it adapting positively to the exercise demands so you can see results and continue to improve rather than reach a plateau.
Switch up your routine
If you are already exercising, make a change to your usual routine and try something different. If you are used to running twice a week for example, change one of your runs for a swim or boxing session. By giving your body a new physical challenge, it will be forced to adapt and you will see the results through inch loss and improved muscle tone.
Cosmetic
You may consider plastic surgery if you want to unveil a new you as you say I do. There were 43,069 surgical procedures in 2011 according to the British Association of Aesthetic Plastic Surgeons. Common surgical procedures for brides-to-be include breast augmentation, nose reshaping and liposuction.
Boob Job
Breasts can be made larger by placing an implant either under the breast tissue or behind the muscle on which the breast lies. Implants are usually inserted through incisions in the fold under the breast (i.e. inframammary fold). Alternatively, the incisions may be made around the areola or in the armpit.
Rhinoplasty
Surgery to reshape the nose is a very common plastic surgery procedure and it can both increase or decrease the size of nose. The shape of the tip, the bridge and also the nostrils can be changed as can the angle between the nose and the upper lip. Sometimes breathing difficulties can be corrected at the same time.
Liposuction
This is a technique to remove unwanted fat deposits. The unsightly distribution of body fat is usually due to an inborn tendency to deposit fat in one particular area of the body, most commonly the hips. Other areas include; the neck, arms, tummy, loins, thighs, inner side of the knees and the ankles. The growth of a benign fat tumour (lipoma) can also be a disfigurement, and in men fatty swellings can develop under the nipples to look like breasts.
If your considering plastic surgerry Newport Beach-Based Surgeon Dr. Tenley Lawton offers these tips:
1. Ask for recommendations – Finding a good surgeon is critical. Ensure the surgeon is certified and view patient reviews and simply ask around – recommendations from actual patients should be a key factor to finding the right surgeon.
2. Weigh the risks – Understand the mental considerations and physical risks with surgery. Research the procedure in advance online to educate yourself.
3. Recovery time – Recovery time varies for each procedure and each patient, but it is important to understand what to expect.
4. Start with the end in mind – Meet with your doctor to ensure your expectations are fully communicated. Together, you can develop a strategy to get the best results that are realistic and satisfactory.
Less invasive procedures
Micro-peels to rejuvenate facial skin, wrinkle-smoothing Botox and lip enhancing fillers are also popular choices for bribes to be.
There has also been an increase in couples getting cosmetic dental procedures for their big day, according to Duncan Black the principal dentist at Halo Dental, Glasgow.
Work can range from full 'smile design' cases where smiles are redesigned with crowns and veneers to tooth bleaching and cleaning for the bridal party.
Whatever treatment or workout regime you choose before your wedding day it is important to remember that perfection does not exist and your partner has fallen in love with you as you are.
(GK)
---
Wedding Features
12/06/2012
Perfect Weddings Abroad
Unveil A Better You At The Altar
Secure Your Dream Venue
Advice For Mother Of Bride/Groom
Gorgeous Goodies For Your Big Day
Wedding Catering For Foodies
08/06/2012
Marvin Humes And Rochelle Wisemen Wedding Venue Revealed
28/05/2012
Facebook Wedding Boost For The Little White Dress Shop
25/05/2012
Perrie Edwards Is Happy With 1D's Zayn Malik
11/05/2012
New Chapter For Aldenham Park