Wedding Feature
6/12/2012
Advice For Mother Of Bride/Groom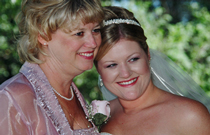 Your child's wedding is a major milestone and it's important to strike the balance between helpful parent and mumzilla.
Provide guidance
Be a support system, while the opinions of both mother-of-the-groom and the mother-of-the-bride are to be respected it's your child's big day and they are the puppet masters.
You may imagine witnessing the bride being given away in an historic venue with 300 guests while she may be dreaming of a simple affair on the beach with immediate family. You can not expected them change their nuptials to suit you.
Talk expenses
Have a conversation about money early on. The average cost of a ceremony including caterers, venues, car hire, clothing, rings and honeymoon is an eye-watering £21,000.
It may be traditional for the bride's parents to foot the bill but as more and more of us marry later it is the couples that are funding the big day themselves.
Contemporary wedding also see the couple, the bride's family and the groom's family splitting expenses. No matter who is paying you must let them make the decisions.
Help out
If there is a particular element of the wedding planning that you are interested in let the couple know. Help them cut costs by embracing your talents such as card creativity, web page design or favour-making. Tell them "these are a few things I can help you with". Don't be offended if they don't take on board all of your ideas. It's also important to not take on too much and stress yourself out.
Dodge guest-list gaffes
Work with the couple on the invites. You may give them a sample guest list of people you would like to include in order of preference. Generally the more you contribute to a wedding the bigger the say you have on the invites. Don't invite any relatives until the guest list is finalised with the bride and groom.
Bond with the in-laws
Get to know your in-laws. Soon you could be sharing grandchildren with your in-laws. Invite them to dinner or for coffee.
Women could bond over shopping trips and spa weekends. Men could watch sports events or go out for a beer. It's not essential to be best friends just be courteous to each other.
Avoid conflict
Try not to nit-pick every detail of the wedding, if you don't like an aspect of the wedding practice discretion. Weddings are important emotional events therefore feeling can be heightened but you must learn the difference between bulldozing a decision and making a suggestion. You don't want negative feelings filtering through to the couple resulting in conflict.
Give sentimental gift
Choose a gift the couple will cherish. A sentimental present such as a family heirloom or a framed photo of the bride as a little girl is ideal.
Pick something from the registry the couple will enjoy and think of you as they use it. Alternatively give them money for the honeymoon or pay for a meal or activity they can enjoy while away.
Choosing the outfit
You want to look incredible but remember the first commandment for weddings; thou shall not upstage the bride.
Avoid turning into a monster-in-law by not wearing white, black, anything low-cut, or tight fitting.
'Ladette to Lady' Social & Etiquette Expert Liz Brewer: "The number one rule for mothers and stepmothers-in-law is not to do anything to draw attention away from the bride. Be as elegant as you like, but it is incredibly bad form to upstage the bride on her big day."
Mother-of-the-groom and the mother-of-the-bride should consult with each other before the big day to avoid wearing similar outfits.
Be a fashion savvy mum. Most department stores provide free personal shopping services in which they cater to your style wishes, colours and sizes.
By the time must mothers splash out on their outfits including handbag, shoes, hat and cosmetics they have spent around £430.
Think of the wedding pictures and confer and co-ordinate with the bridal party working with the overall colour scheme of the wedding.
(GK)
---
Wedding Features
12/06/2012
Perfect Weddings Abroad
Unveil A Better You At The Altar
Secure Your Dream Venue
Advice For Mother Of Bride/Groom
Gorgeous Goodies For Your Big Day
Wedding Catering For Foodies
08/06/2012
Marvin Humes And Rochelle Wisemen Wedding Venue Revealed
28/05/2012
Facebook Wedding Boost For The Little White Dress Shop
25/05/2012
Perrie Edwards Is Happy With 1D's Zayn Malik
11/05/2012
New Chapter For Aldenham Park