Wedding Feature
Secure Your Dream Venue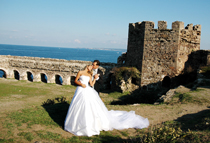 Every bride dreams of the perfect wedding venue and there is a wealth of locations to choose from.
You can say 'I do' in a chic hotel, countryside manor, retro cinema or even a Zoo but before you put that deposit down here are some points to consider:
Create a vision
Sit down with your partner and consider your style. Create an inspiration board with elements you want your big day to include.
This will influence the setting be it elegant, elaborate or laidback. You may find your partner has totally different ideas to you. Be prepared to compromise.
Church or civil ceremony?
If the location of your ceremony is different from your reception try and keep the venues within 30 mins of each other. You could hold your reception in a church hall to cut costs.
Guests
You can use guest numbers to whittle down venue choices. Calculate how many people you wish to attend in order to establish if a venue large enough to accommodate your party.
Consider the location. Will your guests be able to travel there easily? Will you need to provide a coach?
Budget
The venue price puts a major dent in your wedding budget. It's important to know what locations are in your price range.
Room hire, catering and alcohol are the main reception expenses. Think outside the box. While a hotel and country pub may seem the obvious choices consider village halls, local sports club and even your friend's large garden.
Wedding Date
Be flexible about your wedding date. Venues can be booked years in advance during peak season and on popular holidays.
Changing to a weekday or winter wedding can save you a fortune and open up venue choices that were previously out of your price range.
Once you have decided on your venue plan regular visits, and check on quality. Build a friendship with your contact there.
Use this checklist to aid the decision process
• Choose no more than ten venues to visit and evaluate them.
• Outline price packages available.
• What are the catering options?
• How many hours are included in the venue hire?
• Is there an additional cost to have the ceremony at the wedding reception venue?
• Is there a bridal suite for the bridal party?
• Will there be other wedding receptions happening at the same time?
• What is the availability of the venue for the dates you are interested in?
• Does the venue offer any incentives for booking? eg. free spa treatments, gym memberships etc.
• What wedding planning services are available?
• What deposit is required?
(GK)
---
Wedding Features
Perfect Weddings Abroad
Unveil A Better You At The Altar
Secure Your Dream Venue
Advice For Mother Of Bride/Groom
Gorgeous Goodies For Your Big Day
Wedding Catering For Foodies
Marvin Humes And Rochelle Wisemen Wedding Venue Revealed
Facebook Wedding Boost For The Little White Dress Shop
Perrie Edwards Is Happy With 1D's Zayn Malik
New Chapter For Aldenham Park
Diamond Couples Celebrate At Jubilee Party
Black Eyed Peas Hit Tops Wedding Playlists
Secret To Happy Marriage Revealed
Petra Ecclestone Shares Wedding Snap
Golf Champ Darren Clarke Marries His Birdie
Lovers 'No Good' At Spotting Others In Love
Ben & Jerry's Say 'I do' To Same Sex Marriage
Men Embrace Man-Gagement Rings
Team GB Hopeful Leaps Over Blushing Brides
Royal Wedding William And Catherine Barbies Announced
Wedding News
LeToya Luckett-Walker is expecting her second child.
Charlotte Crosby has found a new romance in the wake of her split from Ryan Gallagher.
Lydia Bright has given a brutally honest interview about giving birth to her baby daughter Loretta.
Lana Del Ray has split up with her police officer boyfriend.
Actress and businesswoman Angelica Ross was left stunned this week when a simple Twitter post led to the discovery that her boyfriend has a fiancée and a child.
Ashley Graham has told of how she found breastfeeding "really difficult".
Susanna Reid is determined to celebrate her mum this Mother's Day despite being in self-isolation.
Actor and producer Lin-Manuel Miranda is learning how to homeschool now that his family are self-isolating.
Kristen Bell is bursting with pride for her two young daughters after they donated to charity.
The Duke and Duchess of Cambridge's children Prince George and Princess Charlotte will now be homeschooled as schools close across the UK.