Wedding Feature
Arrive In Style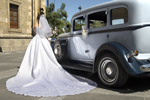 How you arrive at your wedding should reflect your personality and the overall theme for your day. Whether you choose to arrive in a car, horse drawn carriage, or on the back of a Ducatti Monster motorcycle, the choice is entirely up to you.
The only limits are that of your own imagination. This is the one moment in time where you are the VIP, so let your transportation announce your arrival.
Stick with Tradition
Vintage Vehicles are traditionally a popular means of transport. Not only do they make a statement as you arrive at your final destination, more practically they are spacious enough for your dress and have a roof to ensure that you remain in pristine condition. Most providers will have a selection of vintage vehicles for your perusal. Popular makes include: Rolls Royce, Daimler, Bentley, Mercedes, Austin. These makes may also come in a range of colours to co-ordinate with your theme.
Rather than simply looking at the car make, you need to consider its colour. You may have chosen an ivory and gold colour scheme. The transport provider has suggested a white Daimler. Is white really the best option? There is a high chance that it will clash with your dress. Worse still it may make your dress look dirty.
However a highly polished black Daimler with crisp gold ribbon and ivory flowers in the back window, would be a much more fitting mode to transport to herald your arrival. Simply asking the transport provider for both make and colour options, leaves you with a much sleeker, finished look.
Horse Play
Another option for traditional brides is a horse drawn carriage. You need to ensure that the journey will be short for this option to be available. This mode of transport is idyllic for the romantic at heart. It is as perfect for an intimate family ceremony, as it is at a lavish V.I.P. affair. However if this is your transportation of choice it is worth considering our weather. The odds that you will have a blistering hot wedding day, with no rain what-so-ever, are about as high as winning the lottery.
Most carriages do offer a protective hood, confirm this will be available to you at the time of booking. Service providers may also be able to offer you the option of a heated carriage. This can be especially good if you plan to wed in the winter months. Another point to consider is, that unless the horses are stabled nearby, they will need to have an area where they can be prepared and dressed for the occasion.
Often a driveway or the pavement in front of the family home will suffice. Ask your provider how much room they require and designate a person to ensure that this area is kept clear.
Chic and Unique
Not all brides choose the 'normal' route. Nowadays when it comes to transport anything goes and less traditional modes, are quickly becoming increasingly desirable. Brides have realised that it is alright to break with tradition, if it suits their theme and personality.
It is common now to have brides arriving by boat, helicopter, motorcycle, tandem, hummer and even wedding bus.
Whilst the options are endless, you do still need to check that the transport method you choose will meet all of your requirements. e.g. helicopters require a landing site, you will need to check that your venue can accommodate this. Alternatively you need to research how far away the nearest available landing site is to your location and arrange transport from here to your venue. A wedding bus is a fabulous way to easily transport all your friends and relatives. It serves as both an icebreaker and ensures that they all arrive to the reception at the same time. However you need to designate a chaperone, who will ensure that everyone is on the bus and no-one gets left behind.
Check it out
Whatever you choose, there are certain aspects that should be checked with all service providers:
• Quality
Don't assume that the picture you are shown in a brochure is the same standard as the actual transporter.
Whilst this is generally the case, it is worth taking the time to visit the transport company and view the item in person.
• Availability
Booking in advance is imperative to ensure that you get your dream choice. Convertibles and horse drawn carriages are extremely popular during the summer months. Booking early is the only way to guarantee they will be free on your special day.
• Distance
The distance between your home and your venue is imperative. It will dictate what transport is available for use and also if you require more than one vehicle.
Some transport companies have an added charge for longer distances. Check all charges from the outset to get a clear indication of the amount you can expect to pay.
• Breakdown
Whilst it is highly unlikely that your wedding transport will breakdown. Unforeseen hiccups can happen, so ask your service provider what happens should the worst situation present itself.
For a little extra protection, it is a good idea to give Dad a mobile or have a good friend on standby to cover all eventualities.
• Seat Belts
Even if your wedding dress is so big you plan to use it for family camping holidays in the future, the law still stands, you will be fined for not wearing a seatbelt. It is worth looking to see if there are lap belts in the back seats. These are best as they fit comfortably around your waist causing minimal disruption to your dress. Particularly important if your dress material creases easily. At this juncture it may also be worth checking that the vehicle you choose accommodates your dress. If you have a large dress, it is perfectly acceptable to ask to try this before your big day. You may wish to take your Mum/Bridesmaid with you to do this rather than the Groom.
• Hidden Extras
Transport companies offer a number of extra services from ribbons to flowers, drinks, uniformed drivers and even personalised number plates. Whilst some of these services will incur no charge, for others there will be a minimal fee. Check first rather than facing a nasty surprise later.
• Umbrella
It may be simple but it is worth checking that there will be an adequately sized umbrella to cover you until you are safely deposited in your ceremony venue.
---
Wedding Features
Perfect Weddings Abroad
Unveil A Better You At The Altar
Secure Your Dream Venue
Advice For Mother Of Bride/Groom
Gorgeous Goodies For Your Big Day
Wedding Catering For Foodies
Marvin Humes And Rochelle Wisemen Wedding Venue Revealed
Facebook Wedding Boost For The Little White Dress Shop
Perrie Edwards Is Happy With 1D's Zayn Malik
New Chapter For Aldenham Park
Diamond Couples Celebrate At Jubilee Party
Black Eyed Peas Hit Tops Wedding Playlists
Secret To Happy Marriage Revealed
Petra Ecclestone Shares Wedding Snap
Golf Champ Darren Clarke Marries His Birdie
Lovers 'No Good' At Spotting Others In Love
Ben & Jerry's Say 'I do' To Same Sex Marriage
Men Embrace Man-Gagement Rings
Team GB Hopeful Leaps Over Blushing Brides
Royal Wedding William And Catherine Barbies Announced
Wedding News
LeToya Luckett-Walker is expecting her second child.
Charlotte Crosby has found a new romance in the wake of her split from Ryan Gallagher.
Lydia Bright has given a brutally honest interview about giving birth to her baby daughter Loretta.
Lana Del Ray has split up with her police officer boyfriend.
Actress and businesswoman Angelica Ross was left stunned this week when a simple Twitter post led to the discovery that her boyfriend has a fiancée and a child.
Ashley Graham has told of how she found breastfeeding "really difficult".
Susanna Reid is determined to celebrate her mum this Mother's Day despite being in self-isolation.
Actor and producer Lin-Manuel Miranda is learning how to homeschool now that his family are self-isolating.
Kristen Bell is bursting with pride for her two young daughters after they donated to charity.
The Duke and Duchess of Cambridge's children Prince George and Princess Charlotte will now be homeschooled as schools close across the UK.