Wedding Feature
Wedding Shoe Heaven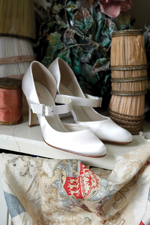 If chosen correctly, wedding shoes are not only the perfect complement to your gown, they will also help your posture and correct height issues there may between you and your partner. Before you hit the shops there are a few things worth consideration:
Season
The time of year that you choose to get married will have a massive impact on your choice of footwear.
Think about the season before you go shopping for your shoes The shops may be stocked full with sandals and straps but if you are getting married on 31st December your toes will be blue.
Winter/Autumn - Think boots. If these are laced, you might like to remove the laces and replace them with silk/satin ribbon. Above all be sure to have a closed toe area, to ensure that your extremities stay warm.
Summer/Spring - Choose peep toe, strapped sandals, flip-flops or even no shoes at all.
Dress
The style of your dress will also impact on your preferred type of shoe. If you have chosen a simple elegant short gown, a stunning pair of high heels embellished with diamante/pearls, will flatter and lengthen your legs. If you have a full skirted gown with lots of detailing, perhaps it would be best to try a simple silk bridal shoe, with little or no detail as your feet will be covered by your dress. There are numerous different shades of white and ivory. Never assume because it looks like the shoe should match in the shop it will be a match when you return. Always take a swatch of material with you to try under the shop lighting.
Fabric & Colour
Commonly bridal shoes are made of the following fabrics - silk, velvet, lace and satin. These fabrics look the most feminine, however some styles may include raw silk or crepe. Matching your shoes or bridesmaid shoes to the dress can be a bit of a nightmare, particularly if the colour that you have chosen is a little different to that in season at the time. For this reason most good bridal retailers will be able to put you in touch with a shoe dying service. The majority of bridal shoes can be dyed with good accuracy. Simply give the company in question a sample of material and they will make the match for you. There is a small fee for this service, but it definitely saves on the hours of pavement pounding.
Height
The height difference between you and your groom needs to be considered, before you set foot in a shoe store. If you are the same height or taller than your groom. It may be worth looking at pumps or flat heels, so as not to tower over him in the wedding photography. Consequently if your groom is a lot taller than you, it may be worth looking at high heels so that your groom isn't hunched over all day. Ultimately it is up to you, but do think about the height difference and if it even bothers you at all when shopping around.
Personal Style
Let the type of everyday shoes in which you are comfortable dictate the style of your wedding shoes. If you are a jeans and T-shirt girl, there is little point in trying to wear 6" stilettos'. You will simply spend the day wobbling around, feeling uncomfortable. You're guaranteed to have them whipped off and thrown under Grannys chair before the evening is through. Try looking at pumps or flat sandals. If that is even a stretch too far, there are bridal shoe companies that make very nice ranges of bridal trainers. Perfect to satisfy your inner tomboy.
However if you are a girl that loves her heels and wouldn't be on a night out without them, pumps or flip flops, are simply going to make you feel short, frumpy and uncomfortable. Go with your instinct and find the perfect heels for you.
Remember with all bridal shoes to wear them around the house for a few weeks to break them in before the big day.
Purchase your shoes before you make any alterations to the hem of your dress this may effect the look and the hem may need to be taken up or dropped down. If you haven't made a shoe decision and are planning to wear heels say this to your bridal boutique as they will then be able to allow a little extra length to to accommodate your shoes.
---
Wedding Features
Perfect Weddings Abroad
Unveil A Better You At The Altar
Secure Your Dream Venue
Advice For Mother Of Bride/Groom
Gorgeous Goodies For Your Big Day
Wedding Catering For Foodies
Marvin Humes And Rochelle Wisemen Wedding Venue Revealed
Facebook Wedding Boost For The Little White Dress Shop
Perrie Edwards Is Happy With 1D's Zayn Malik
New Chapter For Aldenham Park
Diamond Couples Celebrate At Jubilee Party
Black Eyed Peas Hit Tops Wedding Playlists
Secret To Happy Marriage Revealed
Petra Ecclestone Shares Wedding Snap
Golf Champ Darren Clarke Marries His Birdie
Lovers 'No Good' At Spotting Others In Love
Ben & Jerry's Say 'I do' To Same Sex Marriage
Men Embrace Man-Gagement Rings
Team GB Hopeful Leaps Over Blushing Brides
Royal Wedding William And Catherine Barbies Announced
Wedding News
David Beckham has confessed that his marriage to Victoria Beckham is something he always has to work on as it gets harder over time.
Orange is the New Black actress Lauren Lapkus and her new husband Mike Castle have spoken of their joy at tying the knot earlier this month.
Former Destiny's Child member LeToya Luckett has revealed she is expecting a baby girl by sharing a picture of herself carrying pink balloons on Instagram.
Justin Bieber and Hailey Baldwin have reportedly confirmed their marriage to a fan, after news circulated last month that they had tied the knot.
Singer Carrie Underwood's pregnancy symptoms are different this time around and she's finding things harder as she awaits the arrival of her second baby with husband Mike Fisher.
Despite being engaged for two years, Rosie Huntington-Whiteley has said she is in no rush to marry Jason Statham.
Robbie Williams has revealed that he sang his biggest hit 'Angels' five times at the wedding reception of Princess Eugenie and Jack Brooksbank.
More than half of new mothers with mental health problems felt they could not discuss their issues at postnatal checks, according to the National Childbirth Trust (NCT).
Jada Pinkett Smith and Will Smith refuse to call themselves married, to allow them to live without any expectations of what a husband and wife should be.
Priyanka Chopra recently became engaged to Nick Jonas and admitted she feels she needs to "catch up" with friends who are starting families.