Wedding Feature
Plan Your Hen & Stag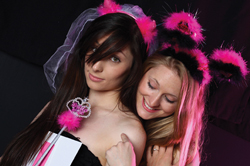 The modern day hen party and the male equivalent, the stag do, is a rite of passage and there's a host of experiences available to give you a night to remember.
Pre-wedding celebrations rake in around £300m every year in the UK with men spending twice as much as women.
According to the Office for National Statistics we are marrying later, aged 36 on average for men and 33 for woman, meaning the customary dos are becoming more elaborate.
"They are a lifestyle choice now and an appealing and inclusive tradition to mark the forthcoming nuptials with an enjoyable send off," said Simon Denning Managing Director of UK based party planner StagWeb & GoHen.
"The older we get the more responsibilities and commitments we have and subsequently the opportunities to get together with selection of genuine good friends are usually few and far between.
"A good friend's hen do is one of the times you will make that exception and the extra commitment. Socially they're a great opportunity to catch up and have fun.
"Hen dos are just as important as stags, the girls deserve a pre wedding party just as much as the boys."
A recent survey from Teletext Holidays found that the average cost of a stag night was £215, with women forking out around £106 for a hen event.
Stag parties originate back to the 5th Century BC in ancient Greece when Spartan soldiers held a dinner for the groom on the eve of his wedding.
It is believed King Henry VIII held pre-wedding banquets with his friends and in the late 1800s, men used it as a chance to say goodbye to friends they would not invite into the marital home.
The Hen night is a more recent cultural phenomenon that began to emerge in the mid-1980s when young women started to enjoy the benefits of gender equality.
Alcohol may still form a massive part of celebrations but the key thing is socialising.
"Safety comes first and we recommend avoiding the effects of excess, not least because it can effect your own as well as other's enjoyment, however it's not for us to judge or legislate."
"It's easy to sensationalise and denigrate hen dos, and many are keen to jump on the band wagon but it is a group of friends like yours or mine out for a good time.
"If the groups let off more steam than usual as long as they are safe and respectful of themselves and others then there's no reason it should be unsuccessful," he continued.
Organising the event is a huge task. The bride-to-be and groom-to-be should remember the event forever therefore it's important to find out exactly what they want and don't want.
A good celebration will add to the whole wedding experience.
Hens
Workshop
Go back to the classroom and learn something new. Make luxury chocolate, mix your own special cocktail or take the lead from Lily Allen and have cooking lessons as part of your hen experience. If you can't afford Gordon Ramsay enquire about cooking lessons at your favourite eatery.
Spa
Detox before you retox at a spa. Soak all your worries away and indulge in a vast array of treatments including facials, massages, manicures and pedicures.
Song and dance
Have a cheesy karaoke party Glee style, channel your inner Sandy with a Grease theme or don't let anyone put baby in the corner with a Dirty Dancing lesson. You can merengue the night away at a Salsa club or become a Burlesque Diva like Dita Von Tesse; the choices are endless.
Makeover Photo Shoot
Enjoy being styled fabulous with the girls. A professional will hold a consultation with you, blow out your hair, and give you a make up lesson. Dress to impress or choose a theme for your photos. Drinks may be served throughout.
Circus Skills
Run away and join the circus for the day. Try unicycling, diabolo, stilt walking and the flying trapeze. If you have good coordination there's tight wire walking, juggling and acrobatic balancing. Katy Perry watched Ka by Cirque du Soleil at the MGM Grand in Las Vegas as part of her send-off into married life.
Festival
Make like Kate Moss at the Isle of White festival, dance in the mud to live music and enjoy a few ciders or some bubbly in the champagne tent.
Stags
Action man
Get your pulses racing with a range of high octane activities. Think white-water rafting, a 4x4 off road adventure, paintballing, Zorbing, tank driving, helicopter lessons and quad biking. Prince William blasted clay pigeons and drank vintage port on his secret stag do.
Camping
Answer the call of the wild with a camping adventure. Take a Ray Mears style bushcraft course, climb a mountain or go gorge walking. This is ideal for the stag who enjoys the countryside and a physical challenge.
Men Only
Brides-to-be may recoil in horror at the idea of their other half visiting a strip club but it's a popular stag venue. Russell Brand celebrated his last night of freedom at Peter Stringfellow's Angels club in central London.
Fine dining
Give your taste buds a treat with a slap-up meal. Book your party into a gourmet restaurant well in advance. David Walliams' pre-wedding celebration consisted of dinner at Nobu before enjoying a few drinks at the Met Bar.
Day At The Races
Soak up the atmosphere at a major horseracing fixture such as the Grand National, Cheltenham Gold Cup or Ascot. Have a flutter based on hot tips from pundits and celebrate a winning horse with a bottle of champers. A night at the dogs offers a more laid back alternative.
Any of these activities can be taken on tour. Weekends in Vegas, Prague, Dublin, Briton, Amersterdam and Edinburgh are all popular. Do your research before arriving at your destination. Some venues are more stag/hen party friendly than others.
Hen & Stag dos … and don'ts
• Do make it clear to the person organising the event exactly what you want and don't want.
• Don't do anything you will regret the morning after.
• Do pull out all the stops. Consider it a special occasion and do something different than the usual few jars in your local.
• Don't take a joke too far when caught in the moment. Humiliation is not the aim.
• Do eat well and drink plenty of water if it's a boozy session. Sneaking in an alternative glass of water every so often will help keep you hydrated. Prepare for the hangover to follow.
• Don't have it too close to your wedding. You don't want to be turning up inebriated plus paintballing bruises will ruin the aesthetics.
• Do secure your venues and have a backup plan. The last thing you want is to be denied entry to a nightclub when the party is in full swing.
• Don't forget to set aside money from your wedding budget for the night.
• Do relax and let your hair down. You deserve to be spoilt rotten.
• Don't be tempted to check up on your partner. Concentrate on your own night.
• Do spend time chatting with everyone who has turned up.
---
Wedding Features
Perfect Weddings Abroad
Unveil A Better You At The Altar
Secure Your Dream Venue
Advice For Mother Of Bride/Groom
Gorgeous Goodies For Your Big Day
Wedding Catering For Foodies
Marvin Humes And Rochelle Wisemen Wedding Venue Revealed
Facebook Wedding Boost For The Little White Dress Shop
Perrie Edwards Is Happy With 1D's Zayn Malik
New Chapter For Aldenham Park
Diamond Couples Celebrate At Jubilee Party
Black Eyed Peas Hit Tops Wedding Playlists
Secret To Happy Marriage Revealed
Petra Ecclestone Shares Wedding Snap
Golf Champ Darren Clarke Marries His Birdie
Lovers 'No Good' At Spotting Others In Love
Ben & Jerry's Say 'I do' To Same Sex Marriage
Men Embrace Man-Gagement Rings
Team GB Hopeful Leaps Over Blushing Brides
Royal Wedding William And Catherine Barbies Announced
Wedding News
LeToya Luckett-Walker is expecting her second child.
Charlotte Crosby has found a new romance in the wake of her split from Ryan Gallagher.
Lydia Bright has given a brutally honest interview about giving birth to her baby daughter Loretta.
Lana Del Ray has split up with her police officer boyfriend.
Actress and businesswoman Angelica Ross was left stunned this week when a simple Twitter post led to the discovery that her boyfriend has a fiancée and a child.
Ashley Graham has told of how she found breastfeeding "really difficult".
Susanna Reid is determined to celebrate her mum this Mother's Day despite being in self-isolation.
Actor and producer Lin-Manuel Miranda is learning how to homeschool now that his family are self-isolating.
Kristen Bell is bursting with pride for her two young daughters after they donated to charity.
The Duke and Duchess of Cambridge's children Prince George and Princess Charlotte will now be homeschooled as schools close across the UK.