Wedding Feature
Wedding Cakes Made Easy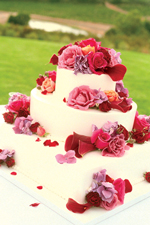 Cutting your cake is one of the most symbolic aspects of your wedding day. It marks your first shared role as a married couple and it is the one photograph that most guest, will want.
Choosing your wedding cake is perhaps one of the most enjoyable aspects of planning your wedding. When else do you get to spend the entire evening sampling every kind of cake, without feeling guilty? In fact it is an essential part of the process.
Gone are the days of the traditional fruit cake. Now the choice is only limited by your imagination. With that in mind it is worth taking a little inspiration from magazines and websites, so that you have some ideas before you visit your cake maker. Think of the type of wedding you are having. Is it formal or informal? Try to work the design of your cake into your theme. You should make your appointment to order your cake six months before your wedding to avoid disappointment, with a view to booking and paying a deposit as soon as your decision is made.
Mix it up
Don't be afraid to experiment with the flavour of your cake tiers. Remember that the heavier the layer, the bigger the tier. For example Fruit cake is heavier than chocolate cake. If you place the tier of fruit cake on the tier of chocolate cake, there is a high chance that the top tier will sink through the bottom tier during the ceremony. It is also worth considering the season when choosing your cake, particularly if you plan to use filling such as butter cream, icing or mousse for a summer wedding. These fillings do not hold up well under heat and you run the risk of them melting unless kept refrigerated until the time of cutting. The shape of your cake is also worth consideration. Most couples stick with the traditional circular cake to symbolise eternity. This does not have to be the case, square and heart shaped cakes are proving increasingly popular, so think about what will work best with your theme. For those on a tighter budget it is worth looking at the option of a cupcake tower with a single cake as the top tier. This often works out the more cost effective option. Alternatively, why not think about decorating the cake yourself after the baker has made and iced their creation. A piece of lace from the bride's dress with an elegant brooch on each layer can look sensational, or simply place a few flowers to match the bridal bouquet on the top layer for a sleek finish worthy of a chic girl about town.
Move it
Whilst some bakers will deliver and assemble your cake on the day of your wedding, it is worth considering the transportation of your cake, should it be required.
Firstly, you need to think of the size and style of your cake. Is the vehicle that you have suitable for your needs? If your cake is tiered and on pillars, the cake should be transported unassembled.
The base needs to be placed on a sturdy board. In most cases your supplier will provide this, but should you need a little extra help a piece of 1/2" thick chipboard or plywood slightly bigger than the diameter of the cake is perfect to give you that little extra support.
The smaller layers can either be transported in boxes, (use two taped together if you feel that one is not secure) or in pots and pans. If you have a stacked cake, where the tiers are joined together, then you have no option but to transport the cake assembled. Unless it is over three tiers, the best method is to place the cake either in a box frame (your baker should be able to help with this) or in foam as this will not damage any of the icing during transit. If you are using a family car then, where possible, the cake should be placed on the floor. Alternatively, if there is not enough space then you must move the front seat back as far as possible and place a passenger in the back to avoid toppling. Remember, the care that you take transporting the cake is imperative to the cake's condition.
Top Tips
- Discuss your budget with your baker from the start.
Not only will this ensure that you have no surprises on final payment, but it also gives your baker an indication of the options available to you.
- Ask your baker do they freeze their cakes or are all baked fresh as it may impact on the shelf life of the cake after. This is particularly important if you plan to stick with tradition and freeze a Layer of fruit cake for your first child's christening.
- Make sure you have an idea of the number of guest you are having, this is important to work out the size of cake you require to ensure that everyone gets a slice.
- Decide if you are having your cake as an after dinner treat or if you are going to serve it as desert. You need to check that your venue will allow this as an option, if they do your baker will need to have an idea of your menu to ensure that the cake works as the grand finale.
- Make sure that you see a few samples of the bakers work and that you are using a reputable company often bridal open days at hotels are the best place to do this, you can also book in for your taste test at the same time.
- As with all service providers make sure that you get everything in writing so both you and the company are in no doubt of the expectations.
---
Wedding Features
Perfect Weddings Abroad
Unveil A Better You At The Altar
Secure Your Dream Venue
Advice For Mother Of Bride/Groom
Gorgeous Goodies For Your Big Day
Wedding Catering For Foodies
Marvin Humes And Rochelle Wisemen Wedding Venue Revealed
Facebook Wedding Boost For The Little White Dress Shop
Perrie Edwards Is Happy With 1D's Zayn Malik
New Chapter For Aldenham Park
Diamond Couples Celebrate At Jubilee Party
Black Eyed Peas Hit Tops Wedding Playlists
Secret To Happy Marriage Revealed
Petra Ecclestone Shares Wedding Snap
Golf Champ Darren Clarke Marries His Birdie
Lovers 'No Good' At Spotting Others In Love
Ben & Jerry's Say 'I do' To Same Sex Marriage
Men Embrace Man-Gagement Rings
Team GB Hopeful Leaps Over Blushing Brides
Royal Wedding William And Catherine Barbies Announced
Wedding News
LeToya Luckett-Walker is expecting her second child.
Charlotte Crosby has found a new romance in the wake of her split from Ryan Gallagher.
Lydia Bright has given a brutally honest interview about giving birth to her baby daughter Loretta.
Lana Del Ray has split up with her police officer boyfriend.
Actress and businesswoman Angelica Ross was left stunned this week when a simple Twitter post led to the discovery that her boyfriend has a fiancée and a child.
Ashley Graham has told of how she found breastfeeding "really difficult".
Susanna Reid is determined to celebrate her mum this Mother's Day despite being in self-isolation.
Actor and producer Lin-Manuel Miranda is learning how to homeschool now that his family are self-isolating.
Kristen Bell is bursting with pride for her two young daughters after they donated to charity.
The Duke and Duchess of Cambridge's children Prince George and Princess Charlotte will now be homeschooled as schools close across the UK.