Let My Experience Enhance Your Wedding Day
†
Some people say that "You can't buy experience". However, when you are organising the biggest day of your life - you need to trust the people you have chosen to work with. This is when you really do need to choose, the very best that money can buy.
†

Producing over 1500 Wedding Videos in 33 years, means that Gerry Duffy is one of Ireland's most highly experienced and professional Wedding Videographers. He is consistently being promoted by everyone from photographers, to priests, to hotel managers.
†
These people recognise his talent and energy, and are delighted to recommend him to their own couples; in the confidence that the resulting Wedding Video will be recorded so discreetly; that hardly any of your wedding guests will even know, there is a video producer working amongst them. The broadcast quality cameras that Gerry uses, means there is no longer a need for any Lights, Cables, or Fuss - allowing him to film discreetly.
†
Only a truly Professional video production can record character, personality and emotion; in a way that still photos cannot. Gerry Duffy's superb DVDs capture the sights, sounds, and emotions of your wedding day. His record of your wedding day will allow you and your family, to relive this moment in time for generations to come. Imagine the look on your children's faces in 10 years time, as they enjoy mam and dad's wedding day on DVD.
†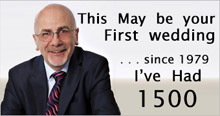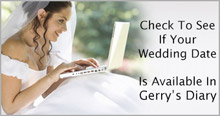 What Will It Cost If You DON'T Book Gerry To Produce Your Wedding Video?
Obviously price is important! But firstly, ask yourself how will you feel in a few years; when you remember that you managed to save a few hundred Euro on the wedding budget by choosing a cheap wedding video - and then you are stuck with a terrible wedding video, or even worse an amateur one that you're ashamed to show to people. If you cut back on the quality of your wedding video; you are only cheating yourself.
†
Gerry also offers his customers a peace of mind lifetime replacement disc guarantee. If you ever damage a DVD; just send back the damaged disc along with another original working one, and he will send you a copy Free of Charge . . . for life . . . no matter how many you damage.
††
Email or phone Gerry today on (087) 2586 400 for your FREE SAMPLE PACK, and see for yourself why 1500 other couples made the Right Choice !