Because your perfect day deserves the perfect memento

Video Production for your wedding

Quality you can trust
Bridal Services
First, congratulations on your engagement! Without a doubt, your wedding day will be the best of your lives and you'll want to remember it forever. That's why professional videographer Mary Crowley is the perfect choice for your wedding video.
Mary understands that memories are priceless which is why she captures every special moment so that you can relive your wonderful day forever.
Why Choose Mary?
Most people will agree that their wedding day 'flew by'. Mary will ensure that all aspects of your day are captured for you to possess forever. While your friends can use their own camcorders at various points during the day, by having Mary around you will ensure that all your guests are included on dvd and picture and sound are crystal clear.
The use of only the very latest professional video and audio equipment means that you are assured of excellent picture & sound on your wedding DVD. Backup equipment is always on standby in case of emergency.
Reputation you can rely on
It is your guarantee of satisfaction. Mary has over 10 years experience in the video business. Marys' work has been recognized by the Institute of Videography as being of a high standard, and she is an Associate Member.
Discreet filming throughout the day, with a minimum use of lights. Mary prefers to capture the couple and their guests as they naturally are,with no shots being staged or set up.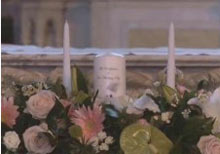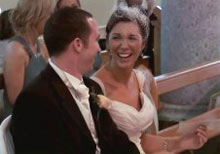 Editing Skills
Mary's experience and knowledge of professional editing software ensures a professional finish to your DVD.
There are a number of different packages available to suit your wedding and event needs.
Music Selection Available
Have your favourite songs dubbed over certain parts of the DVD. Mary has a vast music collection and will only be to happy to include the music that means most to you on your dvd.
Your DVD comes in a customised case with photos from your wedding printed on the disc and cover.
Each DVD will contain 'chapters' so that you can jump to a specific part of your special day.