Harvey's Point is a real hotel run by real people, each of whom has a genuine desire to see guests who are happy, relaxed and pampered. From the moment of arrival, until we bid you farewell, our Team are at your service to ensure a memorable 'Harvey's Point Experience.'
Harvey's Point is the perfect gateway to adventure and activity breaks in Ireland. Whether you want to linger in our luxury suites, take a meandering walk along the many guided routes beside the hotel, experience a beauty treatment or just simply chill out, you are pampered with fine dining and classical music in the mystical surroundings of the Blue Stack Mountains on the shores of Lough Eske.
Our luxury 4 star hotel in Donegal has something for everyone - anglers, golfers, nature enthusiasts, hikers, foodies, get away from it all gurus who want to do nothing and like nothing better than to chill out beside a turf-burning fire and watch the world go by!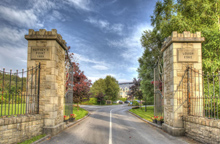 Rooms & Suites
Our bedrooms are designed to immerse you in pure luxury and are amongst the most spacious in any luxury 4 star hotel, ranging in size from our Executive Suites at 806ft² or 75m² to our Penthouse Suites at 1,720ft² or 160m² of space.
Great thought and devotion has gone into every detail of our rooms to ensure that they offer you the most luxurious surroundings and amenities to make your stay unforgettable.
The rooms emanate the charming sophistication of a luxury Irish country hotel twinned with all the modern touches, including entertainment systems, simple-but-brilliant scene lighting, high speed internet access, as well as mini bar access. All rooms, of course, command views of the rugged textures and natural hues of this magnificent location.

Lakeshore Suites
We also offer 8 bespoke Lakeshore Suites with sweeping views of the Lake and a separate outside seating area in each one. These are located along a walk way approximately 30 seconds from the main hotel reception.
These are very popular with all nature lovers and offer you the opportunity to become even closer to the surrounding Donegal landscape and our family of swans!
Food & Wine
For over 25 years the Gysling Family has been committed to delivering an unparalleled food experience to our guests. Food and drink is deeply rooted in the tradition of this Donegal Luxury Hotel.
For breakfast, lunch or dinner, Harvey's restaurant, with its new theatre-style open kitchen and mood lighting, serves as the perfect setting for treating yourself and your loved ones to a truly decadent dining experience overlooking the shores of Lough Eske.
In a beautiful setting, those of you dining with us can enjoy cuisine of a quality that is matched only by the high levels of enthusiasm given to preparing it. It is also the right place to be if you are into your wine - we have a unique emphasis on sourcing unique bottles which you will not find elsewhere!
Of course, we also offer a varied menu throughout the day, as well as Afternoon Tea for those of you that like a luxurious treat!

Lakeshore Weddings
Harvey's Point is an exquisite and mystical place to celebrate your special day. Panoramic views of Lough Eske and The Blue Stack Mountains, romantic grounds, fine cuisine, palatial guest rooms - amongst the largest in any hotel in Ireland - and the best of our personal customer care will ensure that you create a day of unsurpassable experience.
At our luxury Wedding Venue, our priority is to turn your dream into a reality. Whether it is an intimate celebration, a civil ceremony, a humanist ceremony, or a more exuberant affair, we want to work with you to exceed all of your expectations and to turn your wedding day into something beyond compare.
With our reputation for fabulous food and personal attention, as well as the myriad of accommodation options to suit all preferences, we promise to look after you and all of your guests to make your Wedding Day a day you will always remember and hold dear in your heart.
It is our attention to detail that goes into each and every one of our weddings that helps make Harvey's Point the premium wedding venue in Ireland and one that is truly beyond compare.