Moy Chocolates is situated on The Quay, Ballina, Co. Mayo, Ireland by the banks of the beautiful river Moy.
Set up by Western Care in 1996, Moy Chocolates involves a group of young adults and a number of staff dedicated to help and develop workskill ethics for them.
The staff have received training in the "art of chocolate making", gaining a Diploma from S & A Lesme Callebaut in Banbury, England.Their aim is to transfer these skills to the rest of the group.
The Moy Chocolates enterprise is partially funded by the local community and the local Enterprise Board. They take great pride in their chocolate products and the chocolates are produced to a very high standard and are considered a "luxury item".

Our chocolates are available in Ballina and in other parts of Mayo, as well as neighbouring counties such as Sligo and Galway.
Our Ballina customers include: Billys Bakery, Market Square, Clarke's News Agency, O'Rahilly Street; Brennan's in Garden Street; Clarke's Statoil, Killala Road.
In Galway, you will find our chocolates at the well-known McCambridge's in Shop Street and also in Mortons, Lower Salthill. In Sligo, our chocolates are for sale in Cannings, Pearse Road.
We have supplied chocolates to the famous Ashford Castle, Knock Airport and the Aer Corps Government jet. We also had the honour of providing our President, Mary McAleese, with her Christmas chocolates.
We cater for corporate functions, weddings, conferences and special occasions.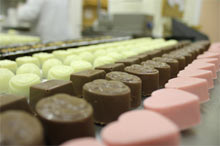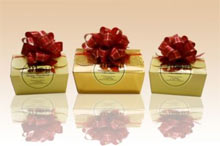 Weddings
Handmade chocolates for your wedding … in a stunning variety of presentations.
Adorn the banqueting tables with our exquisite chocolates, in tulle with ribbon, to match your party's colours, or the more traditional favour boxes, all with personalised labelling.
Presentation boxes for the mothers of the bride and groom …. for that extra special touch.
Moy Chocolates has become a major part of wedding functions. Many couples now include Moy Chocolates as a "must" when planning their big day.
It isn't just local weddings we cater for … couples living away from home are ordering Moy Chocolates, to have as a memento of their hometown on their special day.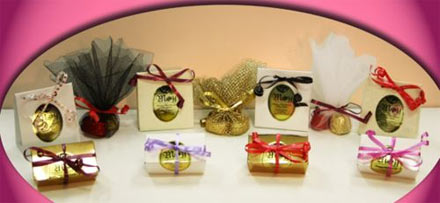 Corporate
Moy Chocolates are much in demand at corporate events and functions. We have had the pleasure of supplying:
Ashford Castle
Knock Airport
Aer Corps Government Jet
Her Excellency the President of Ireland, Mary McAleese, has ordered our chocolates for her Christmas gift list
Special Orders
We strive to cater to all customer needs – including your personal choice of mixing products from each category to suit your special occasion.