Ciara Bridal

Ciara Bridal Boutique offers a unique bridal experience, providing expert advice along with a great service to ensure that you make the perfect choice of wedding dress for your special day. We provide a beautiful selection of international designs and a variety of styles, from contemporary dresses to classic and traditional wedding gowns.
Our exclusive made to measure service will provide you with the option to create your own unique dress, from the design to the choice of fabric & trims. This special service includes a one-to-one consultation to help you choose the bridal dress design which will suit you best. We also cater for bridesmaids and wedding shoes and bridal accessories.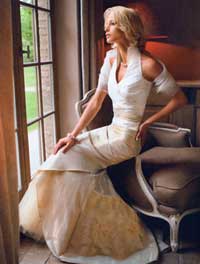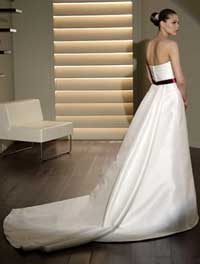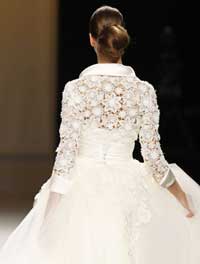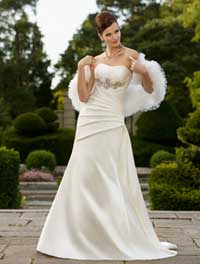 Bridal Gowns
If you're looking for a look thats formal stylish and glamorous then Novia D'art is the designer for you. Combining styles from vintage in lace to the sophisticated using rich silks and taffeta's. Your wedding dress is sure to be noticed with Novia D'art.
Bridal Shoes
Here at Ciara Bridal we are proud of our collection of bridal shoes. Finding shoes to suit you and your wedding should not be a stressful experience and our friendly and helpful staff are here to help you find the perfect bridal footwear for your special day.
Ciara Bridal offer a selection of ivory/white satin bridal shoes from the leading bridal footwear company, Paradox London, including designs from Pink, Belle and the Benjamin Adams range. Contact us for more details about our bridal shoes.
Bridesmaids
Ciara Bridal offers a made to measure bridal wear for brides, bridesmaids, and debutant occasions (debs).
Bridal Accessories
Accessories are an integral part of bridal wear. Ciara Bridal offers a large selection of unique bridal accessories designed to complement each individual bridal gown.

Feature Bridalwear & Dresses Article
One year after Barbie and Ken announced their reconciliation, Barbie celebrates the love of another iconic couple with the introduction of the William and Catherine Royal Wedding Giftset.
Available in April timed to their one year wedding anniversary, the gift set features the two wearing outfits inspired by their regal wedding day attire.
Barbie and Ken have had an on-off romantic relationship. A news release from Mattel in February 2004 announced that they had decided to split up, but in February 2006 they were hoping to rekindle their relationship after Ken had a makeover. They finally got back together last Valentine's Day with Barbie changing her facebook status to 'In a Relationship'.
More Bridalwear & Dresses in Ireland
My Dress Bridal Wear

| | |
| --- | --- |
| | My Dress offers an enviable collection of wedding gowns from top designers including Sottero & Midgley, Phil Collins Collection, Fara Sposa, Benjamin Roberts, Tia, Mon Cheri, Special Day and Forever Yours in sizes 2-28. |

---

Perfection Boutique

| | |
| --- | --- |
| | Your one stop wedding shop, Bridal and much more. Let us make your perfect day. |

---

White Butterfly Bridal

At White Butterfly Bridal, we pride ourselves on offering our brides a unique experience in the comfortable surroundings of our beautiful boutique.

Bridal
Brides with curves
Bridesmaids

---

7 Stitches Alterations
21 Laurence Street, Drogheda
Alana Bridal Boutique
138 Lower Albertbridge Road, BT5 4DE
Alice Ann Bridal
Main Street, Carrick-On-Shannon
Amore Mio Bridal & Fashion
Church Street,
Angelic Boutique & Bridal
1 Jinglers Court, BT32 3JY
Ards Bridal House
34 Frances Street, BT23 7DN
Beautiful Day Bridal Cottage
9-10 Vale Centre Business Park, BT47 3GE
Beautyfull Bridal
6 The Moorings, Newross
Bella Donna Designs
51 Castlekeele, NEWRY
Belle Du Jour Bridal
2a High Street, BT23 5HL
Bennett & Collins
37 High Street, Killyleagh
B'Jewelled Bridal
CARRICKFERGUS
Bliss
Unit 108, New Street Mall,
Bow & Pearl
13 Ranelagh Village, Ranelagh
Bridal Corner
1 PROSPECT AVE, GLASNEVIN
Bridal Dress Outlet
87 Lagan Road, Dublin 11
Bridal Elegance
7 Elagh Business Park, BT48 8QH
Brides First Choice
Limerick
Bryansford Bridal
19 Bryansford Village, BT33 0PT
Butterflyz And Angelz
54 Park Street, Dundalk
C & D Shoes Ltd
Head Office: 41 Charlemont Street, Dublin
Cameo Bridal
First Floor, BT53 6AL
Campbells Brides
103 Lisburn Road, Glenavy
Carol Kinloch Beaded Designs
108 Gillygooley Road, BT78 5QA
Cathedral Gowns
24 Irish Street, BT30 6BP
Cherubim Occasions
1st Floor of Cherubim Clothing Boutique, Belfast
Ciara Bridal
First Floor, The Powerscourt Centre,
Ciara Rose Bridal Boutique
Newtown House,
Classique Formal Dress & Limousine Hire
43 Mill Street, Ballymena
Clean Heels
63 Moody Road, PO14 2BT
More Bridalwear & Dresses in the United Kingdom
More Bridalwear & Dresses in Ireland
0.125 35.175.107.142 companylisting Ban:1, But:2 10/12/2023
bridal gowns,wedding dress,wedding dresses,bridal accessories,unique wedding dress,bridal,ciara,gowns,bridesmaids,novia d'art,ronald joyce,linea raffaelli,fara sposa,bridal shoes, bridal gown,internat
"bridal gowns,wedding dress,wedding dresses,bridal accessories,unique wedding dress,bridal,ciara,gowns,bridesmaids,novia d'art,ronald joyce,linea raffaelli,fara sposa,bridal shoes, bridal gown,interna