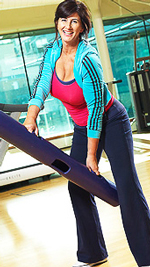 Every bride-to-be wants to look her very best for arguably the most important day of her life.
It is possible to achieve the result you want for your big day without putting your health at risk but don't leave it too late to build fitness.
Common pitfalls are yo-yo dieting and drastic weight loss, according to Robert Kane, David Lloyd Leisure personal trainer and ViPR master trainer, based at Hatfield.
Start your pre-wedding workout plan as soon as possible.
"I have found that the more time the bride and groom have to build fitness levels and obtain results, the better they will deal well with the stresses of planning a wedding," advises Robert.