Barbara Duffy Professional Make-up Artist

Barbara Duffy is a professional make-up artist with over ten years experience. She has worked in all areas of the industry including television, film, theatre, fashion and bridal make-up. She is based in Dundalk Co. Louth but works all over North East Leinster and Dublin.
Barbara is Mac Pro registered and I.T.E.C. certified. She studied Fashion, Theatre & Media Make-up Artistry in The Portobello School Dublin with renowned make-up artist Kate Conkey. She also studied Fashion Hair & Make-up with Nichola Graham in the Make-up Room Dublin. Barbara started out on her career working at Brown Thomas, Dublin for the cosmetic giants Estee Lauder. Since then Barbara has worked in RTE and in the main Theatreís in Dublin such as The Gaiety, The Abbey and The Olympia on opera productions and stage plays. And her experience also extends to many fashion shoots and several films.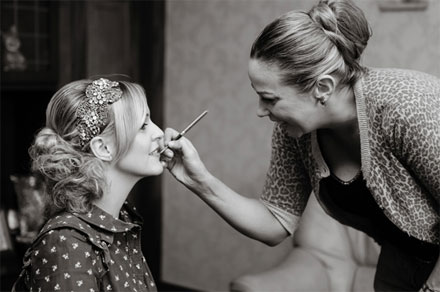 Barbaraís wide and varied career has honed and perfected her skills. Working in different areas of make-up has meant that she has worked with many skin types and ethnicities and with different make-up processes whether thatís High Definition make-up for TV and film, theatrical make up for the course line for an opera or enhancing the natural beauty for a bride-to-be.
Bridal Make-up
Every bride wants to look as beautiful as she feels on her wedding day. This is the perfect time to have your make-up expertly applied, so not only will you look beautiful in the flesh, youíll look stunning in photos too!
Barbara understands that every bride is different. One standard bridal look will not do. A beautiful blushing bride comes in many forms. Whether you want a radiant natural ďno make-upĒ look or a full lash glamour look itís the brideís prerogative.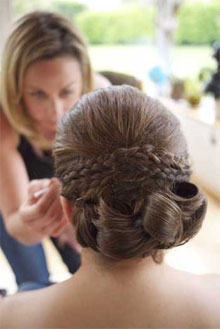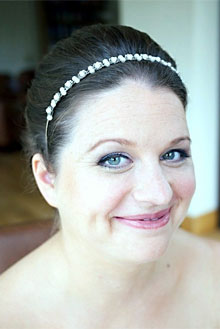 Brides-to-be can organise a pre-wedding make-up trial and are welcome to bring along photos or magazine tears which they find inspiring. Using her creativity Barbara will tailor a look that is flattering to each individual and all in the comfort and convenience of your own home.
This includes:
Trail make-up & consultation
Make-up on the day
False eyelashes (individual or strip)
Camouflage make-up (if necessary)
Body make-up
Professional
Personalised Make-up Lesson
A make-up lesson is for anyone who wants to pick up a few ticks of the trade and gain confidents in your everyday make-up application. Barbara will teach you step by step how to prepare your skin, how to apply the make-up that suits you and what colours and products to choose. You will also learn a natural look and an evening/party look. Barbara will tailor the lesson to take into consideration your skill level and life style.


Special Occasion Make-up
Have your make-up expertly applied for your debs, hen party or big night out. Barbara will come to your home and apply your make-up so you look and feel stunning for your special occasion. Gather a few friends together for a group rate.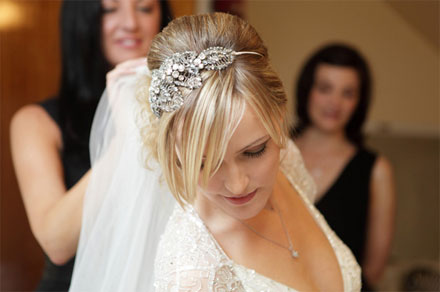 False Eyelashes
False eyelashes can be the finishing touch to any look. Barbara will apply any type of lashes you like. Whether thatís semi permanent individual lashes or temporary lashes. Keep it natural or go all out glamorous lashes.


Semi-permanent Eyelash Extensions
Semi-permanent eyelash extensions create longer, fuller lashes that look very very natural. Have thicker darker lashes without the need for mascara. Lash extensions are meticulously applied lash by lash and bonded with specialist adhesive. They are light weight and waterproof. Eyelash extensions can last up to six weeks, depending on your own lashes life cycle. A touch up 3 - 4 weeks after your initial full set is applied will keep your lashes full and beautiful.


Girls Night Out
Us girls need some pampering once in a while. So next time it's a big birthday, a hen party or just a treat have your hair styled and your make-up expertly appiled plus lashes. Make-up party with hair styling will send you out look fabulous and start your night off with a giggle!