Delta Karting is Limerick's Premier Karting Facility. With TWO top class rally inspired tracks, you are guaranteed to have the adrenaline rush of a lifetime. Our tracks incorporate banked corners, tunnels, overpasses and all this at 65kmph, whilst you sit two inches off the ground.
So whether you are racing with your friends, work colleagues, family or just by yourself, we can offer you an experience that will never be matched.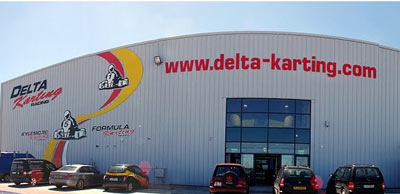 Europe's Largest Indoor Track
We have two mind-bending tracks on two levels with overpasses, tunnels, underpasses, ramps, bridges and banked corners. With top class equipment and purposed build race karts, we bring you the best motorsport action for corporate entertainment, youth or school groups, stag and hen parties, family days out or just an evening out with friends.
Before you take to the track, each member of your Delta Karting team will receive a safety briefing from our highly skilled staff and get kitted out with helmets, suits and gloves, before choosing their racing kart. After that its 3-2-1 GO!
Race OptionsArrive and Drive
It does exactly what it says on the track!
Arrive and drive at any time* for a session, Perfect when you want to drop in and race!! Race sessions available for everyone, we also have cadet karts for Juniors (aged 8 – 13). Birthday Parties etc. can be arranged.
15mins - €15.00
20mins - €20.00
25mins - €25.00
Split Session €30.00* - (15 minutes on each track) 
*Subject to availablitiy! Pre booking advised.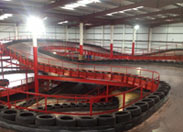 Grand Prix
Minimum of 8 drivers needed for the ultimate race! After your practice session, let the battle commence with 4 qualifying heats, Quarter Final, Semi-Final and Grand Final. Who will take 1st place on the podium? Prizes included. 
€45.00 per person. 
Endurance
Are you fit for the Endurance challenge, race two 40 laps against each other to see who comes out on top! This race type is ideal for small to large groups!
€40.00 per person. 
Mini GP
Similar to the Grand Prix in that all of the drivers get a practice session followed by 4 qualifing heats, (with 4 drivers in each heat) one heat from each grid position. Following the heats, graded finals are run. Grids are determined by by the points scored in the qualifying heats. The A final for the top 6 drivers is run over 10 laps, the B final over 8 laps and all other finals over 6 laps.
€35.00 per person. 
Junior GP For Young Racers
A Junior verison of our Mini GP race, ideal for youth groups and schools.
€25.00 per person.