Wedding Cars Ireland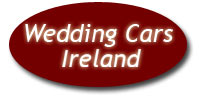 Elegant Motoring...for every occasion!
Creating Memories that will last a lifetime. The very name Rolls Royce conjures up a standard second to none, the same has been said by couples who have used our service.
Your Wedding day is one of the most special days of your life, don't look back with regrets. Unmatched for luxury comfort and sophistication Rolls Royce stand in a class of their own. When no ordinary car will do, arrive in style and add a touch of magic to your celebration.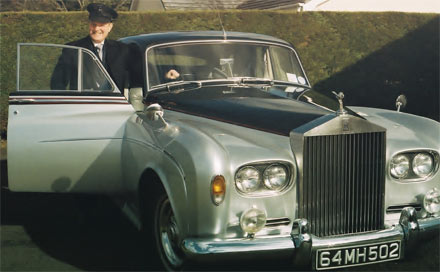 The latest addition to our fleet is our Flagship vehicle, commisioned by Viscount Astor in 1963 it is just one of 254 ever made and is believed to be the only one of its kind in Ireland. For the very discerning we are proud to offer the 1963 Silver Cloud 111 long wheel base, with electric division screen between passenger and chauffeur and many bespoke features to the Viscounts exacting standards. A truly unique motoring expierience for your wedding day.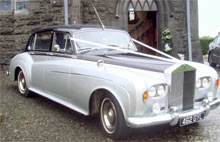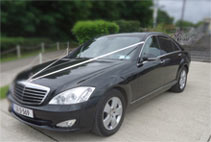 Our uniformed Chauffeur offers a highly personalised service that will cater to your needs, where nothing is too much trouble.
The opera lights illuminate the interior the moment one sits into the spacious and elegant surrounds of the Rolls Royce Silver Shadow. One sinks into the rich hide upholstery while your feet rest on sheepskin footstools and overrugs. Surrounded by genuine walnut trim in every direction. It is easy to see why they are described as the "Best Cars in the World".

We are commited to offering you the best transportation on your wedding day.
Michael F Hogan's cars are always in pristine condition and he is personally on hand to ensure that everything runs smoothly as he believes everything should be perfect for your special day.