Gerard McGirr Wedding Services

Gerard McGirr Wedding Services
Wedding Car HireOur Wedding Car Services Include
Our Uniformed Chauffeur takes the Bride from her home to the Church, on to the hotel and anywhere else you might wish to stop on the day for your photographs and video. 
A complimentary drink is provided for not only the Bride and Groom, but also for the Bridesmaids, Best Man and Groomsmen should they be traveling in our cars, which will be tastefully adorned with colour co-ordinated ribbons and a personalised name plates.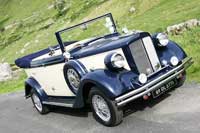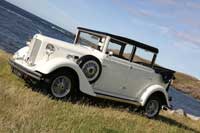 Our Wedding Cars
Resplendent in gold & champagne, ivory or ivory & navy, our cars combine the reliability of modern engineering with sumptuous classic styling, reminiscent of cars from the 1930's.
There is easy access to and from the vehicles, even in a large wedding gown thanks to wide opening rear doors.
Though based on old style vintage cars, our vehicles are completely new and have all the comforts and specifications of their modern contemporaries, while retaining that old world charm.