Barbara Hubert Bookbindery

The Bookbindery is a member of the Crafts Council of Ireland and we pride ourselves on the high quality of workmanship and skill presented at our workshop. You are very welcome to visit our workshop on Tobin Street , Cork where we have a wide range of notebooks and albums in silk, leather and handmade papers available to purchase.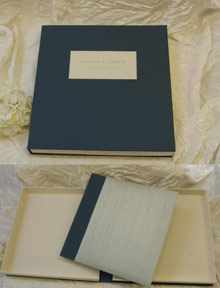 Established in 1995, Barbara Hubert Hand Bookbindery is now run by Barbara Hubert and her dedicated staff who have many years of experience in the craft of binding books.
All of our binding work is carried out by hand, with an acute attention to detail and a durable finish thus ensuring that our products have a distinctive look and last well into the next century.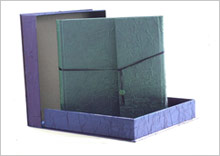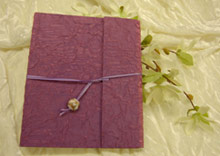 Wedding Albums
Our Wedding Albums contain black or ivory pages with tissue interleaf and are bound in the finest Bridal fabrics.
You can choose from Crushed Velvet, Shimmer Silk or Chinese Embroidered Silk. They can be finished with a Flap, Ribbon, and Bead with a Solander Box made to match. Also, your own Fabric may be used on approval.
Your album can be personalised with Gold or Silver Embossing of Names and Wedding Dates on Beautiful Hand-made Petal Paper Inserts.