Welcome to Skin Therapy at Brittons
To begin, I am Mella Britton, owner/manager of Skin Therapy. We were established in 1980, after qualifying at the renowned Bronwyn Conroy School of Beauty in Dublin.
What began in the 80s as a grooming salon catering for the skin care needs of our clients, has developed into a successful beauty and well being salon.
In 1997 I attended an intensive course given by Margaret Loughrin, where I learned the unique Rejuvanessence - The FInger Tip Face lift.
2003, I qualified as a Reiki Practitioner under the guidance of Martina Coyne, of the Innue School of Healing.
2005: I trained as a Kinesiologist with A.S.K. Ireland, under the direction of Siobhan Guthrie and Kieran Haughey.
Skin Care begins from within, if we take care of our bodies (internally and externally) they will reward us with a radiance that is magic.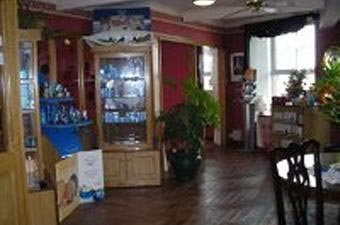 Services
Beauty Essentials & Grooming Services
Eye brow shape, Eye lash tint, Electrolysis - using the Sterex Blend method
Skin Care
Skin Therapy at Britton's - we have a passion for good skin care treatment and products. We are very fortunate to have Thalgo and Guinot ranges to offer. Both are well established in research and development, which in turn, enables us to to give you, the client, first class skin care. Both ranges contain natural products, not tested on animals, and are suitable for all skin types and conditions.
Health and Well Being
We all want to look well, but it must come from within. When our bodies are in perfect balance, that radiance will shine through. For your Well Being we offer: Reiki, Signature Massage, Stones of the Earth Massage, Indian Head Massage, and Kinesiology.

Kinesiology
Kinesiology is a holistic approach to balanced health. Strains, aches and pains are natures way of letting you know that there is something wrong with your body. It is important to listen to what it is saying. Kinesiology can help by finding the cause of these imbalances using simple muscle testing. The body's own feedback helps to discover the true cause and the necessary treatment to obtain results.
Thalgo Skin Care
Thalgo skin cosmetics for face and body explore the richness of the sea to extract vital ingredients including the originally medically patented micronized Marine Algae. For over 40 years, Thalgo has been a true innovator in the world of Marine beauty.

Guinot Skin Care
We have carried the Guinot range of treatments since 1987!!
The renowned Hydradermie Treatments are the Rolls Royce in facial care. Developed in the 1940s by René Guinot, a Dermatologist from Switzerland, whose work in the area of skin healing has been the basis of this most effective skin care range and treatments.