Cake Art Ireland
Wedding Cakes Cork Wedding Cakes Ballynoran Wedding Cakes Charleville Special Occasion Cakes Cork Celebration Cakes Cork Wedding Cakes Kerry
Cake Art Ireland
Contact
Nicola Drennan
Address
Ballynoran,
Ballyhea,
Ireland,
Charleville,
Cork,
Ireland

We take great pride in providing a memorable centrepiece for your celebration. Our website contains a small sample of what we can produce for you. If you would like to bring along your own design or idea, we would be happy to create it for you.
Our showroom albums contain hundreds of photos of designs we have produced, all individually priced to suit every budget. Why not visit our showroom and bakery to browse our extensive collection of designs and display cakes.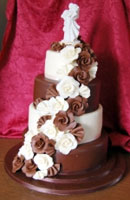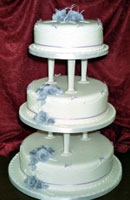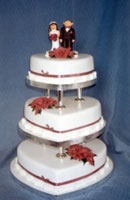 Classic


Modern


Novelty


Top Pieces


New Designs


Chocolate

Celebration Cakes


Novelty


Handbags & Shoes


Communion & Confirmation


Christening


Special Occasions
Our popular cake choices include:


Vanilla Madeira Cake


Chocolate Biscuit Cake


Belgian Chocolate Ganache Cake


Sticky Toffee


Carrot & Walnut Cake


Lemon Drizzle


Baileys & White Chocolate


And many more

Our coeliac cakes include:


Fruit Cake


Vanilla Madeira with Buttercream & Jam


Coffee


Belgian Chocolate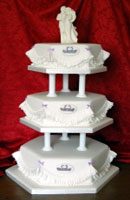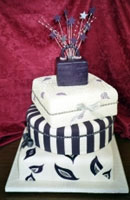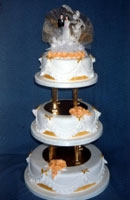 We don't want anybody left out of the celebrations, so we can make a cake to suit your special dietary needs.
We also offer an egg free Chocolate alternative.
Find Cake Art Ireland in
Cakes
Write a review of Cake Art Ireland

More Cakes in Ireland
A & N Tempany LTD
Hill Street, Ballina
A Piece Of Cake.ie
A Piece of Cake, Old Court, Tallaght
A Slice Of Heaven
Ballygown, Kilkenny
A Wedding By Caroline
Carrig Hill, Roscrea
Amazing Cakes
18b Solus Tower Estate, Bray
Bakewells Patisserie
18 Campsie Road, Omagh
Belle Toppers
38 Baskin Cottages,
Blossom Wedding Studio
Ashbury Gardens, Bangor
Braehead Cakes
11 Fisherwick Gardens, BT43 5AJ
Cake Art Ireland
Ballynoran, Charleville
Cake Couture Ltd
91 West Street, Drogheda
Cake Craft Cake Design
The Old Manse, BT47 3AB
Cakes and Co
Jane Cottage,
Cakes By Angela
Bayview, Belmullet
Cakes By Ellen
No57 Gourmet Kitchen, Cork
Cakes By Ruth
Tri Na Cheile, Ballymacmurragh, Cork
Cakes By Selina (For All Occasions)
Tullig More, Killorglin
Cakes Unlimited
Gorey
Cannaboe Confectionery
Cannaboe Confectionery, Ballinamore
Christines Wedding Cakes
Ballyhegan Road, BT61 8PX
Classic Cakes
Derry
Contemporary Cakes NI
Portstewart
Creative Cakes
5 Bealing Crescent, Tyrrelstown
Cupcakes and Colours
41 Ballycraigy Park, Newtownabbey
Custom Cakes Ltd
Grangerath,
Debbies Delights
7 Glen Road, BT11 8BA
Devine Cakes
31 Lindenwood Park, Derry
Exclusive Cakes by Erma Barlow
Erville, Clonmel
Georginas Cakes And Favors
89 Ringrash Road, BT51 4LL
Global Cake Toppers
178 Rathgar Road,
Jennys Cakes
The Workshop, BT19 7QT
Karinas Cakes
Unit 1 Innishmore Industrial Estate,, Ballincollig
Katie & Keli's Cupcake Company
34 Springfield Lane, Dungannon
Lee Rourke Cakes
Riviera, Cork
Lilies and Pearls Wedding Cakes
52 Burren View, Gort
Mandys Cakes
Millbrook House, Listellick, Tralee
Marguerites Bakery
The Square, Newcastle West
Mini Me Models
Boheroe, Tralee
Mocklers Cakes n Bakes
Main Street,
Orchid Studio The Wedding Specialist
115-117 Bridge Street, BT63 5AA
Our Wedding Cake
Scaddin House, Downpatrick
Sarah Janes Cakes
Unit 4, BT74 6HR
Sugarcraft Cakes
8 Dalton Glen, Comber
The Encore Cake an Roll
15A Campsie Road, BT79 0AE
The Favor Shop.ie
1 Tir Connell Close, Waterford City
The Favour Shop.ie
1 Tir Connell Close, Waterford City
The Swallows Nest Cakery
7 Longmore Rd, Ballymena
Wedding Cakes by David McKnight
26 Woodend Road, Strabane
Your Special Cakes
11 Gort Rua, Galway
A Cake For All Occasions / Sue Cummins
A Cake for All Occasions / Sue Cummins, Cork, Cork
A Touch Of Magic
4 South Avenue, Carrigaline
Ali @ Milis cakes for all reasons
3 Belvelly Cottages, Cobh
Aliatmilis
Cork
Anytime Cakes
Haggardstown, Dundalk
Bake My Cake
45 Bootherstown Avenue, Blackrock
Best Flavours
38 Brookfield Heights, Letterkenny
Boston Bakery
Beaumont
Bouquets2Banquets
The Diamond, Belturbet
Brantry Cake Comapny
60 Creevelough Road,
Cafe Latte Cupcakes
36 Scotch Street, BT70 1BD
Cake Art
Barraghmore, Drumlish
Cake Creator
Cake Creator, Unit D, Gorey
Cake Style
Duncairn, Annamacneil, Ballybay
Cake Toppers Ireland
Tralee
Cake-a-licious
14 The Haven, Mornington
Cakebox
64a Upper Georges Street,
Cakemagic Wedding Cakes
Drumavaddy,
Cakes By Desire
Ennis
Cakes By Miriam
Cakes By Nicholas
Cakes By Nicholas, No. 3 Fiontarlann, Galway
Cakes By Suzanne - Templepatrick
129 Lylehill Road, Ballyclare
Cakes By Úna
Main St., Ballymahon
Cakes of Distinction
6 Harbour Row, Cobh
Cakeworks
12 Abbey Street, BT20 4JA
Chapel Cross Cakes
Chapel Cross, Dundalk
Cherrytree Home Bakery
Main Street, Enniskillen
Claire Kelly Designs
Vicar St, Tuam
Cloudberry Bakery
Castlemaine
Cocoa Atelier
30 Drury Street, Dublin 2
CocoaMoiselle
Unit B6, Base Enterprise Centre, Dublin 15
Confetti Cakes
Coulter & Black Cake Designs
Collon Road, Drogheda
Crazy About Cakes
1 Marlton Court, Wicklow
Creative Cake Toppers
Chestnut Lodge, Enniscorthy
Creative Cakes
277 Upper Newtownards Road, Belfast
Crepes and Craic
Crumbs Cakes
445 Lisburn Road, Belfast
Cupcake Heaven
Unit 43, Johns Town Business Park, Waterford
Cupcake Kisses
Cupcakes & Candy
North & South of Ireland
Cupcakes By Dee
Tralee
Currans of Eglinton
273 Clooney Road, Eglinton
Custom Cakes
3 Ambleside Court, Belfast
Decobake
Unit 1 Clane Business Park, Clane
Decorative Delights
51 Cluain Na Croise, Cross
Design Your Moments by Kerry Harvey
Clar Road,
Devoted to Cakes
Harolds Cross, Dublin
Diannes Cakes
Glencreagh, Bantry
Diva Boutique Bakery
Ballinspittle
Dublin Cupcakes
28 Gardiner Place, Dublin
East Coast Cakes
East Coast Cakes, Bettystown, Bettystown
Emilys Pantry
Dublin
Erma Barlows Exclusive Cakes
Erville, Clonmel
Flourishing Cakes
Flourishing Cakes, Midleton, Midleton
French Wedding Cakes
French Wedding Cakes5 Hazelwood Green, Clonsilla
Gallweys of Waterford
Unit 5B, Waterford
Georges Patisserie
Chapel Street,
Gift Cakes
Dublin 22
Grettas Cakes And Flowers
Grettas Cakes and Flowers, Ballydaheen, Mallow
Griffin Foods Ltd.
Unit 1B, Plato Business Park,
Hannahs Artisan Baking
Sarshill, Kilmore
Happy Cake Toppers
Healys Bakery & Celebration Cakes
94 Great William Obrien Street, Cork
House Of Cakes
Woodbrook,
Icing On the Cake
Johnnie Cupcakes Ltd
Johnnie Cupcakes Ltd, Rathdrinagh, Navan
Karens Cakes
49 Castaheany,
Kathleen Crossan Cakes
Donegal
Kellys Cupcakes
Kellys Cupcakes, Lucan,
Lilibugs Delights
29 Tradaree Court, Shannon
M&M Cakes
1 Church View, BT35 7ET
May Keegan Cake Design
Dublin
Mc Connons Wedding Cakes
Leonsgarve, Carrickmacross
Mini Me Models
Mini Me Models, Tralee, Tralee
Molloys Bakery
Abbeytown, Roscommon Town
Oconnors Bakery
Beechlawn, Ennis
Ohehirs Bakery and Cafe
Main Street, Letterkenny
Primrose Cottage Cakes
No. 14A Lower Esmonde Street, Gorey
Sarah Janes Cakes
Unit 4 Tempo Road Business Park, Enniskillen
Simply Elegant Cakes
Dundrum
Smaointe
61 Main St.,
Springfield Hotel
Leixlip
Sweet Creations
Sweet Creations, Baltinglass
Sweet Cupcakes Company
Dublin 24
Sweet Jepsons
Sweet Temptations Cakes
Sweet Temptations Cakes, Keshcarrigan
The Boho Kitchen
The Boho Kitchen1 Culrua, Portlaw
The Cake Pantry
Dernacally, Carrigans
The Cake Stand
The Cake Stand,, Dublin
The Galway Cupcakery
The Galway Cupcakery, City Centre, Galway
The Little Cake Co.
The Little Cake Co., Drogheda
Top Tier
Top Tier, Corfeehone
Wild Flour
Wild Flour, Limerick, Limerick
More Cakes in the United Kingdom
More Cakes in Ireland
Feature Cakes Article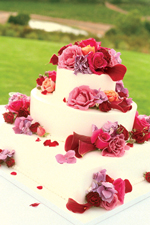 Cutting your cake is one of the most symbolic aspects of your wedding day. It marks your first shared role as a married couple and it is the one photograph that most guest, will want.
Choosing your wedding cake is perhaps one of the most enjoyable aspects of planning your wedding. When else do you get to spend the entire evening sampling every kind of cake, without feeling guilty? In fact it is an essential part of the process.
Gone are the days of the traditional fruit cake. Now the choice is only limited by your imagination. With that in mind it is worth taking a little inspiration from magazines and websites, so that you have some ideas before you visit your cake maker. Think of the type of wedding you are having. Is it formal or informal? Try to work the design of your cake into your theme. You should make your appointment to order your cake six months before your wedding to avoid disappointment, with a view to booking and paying a deposit as soon as your decision is made.