A & N Tempany LTD
Wedding Gifts Mayo, Wedding Gifts Limerick, Gifts for Bride & Groom Ireland, Kitchen Gifts Mayo, Dining Gifts Limerick, Shop unique Wedding themed gifts & presents
A & N Tempany LTD
Address
Hill Street,
Ireland,
Ballina,
Mayo,
Ireland
Telephone
00353 (0) 96 72607
Mobile
00353 (0) 87 2522 194

TEMPANY'S, an Aladdins Cave for top quality kitchenware.
When planning your Christmas shopping, a visit to Tempany's Kitchen Store is a must.
Tempany's offers a wide range and choice of products, from commercial grade catering equipment to high quality domestic kitchen & bakeware. A great selection and variety of sugar-craft is on offer such as edible flower sprays, icing colours, sprinkles, glitter powder, colour sprays, icing writers along with all the equipment necessary to bake and decorate your wedding cake.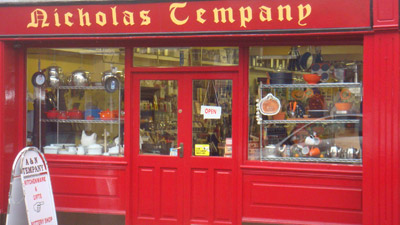 Chef uniforms, safety shoes, waitressing & bartending aprons and headgear are all available at Tempany's at very competitive prices. Tempany's also hires out catering equipment, glassware, cutlery, crockery, tables & chairs for party events.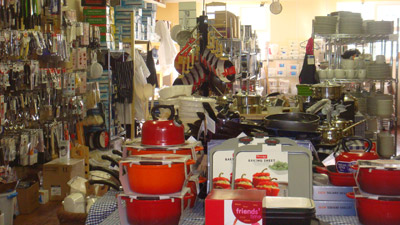 A good set of quality pots and pans is a fantastic gift and with Christmas coming fast, you can put aside your perfect present now and payoff in instalments that suit you. The biggest seller is the Bellux 18/10 stainless steel range and for the Induction Hob, Pilot brand is the recommended choice.
The commercial grade Meyer Pot, sizes 5L to 36L are currently selling at less than half the recommended retail price.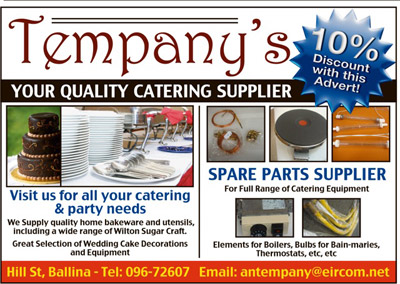 Frypans, omelette pans, woks, crepe and pancake pans are all in Tempanys. Priced from E9.99 to E79.99. Frypans made in Italy with the new revolutionary ceramic coating are available for E32.99. The ceramic coating is extremely dense and compact, always smooth and never porous and preserves the pan while improving performance.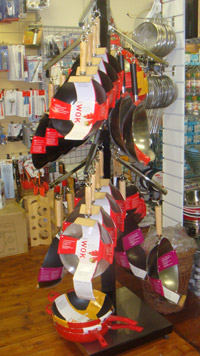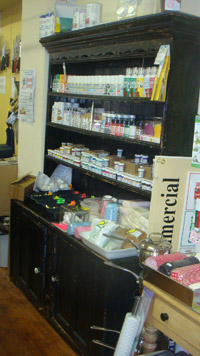 Teapots, Coffee Pots, Cafetieres are all available in stainless steel and at excellent prices and will make ideal gifts this Christmastime. Smaller gifts such as breadbins, mugs and mug tree stands, cake storage containers, weigh scales, mixing bowls, utensil holders, cupcake and cake stands are all on offer at Tempany's. Cutlery, White Diamond Crockery, cast iron cookware, the list goes on and on…….
Tempany's supply spare parts for most catering equipment.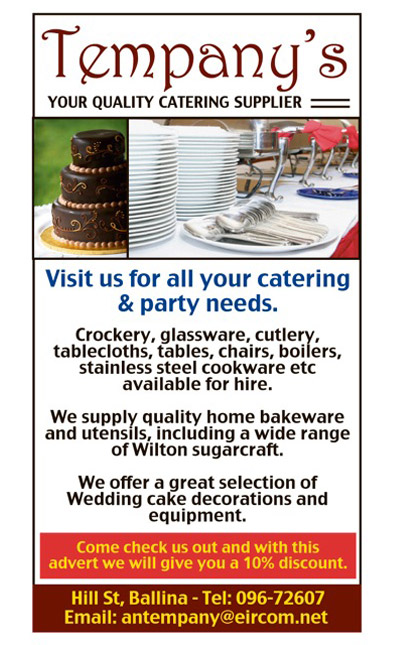 Write a review of A & N Tempany LTD

More Gifts in Ireland
4Get Me Not Florist
Hyde Street, Mohill
A & N Tempany LTD
Hill Street, Ballina
A Stone Rose
A Wedding By Caroline
Carrig Hill, Roscrea
Absolutely Fabulous Flowers
Main Street,
Adamojules
5 ShNORTHERN IRELAND-bezel set engagement rings ore Road, Rostrevor
Affordable Caricatures
42 Notley Road, Braintree
Aileens Flower Shop
33 Market Street, Monaghan
Áine Hand-Made Chocolate
Stradone Village, Stradone
Aines Flowers
Con Colbert Street, Athea
Aisling Flowers Cork
30 Wilton Shopping Centre,, Wilton
Alchemy Jewellery
Prosperous Road, Clane
Alcorns Flower & Garden Centre
Hazelwood House, Letterkenny
All Sorts Embroidery
24 Ferndale Road, Dublin 11
Allure
21 Quaystreet Mall, Sligo
Allure
21 Quaystreet Mall, Sligo
Amays Accessories
BT61 8BG
An-Gem Chair Covers
Northern Ireland
Articast
1 Woodhill Heights, Lurgan
As You Wish
3-4 Fairview, Dublin
Avant-Garde Florist
James Street, Westport
Azure Jewellery
12 Careys Lane,
Balla Florists
Mian Street, Balla
Benburb Productions
91 Drumflugh Road, Dungannon
Bennett & Collins
37 High Street, Killyleagh
Bernard English Goldsmith
38 West Street,
Bernie's Blooms
22 Browning Drive, Derry
Bestwishes.ie
Carraigin,
B'Jewelled Bridal
CARRICKFERGUS
Blacoe Jewellers
16 - 17 Main Guard Street, Galway
Bloomin Marvellous
10b Ardaravan Square, Buncrana
Blooming Krazy
Johnstown Shopping Centre, Navan
Bloomsday Flowers
Main Street, Carrigtwohill
Bogart Menswear
57-59 Ann Street, Belfast
Bogart Menswear
4 Callender Street, Belfast
Bogart Menswear
Unit 4 Canal Court, Newry
Bohemian Chic Jewellery
43 Old Shore Road, Carrickfergus
Bow & Pearl
13 Ranelagh Village, Ranelagh
Bumblebee Creations
Rathclooney, Ennis
Bunratty Candles
Unit 10, 2nd Courtyard, Ballycasey
Cadenza Events
Unit 3, 20 Main Street, BT39 9AB
Cake Couture Ltd
91 West Street, Drogheda
Calla Floral Design
Elphin Street, Strokestown
Cameo Florist
Unit 16 Newcourt Centre, Cavan
Camille Boutique.com
14 Barnewall Drive, Donabate
Candle Designs
Elmdene, Carlow
Candle-Crafts
Downpatrick
Capture This Productions
609 Doagh Road, Newtownabbey
Caricatures By Mark Heng
28 Pine Grove, Limerick
Carol Kinloch Beaded Designs
108 Gillygooley Road, BT78 5QA
Cerise Flowers And Events
Liscarroll, Mallow
Change - Omni
Omni Park Shopping Centre, Santry
Change - Pavilion
Pavilions Shopping Centre, Swords
Cherubim Occasions
1st Floor of Cherubim Clothing Boutique, Belfast
Christopher Murphy Jewellers
SuperValu SC, Santry
Clare Flower
10 Church Street, Enniskillen
Clean Heels
63 Moody Road, PO14 2BT
Clear Line Design
Carrickateel, Newry
Clikring.ie
21 Cloiginn Avenue, Dublin 10
Coast
House of Fraser, Belfast
Cottage Flowers
5A Orritor Street, BT80 8BE
Cottage Graphics
Western Road, Clonakilty
Country Blossoms
28A New Street, Donaghadee
Courting Angels
17 Kilkeel Road, BT33 0LD
Crafty Fox Flowers Interflora
74 North Strand Road, Dublin 3
Creative Cakes
5 Bealing Crescent, Tyrrelstown
Creative Flowers
Blanchardstown
Creative Flowers
Unit 8A, Crumlin Cross
Creative Flowers
5 Main Street, Lucan
CT2
Main Street, Blanchardstown
Custom Cakes Ltd
Grangerath,
Dare Boudoir Photography
The Studio 5 Crescent Business Park, BT28 2GN
Debonair Wedding & Formal Wear
9 - 11 High Street, Portadown
Debonair Wedding & Formal Wear
First Floor, BT45 6EB
Designs By Therese
74 Main Street, BT70 2QJ
Diamond Occasions
Diamondland
Appelmansstraat 33A, Belgium
Dowlers
97 Main Street, BT92 0JH
Drum Lighting & Home Accessories
2 Molesworth Road, Cookstown
E & G Cards
9 Regent Avenue, Ballyclare
Eden Blooms
2 Main Street, Coalisland
Elegant Flowers
Unit G8 Swords Enterprise Business Park, Swords
Elegant Lady
94 Main Street, BT92 0JD
Essence of Flowers
62 Main Street, Saintfield
Exclusively Yours
Bridge Cottage, Belcoo
Ferguson Flowers
5 Market Street, Lisburn
Ferguson Flowers
45 Belmont Road, Belfast
Final Touch
No4 Glencaw Park, Derry
Floral Scents by Mary O Gara NDSF, AIFD
212 Dun Laoghaire Shopping Centre, Dun Laoghaire
Flowers And Frills
72 Longstone St, Lisburn
Flowers at Annes
11 Ann Street, Ballycastle
Flower
157 Kingsway, Belfast
Gemma Sargent
Studio 1.18, Arts Complex, Edinburgh
George Preston Florist
7 Sugar Island, Newry
Gerard Anthony Ltd
Mulvey Centre, Carrick-on-Shannon
Gerards Flowers
7 Church Street, Magherafelt
Global Cake Toppers
178 Rathgar Road,
Goldlink Stationery
Unit E1-Unit E2, BT42 3AZ
Hampermania
8 Kildalkey Wood, Kildalkey
Happy Wrappers Personalised Chocolate Bars
Unit 4, Torrent Valley Business Park, BT70 2PP
Heavenly Hair
Newcastle
House Of Cartel
House Of Fraser Belfast
Unit 41 Victoria Square, BT1 4QG
I Do Wedding
25 Innotec Drive, Bangor
Inisor Jewellery
59 Molesworth Street, BT80 8NX
Irish Gift Solutions
9 Four Seasons Drive, Ennis
Irish Honeymoon Registry
11 Vernon Ave, Clontarf
Irish Wedding Flower Packages
6 Trinity Street, Dublin City
Jack Dylan Jewellery
Jack Dylan Jewellery, Westport
Jennies Candles
1 Doorly Park, Sligo
Kane Laser
9 Four Seasons Drive, Ennis
Kokodesigns
Glen Lower,
La Creme Boutique
Louis Mulcahy Pottery
Clogher, Dingle
Love 22
5b Rainey Street, Magherafelt
Magill Jewellers
The Diamond, Monaghan
Manor Wedding Flowers
Munville House, Lisnaskea
McQueens Of Cookstown
21 William Street, Cookstown
Mulhall Portrait Artist
1 Shore Road, Ardglass
My Big Fat Online Shop
Belfast
No 8 Fine Jewellers and Bridal Boutique
8 James Street, Cookstown
Old Schoolhouse Flowers
The Schoolhouse, Kilmallock
Party Solutions & Event Styling Limited
223 Antrim Road, Belfast
Partypot.ie
Precia Designs
12 Grace Manor, Portadown
Red GroomsWear Carrickfergus
1 Castle Street, BT38 7BE
Red Groomswear Cookstown
35 Molesworth Street, BT80 8NX
Ritzys Hairdressing
Ritzys Hairdressing, Tullamore
Rose Tinted Memories
4 Towerscourt, Whitechurch
Scarecrow Flowers
95a Sandymount Road, Dublin 4
Skea Flowers
1 Bank Brae, Lisnaskea
Special Pressie
45 Glendower Court, CORK
Studio Unique
15 Plantation Road, BT51 5ET
Stunning Style
71 Minerstown Road, Downpatrick
Surnamecrest.Com
Surnamecrest.com, Eyrecourt
The Antique Gallery
505 Lisburn Road, Belfast
The Bridal Party
8 Trimgate Street, Navan
Thoughtfulpoems.com
Dublin 3
Tickled Pink Cards
Carrickateel, Newry
TJs Jems
25 Main Street, Castlewellan
Top Art Cake Toppers
Veritas Book Store
7/8 Lower Abbey St, Dublin
Visionary Veils
85 Downshire Road, Belfast
Vow Floral
62 Main Street, Saintfield
Warden Brothers
45-47 High Street, Newtownards
A Bit O Blarney
A Bit O Blarney, Dublin Road, Blarney
A Room in the Cottage
Rosebud Cottage, Rosenallis
Abbey Flowers
Malahide
Abbeyfeale Florists
Abbeyfeale
Action Cancer
1 Marlbrough Park, BT9 6XS
More Gifts in the United Kingdom
More Gifts in Ireland
Feature Gifts Article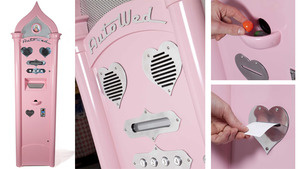 Celebrate a marriage of convenience with these top ten wedding gadgets and gizmos.
1) AutoWed Wedding Machine
This novelty-wedding machine offers a 'quick hitch'. You get a couple of rings and a personalised certificate for a £1. It's not legally binding but Concept Shed's Cadillac-pink retro machine complete with a small portrait of Jesus Christ makes wedding planning so much easier.
"We came up with the idea last year and built the unit this spring specially for Marvin's Marvellous Mechanical Museum in Detroit, USA (marvin3m.com)," a Concept Shed spokesman said.