Styling By Carmel Ann Daly
freelance photostylist and image and fashion consultant Cavan
Styling By Carmel Ann Daly
Contact
Carmel Ann Daly
Address
Kingscourt Post Office,
Church Street,
Ireland,
Cavan,
Cavan,
Ireland
Telephone
00353 42966 7131
Mobile
00353 87 9400434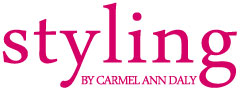 My name is Carmel Ann Daly. I am a freelance Make-up Artist, Stylist and Image and Fashion Consultant.
I am available for wedding make-ups and will travel to your home. I can also provide a styling and personal shopping package for the bridal party.
See Styling by Carmel Ann Daly on Facebook.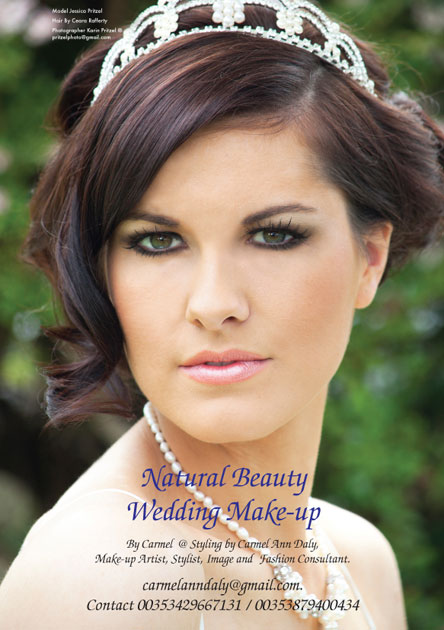 Write a review of Styling By Carmel Ann Daly

More Hats & Headwear in Ireland
A Stone Rose
Allure
21 Quaystreet Mall, Sligo
Allure
21 Quaystreet Mall, Sligo
Alyson Gray Ladies Boutique
Unit 16, Superquinn Shopping Centre, Dublin 16
Alyson Gray Ladies Boutique
Unit 16, Superquinn Shopping Centre, Dublin
Amays Accessories
BT61 8BG
Amore Mio Bridal & Fashion
Church Street,
Angelic Boutique & Bridal
1 Jinglers Court, BT32 3JY
Aoife Hannon Designs
Courthouse Road, Listowel
Ards Bridal House
34 Frances Street, BT23 7DN
Azure Jewellery
12 Careys Lane,
Bella Donna Designs
51 Castlekeele, NEWRY
Belle Du Jour Bridal
2a High Street, BT23 5HL
Bennett & Collins
37 High Street, Killyleagh
Berling
28 The Mall, Newry
B'Jewelled Bridal
CARRICKFERGUS
Bliss
Unit 108, New Street Mall,
Bloomin Marvellous
10b Ardaravan Square, Buncrana
Blossom Time
Lyster Square, Portlaoise
Bridal Beauty NI (Mobile)
6 Briarhill Close, Belfast
Bridal Corner
1 PROSPECT AVE, GLASNEVIN
Bridal Elegance
7 Elagh Business Park, BT48 8QH
Brides First Choice
Limerick
Cameo Bridal
First Floor, BT53 6AL
Campbells Brides
103 Lisburn Road, Glenavy
Carol Kinloch Beaded Designs
108 Gillygooley Road, BT78 5QA
Cathedral Gowns
24 Irish Street, BT30 6BP
Cel Design Jewellery
26 The Crescent, Bagenalstown
Cherubim Occasions
1st Floor of Cherubim Clothing Boutique, Belfast
Ciara Bridal
First Floor, The Powerscourt Centre,
Ciara Rose Bridal Boutique
Newtown House,
Classique Formal Dress & Limousine Hire
43 Mill Street, Ballymena
Coast
House of Fraser, Belfast
Costelloe and Costelloe
14a Chatham Street, Dublin 2
Cottage Flowers
5A Orritor Street, BT80 8BE
County Boutique
57 Oconnell Street, Ennis
Darling Wear
'The Gables', Tullow
Deborah Rose Bridal
Unit 10, 19 Belfast Road, BT23 6HX
DePaor Designs
Unit E 10B,
Diamond Bridal
5 Maylor Street,
Dietrich
63 High Street, Holywood
Direct Dresses
9 Holy Business Park, BT11 9DS
Direct Dresses
Unit 3 Precision Park, Derry
Elegant Lady
94 Main Street, BT92 0JD
Encore Boutique
25 Irish Street, BT71 1DB
Evolve Menswear
Unit 4, Letterkenny
Final Touch
No4 Glencaw Park, Derry
Glam Occasions
4 Drumearn Avenue, BT80 8DN
Glamourize Bridal
Esmonde Street, Gorey
Goldlink Stationery
Unit E1-Unit E2, BT42 3AZ
Grahams Menswear
Grahams Menswear14, Enniskillen
Hidden Secret Bridal Boutique
Downshire House, BT32 3SJ
House Of Cartel
House of Elegance
14 Down Business Centre, Downpatrick
Jennifer Wrynne Designs
Gorvagh,,
Jeutonic Bridal
The Smithlands Centre, Loughboy
Jules Bridal Jewellery
33 Carysfort Avenue, Blackrock
Kokodesigns
Glen Lower,
Mad Fine Fashions
76 Market Street, Tandragee
Magic Moments Carlow
Riverview, Carlow
Maria B Bridal Emporium
32 Trimgate Street, Navan
Naomi Bridal Ballynahinch
2 Belfast Road, BT24 8DZ
Orchid Studio The Wedding Specialist
115-117 Bridge Street, BT63 5AA
Our Little Boutique featuring Hats By Jean
1 Main Street, Enniskerry Village
Precia Designs
12 Grace Manor, Portadown
Styling By Carmel Ann Daly
Kingscourt Post Office, Cavan
The Bridal Party
8 Trimgate Street, Navan
The Dress House
16 Aughnagon Road, Mayobridge
The Fashion House
Flat 1, 1-3 Market Street, BT45 6EE
The Suite
26 Drury Street, Dublin 2
TJs Jems
25 Main Street, Castlewellan
Visionary Veils
85 Downshire Road, Belfast
William Irwin
1 Cavendish Lane, Castlebar
Aibheil of Adare Bridal
Main Street,
Akina Jewellery
Heath End, Farnborough
Alexanders Bridal
Parnell Street,
Amore Bridal & Menswear Hire
45c Great James Street, Derry
Angel Star Brides
1B Castle Street, BT38 7BE
Aspirations
Unit 1c Dame Lane, Dublin 2
Aston Formal Wear
Aston Place, Dublin
Aura Fashion
24 Main St, Ballynahinch
Austins Department Store
The Diamond, Derry
Be Unique
142 Main Street, Bushmills
Beautiful Bride & Ascot Hats
18 Main Street, BT35 7JG
Bella Marie Fashion Boutique
39-41 Main Street, Gilford
Belleza Bridal
City Centre Branch, Dublin 2
Bernadette Elizabeth
20-22 Bridge Street, Newry
Binghams Menswear Formal Hire
82 Main Street, Newcastle
Blush Boutique
166 Lisburn Road, BT9 6AJ
Boles of Boyle
Bridge Street, Boyle
Bond Brothers Formalwear
8 Willowfield Park, Dublin 14
Bridal Brooch Bouquets
Atlantic Road, Coleraine
Bridal Designs
25 Aungier Street,
Bridal Sale Shop
6-10 Castlereagh Road, Belfast
Brides at Logans
232 Frocess Road, BT44 9PU
Butterfly Bride
67 Main Street, Blackrock
Carino
Market House, BT78 1EX
Carol Kennelly
Carol Kennelly Millinery
Chantelle Fashions
9A The Crescent, Monkstown
Chantilly Lace Bridal & After Dark Fashion Formal Wear
7 Portland Business Park, BT74 4RH
City Lady Boutique
26 Derrychara Link, BT7 46GB
Coast
5 St Stephens Green,
Coast
House Of Fraser,
Daune Bridal Couture
Bolgers Lane, Ballinasloe
De Stafford Bridal
21 Exchequer Street,
Debonair Formalwear
12 Railway Street, Lisburn
Deborah K Design
5 Church Glen, Lisburm
Deja vu Bridal Boutique
31b Main Street, Richhill
Desi Quinn Shoes
16 Church Street, BT74 7EJ
Design Centre
Powerscourt Townhouse Centre, Dublin
Dirty Fabulous
No 21 Wicklow Street,
Divine Boutique
Unit 3, Manor Mills Shopping Centre, Maynooth
Emily Jean
No 1 St Augustine Street,
Fiona Mangan
25 Gort na Ri,
Foxrock Fillies
1st Floor, Dublin
Hat Hire Portlaoise
Hat Point
Rosses Point
Hats 2 Hire
Loughrea, Galway
Helen Fitzpatrick
172 Old Kilmore Road, BT67 9LR
Knightsbridge Boutique
27 South William Street,
Mad Hatter
20 Lower Stephen Street,
Maria B Bridal
Unit 1 Trimgate Line, Navan
Mes Petits Chapeaux
Sharon Hoey Bridal Couture
19 Upper Mount Street, Dublin
Sheena L Bridal
Sheena L Bridal, Swords
Stacey Hannan Designs
Castleknock, Dublin 15
Tamem Michael Bridal
45 Fashion City,
The Designer Hat Studio
Inisfree, Cratloe
The Vintage Hat Lady
9 Hallfield Rise, ALFRETON
Top Hat Menswear & Formal Wear
Top Hat Menswear & Formal Wear10B The Parade, Kilkenny
Top Image
31 Grand Parade, Cork
Wendy Louise Designs
Main Street, Clane
More Hats & Headwear in the United Kingdom
More Hats & Headwear in Ireland
Feature Hats & Headwear Article
Should you decide that you are most definitely not a 'hat person' but feel the necessity for some form of head adornment then the fascinator is the choice for you.
The perfect hat or fascinator turns the simplest of outfits into something that little bit extra special. Finding the perfect head adornment can be a scary prospect, especially if you don't consider yourself to be a 'hat person'. However if you look back over the history of fashion, hats were as common in the last century as jeans are today. One would not have set foot over the door without a hat as you were simply considered in a state of undress. With that in mind setting to work on finding the right, look should not be such a monumental task.