At Studio63 we will work with you during your wedding day in order to provide you with the best possible visual memories.
We provide our wedding photography in the form of packages, each designed to deliver a greater level of service.
The difference between the packages is defined by the type of Albums and Media we provide to you as a final product and the level at which we work with you on your wedding day.
The final album can include images of the main ceremony, group images of your family and guests and the events at your reception. The finished album will contain pages of our own folio designs.
Before your day weíll meet up and you can browse through some of our work and decide what style of album you like best. This will give us the opportunity to get to know you and make suggestions.
Mention Wedding Planner For Special Rates

Studio63 packages and options
We provide the following wedding packages:
Package 1
A digitally designed wedding album containing images of the wedding ceremony along with group images of family and guests.
Package 2
A digitally designed exclusive range album containing images of the wedding ceremony along with group images of family and guests.
This package includes a DVD presentation.
Package 3
This is our top package and includes a digitally designed exclusive range album along with parent book and guest books containing images of your full wedding day. This can includes the morning and evening events along with the ceremony and group photographs.
This package also includes a DVD presentation along with a parents book and gift pack.
This final package just like the first two needs carefully planning, we will need to talk about how we will work together and the level of involvement needed from all parties.
Photographic locations, Timing of all the key events and the numbers of people at your wedding all have a part to play in the final production of your images.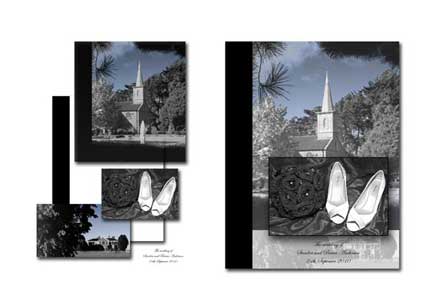 Gift Packages
Parentís books and Gift books can be provided for the (Brides Maids, Best man and Guests).
How to book your wedding package
If you have any questions or would like to contact us to discuss your requirements and make a booking, you can call Nigel at Studio63 on 086 153 0497, or go to the Contacts page and send an e-mail. You can also arrange a meeting with us to talk on a one to one basis.
For our best Price details, contact us
We are based in Co.Kilkenny but work Nationally.