Bloomsday Flowers
Flowers, Florist, Order, Cork, Delivery, Wedding Flower East Cork, Cobh, Bloomsday Flower midleton, Florists Carrigtwohill, Wedding Flowers Co. Cork, Funeral Florist Carrigtwohill, Candles Cork City, Wedding Flowers Packages Cork tralee killarney carrigaline cobh mallow middleton buttonholes
Bloomsday Flowers
Address
Main Street,
opposite Costcutter Shopping Centre,
Ireland,
Carrigtwohill,
Co. Cork,
Ireland
Telephone
00353 (0) 2142 87404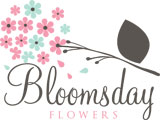 Wedding flowers are our favourite part of the job!
Weddings give us the opportunity to use special flowers, beautiful colours, and our imagination…every wedding is unique and we love to create flowers that express each couples individuality. 
We go through every detail with you beforehand, to make sure that we include all the flowers and design elements that you love, and avoid all the ideas you're not crazy about.
Find us on Facebook.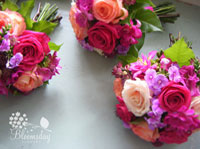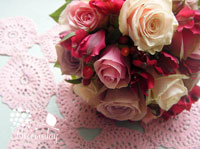 If you're planning your wedding, take advantage of our free wedding consultation service to give you a clear picture of what flowers will be available at the time of your wedding, what styles and colours would best suit your wedding theme and venue, and to give you a clear idea of what you will make the best use of your budget. 
Your wedding flowers are created especially for your day, and we try to work to make the most of your budget, rather than dictate the price to you…you tell us what you're looking for and we will use the best value seasonal blooms to create your wedding flowers.
We offer a wedding flower package, which is great for brides who are unsure of where to start or just want a bit of everything for a good price. Our wedding package has proven to be hugely popular with our wedding customers, because you can add to it as needed to make a perfect fit for your wedding.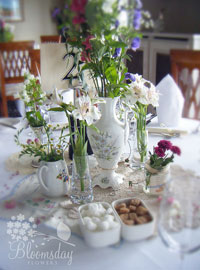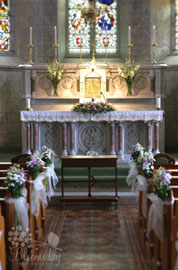 Our wedding flower package for 2011/2012 costs €500, and includes:
Bridal bouquet…a round hand-tied posy of fresh flowers including roses.
Two hand-tied bridesmaids' posies
5 gent's rose buttonholes
2 mum's rose buttonholes
Fresh flower altar arrangement
Unity candle set
6 lily pew ends with organza bow
2 hand-tied thank you bouquets
Delivery to bride, church, and reception venue
We are able to offer our package by ordering fresh flowers in season, finding the best value from our wholesalers. You choose the colour scheme, and we create a selection of the best seasonal flowers for your wedding. We deliver the flowers to the bride's home and dress the church, and can move the flowers to the reception venue if you wish….free within the local area, or else we can make arrangements for a petrol charge for outlaying areas. We have done weddings all over Ireland!
See our wedding flower gallery for an extensive selection of our previous work. When choosing your florist, it's important to be sure you really love their work, as your flowers aren't created until the morning of your wedding! We want to be sure that you are absolutely delighted with your flowers so we have worked hard to capture as many different images of our wedding flowers as we can.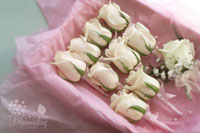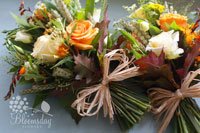 We also offer other wedding extras, such as personalised wedding candles, bay tree hire for the church, wedding favours and cake toppers, and more. If you've seen anything in magazines or online that you'd like to source or create, let us know! We are always willing to work with your unique ideas.
If you would like to set up an appointment for a free wedding consultation, ring us on
021-428-7404
to arrange a time that suits you.
In order to book your wedding, there is a non-refundable €50 deposit to hold the date, which is also payment towards your flowers. Be sure to book early to avoid disappointment if your date is unavailable! You don't have to make any decisions right away, all of the details can be worked out closer to the time when you will be able to see the flowers that are in season.
Write a review of Bloomsday Flowers

More Flowers in Ireland
4Get Me Not Florist
Hyde Street, Mohill
A New Leaf
Kilgobbin Cottage, Tralee
A Room in Bloom
Garden Vale,
A Stone Rose
A Wedding By Caroline
Carrig Hill, Roscrea
Abbey Blooms Florist
19 Barrack Close, Dundalk
Absolutely Fabulous Flowers
Main Street,
Aileens Flower Shop
33 Market Street, Monaghan
Aines Flowers
Con Colbert Street, Athea
Aisling Flowers Cork
30 Wilton Shopping Centre,, Wilton
Alcorns Flower & Garden Centre
Hazelwood House, Letterkenny
Amays Accessories
BT61 8BG
An-Gem Chair Covers
Northern Ireland
Armagh Blooms
Unit 1c Killylea Road, BT60 4AN
Avant-Garde Florist
James Street, Westport
Balla Florists
Mian Street, Balla
Bernie's Blooms
22 Browning Drive, Derry
Bloomin Marvellous
10b Ardaravan Square, Buncrana
Blooming Krazy
Johnstown Shopping Centre, Navan
Bloomsday Flowers
Main Street, Carrigtwohill
Blossom Wedding Studio
Ashbury Gardens, Bangor
Braehead Cakes
11 Fisherwick Gardens, BT43 5AJ
Calla Floral Design
Elphin Street, Strokestown
Cameo Florist
Unit 16 Newcourt Centre, Cavan
Castle Flowers
Lower Main Street, Moate
Cerise Flowers And Events
Liscarroll, Mallow
Clare Flower
10 Church Street, Enniskillen
Cottage Flowers
5A Orritor Street, BT80 8BE
Country Blossoms
28A New Street, Donaghadee
Crafty Fox Flowers Interflora
74 North Strand Road, Dublin 3
Creative Flowers
Blanchardstown
Creative Flowers
Unit 8A, Crumlin Cross
Creative Flowers
5 Main Street, Lucan
Day By Day Florist
14 Main Street, Rathfarnham
Designs By Therese
74 Main Street, BT70 2QJ
Diamond Occasions
Dundrum Blooms
5 Arbourfield Terrace, Dublin
Eden Blooms
2 Main Street, Coalisland
Elegant Flowers
Unit G8 Swords Enterprise Business Park, Swords
Enchanted Flowers
60 Main Street, Macroom
Essence of Flowers
62 Main Street, Saintfield
Ferguson Flowers
5 Market Street, Lisburn
Ferguson Flowers
45 Belmont Road, Belfast
Final Touch
No4 Glencaw Park, Derry
Finishing Touches
15 William Street, DUNGANNON
Fleurtatious
Unit 13 Leopardstown Shopping Centre, Dublin 18
Floral Creatif
3 Cloughan Rd, Armagh City
Floral Creations
Main Street, Cork
Floral Scents by Mary O Gara NDSF, AIFD
212 Dun Laoghaire Shopping Centre, Dun Laoghaire
Flowers And Frills
72 Longstone St, Lisburn
Flowers at Annes
11 Ann Street, Ballycastle
Flowers by Maureens Florists
467 Falls Road, BELFAST
Flower
157 Kingsway, Belfast
George Preston Florist
7 Sugar Island, Newry
Gerards Flowers
7 Church Street, Magherafelt
Hollyhill Trees
Hollyhill, Ballygowan
House Of Cartel
Invitations To Wed
Bothar Dubh House, Templeglantine
Irish Wedding Flower Packages
6 Trinity Street, Dublin City
Little Daisy Flowers
Skerries
LittleBuds Floral Design
34 Primacy Road, Bangor
Ma Fleur
22 The Diamond, Portstewart
Manor Wedding Flowers
Munville House, Lisnaskea
Marie Scott Events
5 Royal Oaks, Belfast
Mark McKeown - Serene Photography
16 Moeran Park, Portadown
Mayo Wedding Florists
Kiltimagh
Oasis Florists & Garden Centre
88-90 Terenure Road North, Dublin
Old Schoolhouse Flowers
The Schoolhouse, Kilmallock
Orchid Studio The Wedding Specialist
115-117 Bridge Street, BT63 5AA
Scarecrow Flowers
95a Sandymount Road, Dublin 4
Shandon Flowers
Shandon Flowers, Cork
Siam Silk Flower Co
Blackhall Cross, Termonfeckin
Skea Flowers
1 Bank Brae, Lisnaskea
The Wedding Lantern Company
8 Armey Road, Fermanagh
Ultimate Touches
11a Learmount Road, BT47 4AQ
Unique Bouquets
117 Church Road, Glenwherry
Vow Floral
62 Main Street, Saintfield
Wedding Flowers Dublin
19 Barrack Close, Dundalk
Woodlawn Flowers
71 Fountain Street, BT35 7DF
1800 Flowers Ltd
1800 Florals, Drogheda
Abbey Flowers
Malahide
Abbeyfeale Florists
Abbeyfeale
Adonis Flower Designers
59 - 60 Patrick Street, Dublin 8
Aisling Flowers Cork
30 Wilton Shopping Centre, Wilton
All About Brides
BellCotton, Termonfeckin
All Occasions Florists
Clonminam Fr Brown Avenue, Portlaoise
All Seasons Floral Designs
226 Kingsway, Belfast
All Seasons Flowers
Superquin Centre, Lucan
Appassionata Flowers
29 Drury Street, Dublin 2
Apple Blossom
8 Dobbin Street, Armagh
April Flowers
8 Berkely Street, Dublin
Audreys Flower Studio
41 Cecil Street, Limerick
Audreys Wedding Occasions
Pallasgreen
Austen Flowers
One Salt House, Wicklow Town
Belfast Blooms
87 Castlereagh Street, Belfast
Best Of Buds Flowers
Tralee
Blackwater Floral Accessories
Kilcanway, Mallow
Blarney Florist
Ashdale House, Blarney
Bloomin Sweetz
126 Bloomfield Avenue, Belfast
Blooming Amazing Flower Company
4 Brighton Road, Dublin 18
Blooming Amazing Flower Company
Ranelagh, Dublin 6
Blooming Belle's
Unit 7, The Vale Business Park, Derry
Blooming Krazy Florists
Supervalu Shopping Centre, Meath
Bloomingdales Florist
Blooms
8 Victoria Street, Ballymoney
Blooms For Brides
Belfast,
Blooms Of Belfast
487 Oldpark Road, Belfast
Bloom
21 Prospect Road, Dublin 9
Bouquets2Banquets
The Diamond, Belturbet
Brawns Florist
Brewery Place (off Bridge St), Westport
Bridal Brooch Bouquets
Atlantic Road, Coleraine
Budding Designs Florist
32 Main Street, BT41 3AB
Buds And Berries
Buds and Berries, Citywest, Dublin
Buds n Bows
60-62 Main Street, Ballymoney
Candle Light Weddings
Baybush, Straffan
Carraig Wedding Flowers
Oaklawn Shops, Leixlip
Carraig Wedding Flowers
Main Street, Leixlip
Carraig Wedding Flowers
Westport
Castle Flowers
6 Castle Street, Carrickfergus
Castlebar Florists
Spencer Street, Castlebar
Cathals Florist
20 New Street, Dungiven
Catherine Forrest-Floral Designer
Four Seasons Hotel, Dublin
Central Florist
Francis Street, Newry
Churchview Flowers
Dublin Road, Castleblayney
clara central
Dun Laoghaire Shopping Centre, Dun Laoghaire
Clontarf Florists
10 St Gabriels Road, Dublin 3
Connacht Wedding Flowers
Erris Street,
Connemara Florists
Main Street, Galway
Crazy Daisy
Grange Road, Dublin 13
Daisy Chain Florist
14 Pearse Street, Kinsale
Daisy Lane
71 St. Agnes Road,
Darcy Flowers
Prospect, Dundalk
Designer Lilly
34-36 Main Street, Ballymena
DKNI The Florist
671 Shore Road, BT37 0ST
Donnas Flowers Box Ltd
7-9 Abercorn Square, Strabane
Donnellys Florists
Society Street, Galway
Dooleys Florist
Connaught street, Athlone
Down The Aisle Designs
Brownswood,
Dublin House of Flowers
Innismore House, Crumlin Village
Eirflowers Cash & Carry Wholesale
Tougher Business Park, Naas
Eleanors Florists
North Circular Road,
Elegance Florists
Cross Douglas Road, Douglas
Enchanted Occasions
Unit 2A Chapel Court, Limerick
Evergreen Florists
Every Blooming Thing
42 William Street, Limerick
Fab Flowers
Douglas Village, Cork
Falcarragh Flowers
Shore Rd, Falcarragh
Fehilly Florists
Fitzgerald Flowers
Fitzgerald Flowers, Eastway Business Park, Limerick
Floods Florists
12 Bridge Street, Cavan
More Flowers in the United Kingdom
More Flowers in Ireland
Feature Flowers Article
Your choice of wedding flowers will accentuate your theme and add to the overall ambience your special day. The trick is to find a florist that can make all your wishes come true without breaking the bank.
Before you start pavement pounding sit down and have a think about your overall theme. It is not as simple as choosing a few blooms to tie in with your dress. You need to consider the bridesmaids, flower girls, men in the bridal party, mothers corsage, ceremony decoration and your reception venue. Whilst this can seem rather daunting, breaking it down into small bite size areas for attention is the simplest way.