Irish Wedding News
17/01/2018
Liam Hemsworth Has Not Married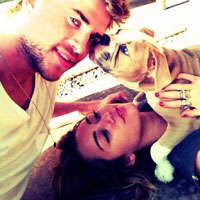 Liam Hemsworth and Miley Cyrus are not married, it has been claimed.
According to the actor's brother – Chris Hemsworth – the young couple did not 'secretly marry' in Australia over the Christmas holidays.
Over the festive period, many media outlets speculated that Liam and Miley had tied the knot in a ceremony in Byron Bay.
However, during an interview with Sirius XM radio in New York on Tuesday, when asked if Miley was officially a member of the Hemsworth family, Chris said: "No. They're not officially married."
However, the actor not deny a wedding ceremony of sorts did take place.
Miley and Liam met on the set of the movie The Last Song in 2009 and announced their engagement in 2012. They separated the following year, but in 2016 it was revealed that the couple had reunited and that their engagement was back on.
(JP/LM)
---
Top stories
25/05/2018
Ireland To Decide On Reformation Of Abortion Laws
Khloe Kardashian And Tristan Thompson Could Marry
Miranda Kerr Names Son In Tribute To Husband's grandfather
Victoria Beckham Hits Back At Royal Wedding Critics
24/05/2018
Ronaldinho To Marry Priscilla Coelho And Beatriz Souza
Kim Kardashian And Kanye West Celebrate Four Year Wedding Anniversary
Gwyneth Paltrow Doesn't Want More Children
Nominees Announced For Celebrity Dad Of The Year
Women Must Be Involved In Political & Economic Reconstruction Of Society
Ariana Grande Described Mac Miller Relationship As 'Toxic'