Irish Wedding News
17/11/2017
Angela Scanlon Announces Pregnancy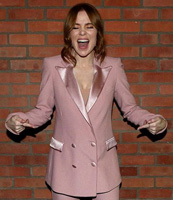 Angela Scanlon has announced that she is pregnant with her first child.
The television presenter revealed the news via Instagram.
Alongside an image of herself pointing to her stomach, the 33-year-old wrote: "So. I've been baking for six months now... and I've made a bun! It's currently in the oven and will be ready by springtime.
"We are so, SO thrilled (since I've taken my head out of the toilet bowl) and I can't wait to welcome a mad, wonderful little human into our world.
"*Really hoping he/she is ginger."
This will be the first child for Scanlon and her husband Roy Horgan.
(JP)
---
Top stories
24/05/2018
Ronaldinho To Marry Priscilla Coelho And Beatriz Souza
Kim Kardashian And Kanye West Celebrate Four Year Wedding Anniversary
Gwyneth Paltrow Doesn't Want More Children
Nominees Announced For Celebrity Dad Of The Year
Women Must Be Involved In Political & Economic Reconstruction Of Society
Ariana Grande Described Mac Miller Relationship As 'Toxic'
23/05/2018
Hugh Grant Set To Marry For The First Time
Frank Lampard's Daughters Excited To Meet New Sibling
Katie Price Pictured Hand-In-Hand With Kris Boyson
Louise Redknapp Shares Inspirational Quote After Ex 'Moves On'