Sillan Tours Ltd
Bus & Coach Operators
Sillan Tours Ltd
Contact
Mr Sean Roe
Address
Kingsford Rd Shercock,
Co. Cavan,
Shercock,
County Cavan,
Ireland
Telephone
042-9669130
Sillan Coach Tours - Sillan Coach Tours.
Write a review of Sillan Tours Ltd

More Coaches in Ireland
Aardvark Bus Hire
18 Monksfield Walk, Clondalkin Dublin 22
Barrys Coaches Ltd
The Glen, Cork
Britton's Coach Tours & Private Hire
21 Coolermoney Rd, Strabane
Britton's Coach Tours & Private Hire
2 Dacre Terrace, Derry
Byrne's Boogie Bus
Mullinavreen Road, Castlederg
C & H Cab and Coach Hire
Coolavokig, Macroom
Causeway Coach Hire
6 Drumvale Road, Ballymoney
Chauffeur Car Services
100 Woodburn Road, Carrickfergus
Clarke Cars
Virginia
Coach Hire Dublin
Spiddal Lodge, Meath
Eirebus
Corduff Road, Blanchardstown
Jeromes Coach Hire
133 Coolmilish Road, ARMAGH
Kerry Limo
Lissivigeen,
McGeehan Coach Hire
Fintown, Donegal
The Limousine Company
23 Bards Hill, Londonderry
Absolute Limos
The Lodge, Bohernabreena
Ahernes Premierline Coaches
Ahernes Premierline Coaches62 Redwood Avenue, Dublin
Aircoach
Arrivals Level,Dublin Airport, Swords
Andrew Walsh Coach Hire
Derrymore, Roscrea
Bartons Transport
Straffan Road, Maynooth
Budget Bus
Corduff Road, Blanchardstown
Cavehill Coaches
430 Shore Road, Newtownabbey
Collins Coaches
Drumcomrath Road, Carrickmacross
Collins Coaches
Falcarragh, Donegal
Coyles Coaches Ltd
Brinlack, Brinlack Po, Letterkenny
Cronan McFadden
Dore, Letterkenny
Cronins Coaches Ltd
80 Carysfort Avenue, Blackrock
Dualway Weddings
Keatings Park,
Enfield Coaches
Rathcore, Navan
Express Bus
Farrelly's Coaches Ltd
The Old Presbytery, Kenagh
Feda O'Donnell & Son
Annagry, Donegal
Feehilys Executive Transport Ltd
Hazelwood Road, Sligo
Gallagher Patrick
Strackernagh Churchill, Letterkenny
Global Taxis
New Market, Dublin 8
Healy Coaches
Castlegar,
Hynan Coaches
Cappamore, Limerick
Irish Coaches Ltd
Dublin 1
Jackie Power Tours
2 Lower Rock Street, Tralee
JJ Kavanagh & Sons Ltd
Main Street, Urlingford
Joe Lawlor Coach Hire
Joe Lawlor Coach Hire, Limerick, Limerick
Joe Moroney Coaches
Old Court Industrial Estate, Bray
Joes Bus Hire
No. 8 Rathminton Court, Tallaght
Joseph ODonoghue
8 Rathmintin Court,
Kelly Travel
Kelly Travel, Pallasgreen, Limerick
Ken Daly Package Tours
Ken Daly Package Tours, Tipperary, Tipperary
Kinsale Executive Travel Coach & Limousine
Kinsale Executive Travel Coach & Limousine, Market Square, Cork
Kinsale Limos
Kinsale Limos, Eltins Wood, Kinsale
Lally Coach Hire
19 Shop Street, Galway
Martin Twomey
Cork, Cork
Martins Coaches
Annacotty, Limerick
O'Neachtain Day Tours
Shanagurrane, Galway
Orchard County Travel
22 Altaturk Road, ARMAGH
Party Buses Ireland
8 Coolmaghry Road, Dungannon
Patrick Slevin & Sons Coaches
Monilea, Mullingar
Philip Jones Coach Hire
32 Cherry Avenue, Limerick
Pro Bus & Car
Probus & Car Luxury Touring
Kenmare, Killarney
Reaneys of Galway
Barna, Galway City
Reddins Coach Hire
Rose travel
Flemby Bridge, Tralee
Sevens coaches
Dundalk
Sillan Tours Ltd
Kingsford Rd Shercock, Shercock
Suirway Bus & Coach Services Ltd.
Passage East,
T & T Coaches
Cullencastle, Waterford
Terry Flynn Tours
47 The Quay, Waterford
The Limousine Company
The Drive Orlynn Park, Lusk
White's Of Waterford Mini-Bus Service
Ballindud, Waterford
More Coaches in the United Kingdom
More Coaches in Ireland
Feature Coaches Article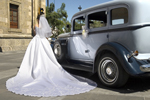 How you arrive at your wedding should reflect your personality and the overall theme for your day. Whether you choose to arrive in a car, horse drawn carriage, or on the back of a Ducatti Monster motorcycle, the choice is entirely up to you.
The only limits are that of your own imagination. This is the one moment in time where you are the VIP, so let your transportation announce your arrival.
Stick with Tradition
Vintage Vehicles are traditionally a popular means of transport. Not only do they make a statement as you arrive at your final destination, more practically they are spacious enough for your dress and have a roof to ensure that you remain in pristine condition. Most providers will have a selection of vintage vehicles for your perusal. Popular makes include: Rolls Royce, Daimler, Bentley, Mercedes, Austin. These makes may also come in a range of colours to co-ordinate with your theme.