Thomas Sunderland
Wedding Photographers
Thomas Sunderland
Contact
Thomas Sunderland
Address
22 Castle St,
Carlow,
County Carlow,
Ireland
Telephone
+353 (0)59 9142278

Photographer Thomas Sunderland is one of those lucky people who earns their living doing exactly what they like best and has been doing just that for the past 25 years. His professional experience is drawn from a wide variety of work, including Wedding, Fashion, Portrait, advertising and Commercial Photography.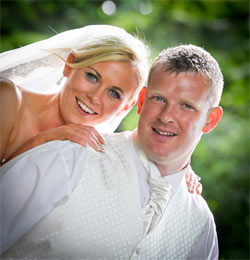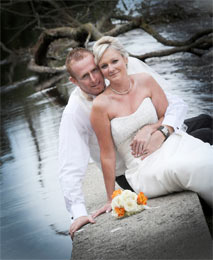 Thomas is a self schooled photographer based in Carlow Town in Ireland's sunny south east. His journey into the world of Photography began in his teens when he worked behind the scenes as a darkroom technician for a local Newspaper before becoming a Junior Press Photographer.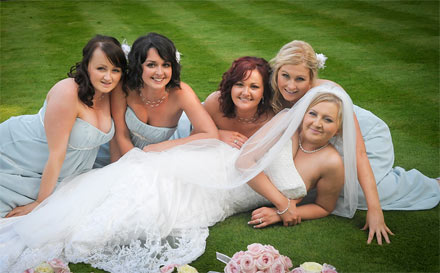 In 1991 he became a Licentiate member of the Irish Professional Photographers Association and opened his own Professional Photographic Studio in Carlow, where he now has a small fully trained and friendly team whose aim is to give customers the best achievable results in the field of Professional Photography.
Several years ago, at the start of the Digital Technology revolution, he invested heavily in state of the art digital equipment which he installed in his own in-house workshop.
His work to date includes a large portfolio of bridal fashion photography which is published on a regular basis in The Irish Wedding Diary Magazine
including a front cover which was shot at his studio in Carlow.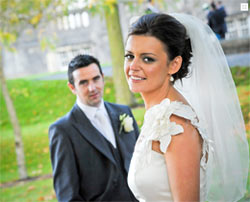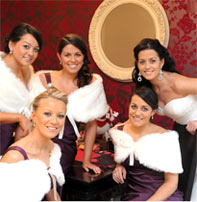 Thomas' first love however is wedding photography, where his experience offers today's bride an album that tells a true story while being shot in a relaxed and fun atmosphere. A perfect alternative to the obligatory collection of 'stuffy' pictures where everyone is posed to within an inch of their lives!
The bride, above anyone, knows how important it is to be able to enjoy her day. With his informal style Thomas will make you, your family and your guests feel comfortable, combining directed shots with spontaneous photography in an unobtrusive and relaxed manner.
The result will be a creative blend of skilfully captured moments. If you are looking for a fresh, vibrant, yet intimate account of one of the happiest days of your life, you will not be disappointed!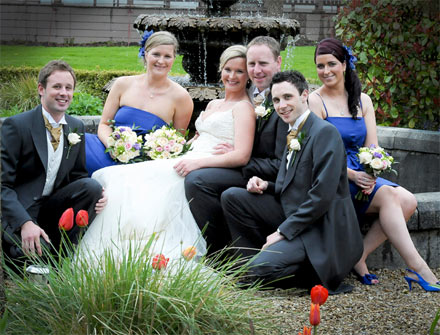 Write a review of Thomas Sunderland

More Photography in Ireland
21st Century Photography
17 Tivoli Park, Londonderry
4 Ever Photos
206 City Business Park, Belfast
Aidan Monaghan - Mono Photography
48 Hopefield Avenue, BT15 5AP
Aidan Oliver
Walkinstown
Alexander Photography Belfast
Suite 21, Newtownabbey
Alphotography
5a Church Hill, Newry
Altan Studio
Creeslough, Letterkenny
Andrew Mackin Photography
1 Newtown Road, BT35 8NN
Andy Spearman Photography
19 Hand Street, Drogheda
Angles Photography Studio
113 Henry Street, Limerick
Anna Katharina Frins Photography
Nenagh
Anthony Kearney Photography
Ballyduff, Tralee
Armagh - Navan Centre
81 Killylea Road, Armagh
Armstrong Photography
Units 1+2, Rosebank, Bray
Athlone City Photography
Drum, Athlone
Baker Photography
South Quay, Limerick
Bannon & McCabe Photography
Scaddin House, BT30 7JX
Bestwishes.ie
Carraigin,
Betty B Photography
Ballinaclose, Kells
Billy Macgill Photographer
6 Winthrop Street, CORK CITY
Blackbox Photography
BT94 3FJ
Bliss Photography Dublin
BMB Films
Limerick
BOS PHOTOGRAPHY
1-2 Windsor Terrace, Dublin
Boyd McClurg - The Photographer
6 Quarrytown Road, BT43 7LB
Bracken Studios
4 Woodhouse Street, Portadown
Brenda McGuire Photography
19 Rockview,
Brendan Black Photography
159 Battleford Road, Armagh
Brian Ryan
23 St Martins Park, Dublin 6W
Brook Hall Weddings
2 Horse Park, Lisburn
Bryan Shields Photography
50 Sixmile Manor, Ballyclare
Byfocal Photography
23 Glen Drive, Dublin
Captiveye Photography
271 Castlereagh Road, Belfast
Capture This Productions
609 Doagh Road, Newtownabbey
Captured Images
39 Hyde Park Road, Newtownabbey
Carrie Davenport Photography
Belfast
Catherine Mackenzie Photography
26 Ballyhacket Road, Castlerock
Catherine McAviney Photography
Knocknamaddy, Ballybay
Christina J Irwin Photography
Main Street, Donegal
Claire O Rorke Photography (IPPA)
16 North Mail, Cork City
Clare Frances Photography
5 Silver Birches, Longford
Classic Photography
Dublin 24
Cliff Colreavy
14 Knocklyon Close, Dublin 16
Clive Wasson Photography
Glebe, Letterkenny
Corin Bishop Photography
The Left Bank Mall, Athlone
Cormac McAleer Photography
8 Creggan Road, BT79 9BD
Cormac's Finely Snapped
17 Dundrum Road, Clough
Dare Boudoir Photography
The Studio 5 Crescent Business Park, BT28 2GN
Darren Kirwan Photography
48 Danes Fort, Limerick
David Coote Photography
9 Station Lane, BT23 5XJ
David Lavery Town & Country Photographer
66 Bloomfield Ave, Belfast
David Lester Photography
The Studio 5 Crescent Business Park, BT28 2GN
David McAuley Photography
24 Riversdale Grove, Dublin
Davy Ralston Photographer
117 Mount Carmel Heights, Strabane
Deborah Hughes Photography
Alpine Heights, Dublin
Dermot Byrne Photography
Herbert Road,
Diane Cusack Photography
Midleton
Digital Bride
176 Sandy Row, BT12 5EY
DMC Photography
3 Beechlawns, Navan
Donagh Glavin
60 Fernwalk, Ballincollig
Douglas Gray Photography
83 Clonliffe Road, Clonliffe
EleanorC Photography
Ballymoghany, Enniscrone,
Essence Photography
19 Ashvale Drive, Banbridge
Eugene Lane Photography
Abbey Shopping Centre, Drogheda
Ewan Harkness Photography
Unit 9 The Courtyard Galgorm Castle, BT42 1HL
Fergal Mc Grath
32 Melvin Fields, Kinlough
Final Touch
No4 Glencaw Park, Derry
Fine Focus
Newtown Park, Leixlip
Finnimaje
Villina Woodville, Mullingar
Frances Muldoon Photography
The View Boutique Studio, Sligo
Freelens Photography
Heike Thiele, Donegal Town
Funky Foto Booths
BT9 7GT
Gary McNamara Photography
Maple Drive, Kells
Ghan House
Carlingford
GPhotos
No.06 Cluain Na Sidhe, Longford
Green Apple Studio and Gallery
38 Scotch Street, BT61 7BY
Hartney Photographics
Main Street, Ballybunion
Hi Maintenance
The Diamond, Monaghan
Hilary Herbert
12 Landsborough Gardens, Cork
Janet Gillanders Photography
Ballinlough , Knockbridge, Dundalk
Joanne Symington Photography
7 Castle View, BT33 0SA
Johannes Photography
Killeigh, Tullamore
John Taggart Photography
5 Rathblane, BT41 1JT
Joseph Courtney Photography
36 Inishargy Road, Kircubbin
Julie Cummins Photography
Ballymagillen,
Karo Photography
Clonakilty
Kathleen McCreesh Photography
32 Main Street, Newry
Kevin Wallace Photography
Bramble Cottage, Clonlara
Key Moments
130 Knowehead Road, Broughshane
Laura Faherty Photography
Leshamstown, Drumree
Liam Nelis Photography
19 Seventree Road, Derry
Lisa Walsh Photography
Ballymacaw, Dunmore
Lismore Photo Booth
9 Lismore Road, Downpatrick
Louise Brooks Photography
Clonroad, ENNIS
Lumiere Photography
Glasnevin, Dublin
Mark Capilitan
30 Dorrins Strand, Sligo
Mark McKeown - Serene Photography
16 Moeran Park, Portadown
MC Studios Wedding Photographers
102 Ballynamony Road, BT66 6LD
Michael Mclaughlin Studios
Ballinrobe Road, Westport
Mike Burke Photography
Templeogue
Nelius Buckley Photography
The Lawns, Kinsale
OBrien Photographic Studios
Lavitts Quay, Cork
Oliver Corr Photography
The Studio, Coalisland
Pamela Bloe Photography
Unit 3, Donegal
Pat Shortall Video and Photographic Presentation
Kingsland, Cellarstown
Paul Andrews Photography
49 The Park, Celbridge
Paul Doherty Photography
Keenaghan, Letterkenny
Paul Nash Photography
3 Primrose Cresent, Portrush
Paul Smyth Photography
7 Long Commons, BT52 1LH
Perfect Photobooth
Ashfield House, Ennis
Peter Rowen Weddings
Liberty Lane, Dublin 2
Philip Bourke Photography
12 Cois Brauach, CORK
Philip Mulligan Photography
Philip Mulligan Photography, Ballyshannon
Photo Booth NI
16 Braehill Road, BT14 8FL
PhotoAndVideoBooth.ie
Skerries
Photobooth Angels
18 Dalton Glen, BT23 5RS
Photography By Dermot Sullivan
Dunowen, Cork
Photography By Orla
Castlebar, Limerick
Pius Doherty LIPPA
Meadow View, Lifford
Priory Studios - Dominic Lee
Old Dublin Road, Dublin
Priory Weddings
Old Dublin Road, Stillorgan
Redapple Films
26 Newry Street, Banbridge
Redmonds of Roscrea
Castle Street, Roscrea
Redmonds of Roscrea
Castle Street, Tipperary
Riona MacMonagle Photography
Cooleanig,
Robert Michaels Photography Ltd
Unit 5 Cavan Road, Virginia
Robert Redmond Studios
16 William Street, Athy
Roger Hale Photography
Fourpaws Guardhill, Newbliss
Ruth Vaughan
Moy, Clare
Sara Dalzell Photography
3 Fairgreen Road, BT60 1PW
Secret Boudoir
1 Harrington Street,
Selina OMeara Photography
9 Pearse Street, Munster
Shay Curran Photography
Lipstown, Narraghmore
Shelley Rodgers Photography Studio 31
Studio 31, Bangor
Shutterbugs Photographic Studio
Shutterbugs Photographic Studio, Carrickmacross
SilverScreen Weddings Ireland
Swords
SilverScreen Weddings Spain
Costa Del Sol
Smyth Wedding Photography
Oldtown, Moycullen
Starlite Videos
Randalstown
Studio 1 Photography
West Court, Callan
Studio 63
Elm House, Callan
Tara Donoghue Photography
Firies, Killarney
Thomas Sunderland
22 Castle St,
Travers Photography
5A Upper Clanbrassil Street,, Dublin
WOW - VideoBooth
19 Barrack Close, Dundalk
50hz Photography
Dublin
5500k Photography
14 Grange Lodge, Antrim
A Digital Image Design
A Digital Image Design14 Port Mor, Belmullet
Aaron Negro
Aaron Negro34 Collins Square, Dublin
Abaca Photography
Westport
More Photography in the United Kingdom
More Photography in Ireland
Feature Photography Article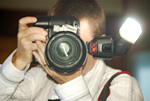 Your wedding photographs will be around for many years to come.
For this reason it is imperative that you take your time when choosing your wedding photographer so do not be tempted to skimp on price and go with the cheapest option.
If your pictures are not what you expected, you will be thoroughly disappointed at your false economy. Worse still, if they are poor quality there is little that you can do to rectify the situation. Careful planning and negotiation is the only way to ensure that you have the wedding album of your dreams.